Annexin V Reagents is a reagent for detecting apoptosis. In normal cells, phosphatidylserine is only distributed in the inner side of the lipid bilayer of the cell membrane. In the early stage of cell apoptosis, membrane phosphatidylserine (PS) is turned from the inside of the lipid membrane. Outside. As a phospholipid-binding protein, Annexin V has a high affinity with phosphatidylserine, which binds to the membrane of early apoptotic cells through the phosphatidylserine exposed on the outside of the cell. Therefore, Annexin V is a sensitive indicator for detecting early apoptosis in cells.
Annexin is a generic name for a group of cellular proteins. They are mainly found in eukaryotes (animals, plants and fungi). In humans, annexin is located within the cell. However, some annexin (Annexin A1, Annexin A2 and Annexin A5) have also been found in the cell environment, such as blood. It is not known how annexin is transported from the outside to the blood because they lack the signal peptide necessary for protein transport from outside the cell.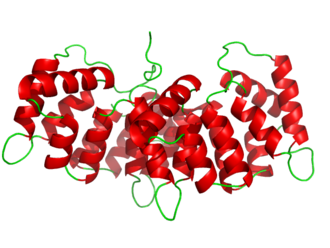 Figure 1. Structure of human annexin III.
Structure
The basic structure of annexin consists of two major domains. The first is located at the COOH terminal, called the "core" area. The second is located at the NH2 terminal and is referred to as the "head" area. The core area consists of an alpha spiral disk. The convex surface of the disc has a type 2 calcium binding site. They are essential for interaction with phospholipids on the plasma membrane. The N-terminal region is located on the concave side of the core region and is important for providing a binding site for cytoplasmic proteins. In some annexins, it may be phosphorylated and may result in altered calcium affinity or altered cytoplasmic protein interactions in the core region. Annexin is important in a variety of cellular and physiological processes, such as providing a membrane scaffold associated with changes in cell shape. In addition, annexin has also been shown to be involved in the transport and organization of vesicles, exocytosis, endocytosis, and calcium channel formation. Annexin is also found extracellularly in the extracellular space, and these annexins are involved in fibrinolysis, coagulation, inflammation, and apoptosis.
Cell localization
Membrane
Annexin is characterized by its ability to bind calcium-dependently to negatively charged phospholipids. They are located in some, but not all, of the membranous surfaces of the cells, which may be evidence of uneven distribution of intracellular Ca2+.
Nucleus
Annexin species (II, V, XI) were found in the membrane. Tyrosine kinase activity has been shown to increase the concentration of annexin II, V in the nucleus. Annexin XI is mainly located in the nucleus without nucleoli. In the early stage, annexin XI was translocated to the nuclear membrane.
Bone
Annexin is abundant in bone matrix vesicles and it is speculated that Ca2+ enters vesicles during hydroxyapatite formation. The field has not been thoroughly studied, but it is speculated that annexin may be involved in the neck of closed vesicles when endocytosed.
Clinical significance
Annexin A-1 is also involved in the apoptotic machinery of cells. Annexin A-1 promotes a pro-apoptotic mechanism when expressed on the surface of neutrophils. Alternatively, when Annexin A-I is expressed on the cell surface, it promotes clearance of apoptosis. In addition, annexin A-1 has further medical implications in the treatment of cancer. Annexin A-I can be used as a cell surface protein to label certain forms of tumors that can be targeted by a variety of immunotherapies against Annexin A-I.
Annexin A2
Annexin A2, also known as annexin II, is a protein encoded by the ANXA2 gene in humans. Annexin A2 is involved in a variety of cellular processes such as cell movement (especially epithelial cell movement), membrane-associated protein complexes and actin cytoskeleton junctions, endocytosis, fibrinolysis, ion channel formation and cell matrix interactions. It is a calcium-dependent phospholipid binding protein whose function is to help the exocytosis of tissue intracellular proteins into the extracellular domain. Annexin II is a pluripotent protein, meaning its function depends on its location and time in the body.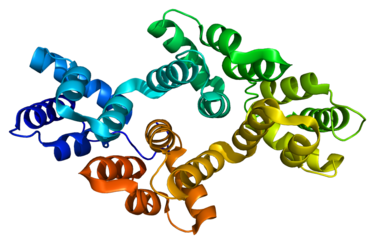 Figure 2. Structure of Annexin A2.
Annexin A5
Annexin A5 (or annexin V) is a cellular protein in the annexin group. In flow cytometry, annexin V is commonly used to detect apoptotic cells by the ability to bind phosphatidylserine, a marker of apoptosis on the extracellular leaflets of the cytoplasm. The function of this protein is unknown. However, it has been proposed that Annexin A5 plays a role in inhibiting blood coagulation by competing with phosphatase to compete with phosphatidylserine binding sites, and also inhibits the activity of phospholipase A1.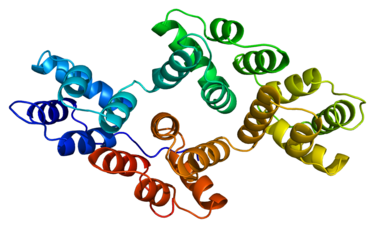 Figure 3. Structure of Annexin A3.
References:
1. Arur S.; et al. Annexin I is an endogenous ligand that mediates apoptotic cell engulfment. Dev. Cell. 2010, 55 (19): 2049–61.
2. Oh P.; et al. Subtractive proteomic mapping of the endothelial surface in lung and solid tumours for tissue-specific therapy. Nature. 2010, 429 (6992): 629–35.