What is metabolism?
"Metabolism" refers to all physical and chemical reaction processes after the body ingests nutrients, including nutrient conversion, synthesis, degradation, energy conversion and waste discharge. The body provides energy and synthesizes biological macromolecules through catabolism and anabolic metabolism, so as to maintain the needs of survival and life activities. It has long been recognized that malnutrition is associated with immune deficiency, but for a long time "immunity" and "metabolism" have always been considered as two relatively independent research areas. Recent studies have confirmed that metabolism and immunity are closely related, and there is a very complex network of mutual regulation between each other. On the one hand, the homeostasis of the immune system is of great significance for maintaining the metabolic balance of the body. On the other hand, the way of energy metabolism and active intermediates can also affect the differentiation and function of immune cells, and participate in regulating the body's immune response at different levels and multiple links. For example: ①T cells of TRAF6 knockout mice have defective fatty acid oxidation pathways and cannot form antigen-specific memory CD8 T cells and memory responses; ②Knockout of key genes involved in glycolysis can lead to immune cells activation is blocked; ③Metabolic organs (such as adipose tissue) and Treg cells in lymphoid tissues, the gene expression and function of the two are very different.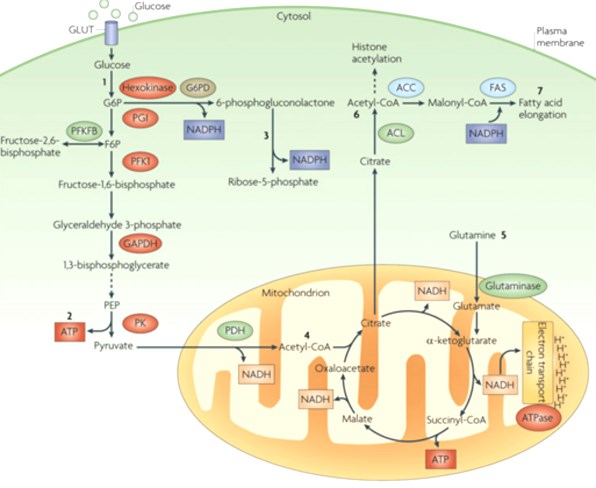 Figure 1. Kegg pathway diagram of energy metabolites.
Regulation of energy metabolism
The selection and conversion of energy metabolism pathways are not only related to changes in the nutrient content available to the body, but also regulated by certain signal transduction pathways. In recent years, it has been discovered that a variety of signaling pathways can regulate T cell activation, differentiation, and function by regulating cell energy metabolism pathways.
C-myc Oncogene

C-myc plays an important role in cell growth and proliferation: activated T cells rapidly overexpress C-myc, which promotes T cells to enter the cell cycle and proliferate; C-myc-deficient T cells have their proliferation and secretion of IL-2 blocked, Cannot differentiate into effector T cells. The activated T cells convert their energy metabolism from oxidative phosphorylation of the original T cells to glycolysis. C-myc plays an important role in this process: ①C-myc as a transcription factor can upregulate the expression of the glucose transporter Glut1, and Up-regulate the expression of some key enzymes involved in glycolysis (such as hexokinase, lactate dehydrogenase, and phosphofructokinase, etc.); ② T cell activation also depends on the involvement of the glutamine cleavage pathway. The up-regulation of enzymes (such as glutaminase) and proteins (such as the glutamine transporters SLC3A2, SLC5A1, and SLC7A1, etc.) also depends on C-myc; ③Recently, C-myc can promote cells to generate new mitochondria.

Figure 2. The c-MYC gene is an oncogene that belongs to the family of MYC genes that mediate the expression of many other genes. (From Recherche animale)

Hypoxia-inducing factor1 (HIF1)

HIF1α belongs to the bHLH-PAS (basic helix-loop-helix perarnt-sim) transcription factor family. It is an important transcription factor that mediates the adaptation of cells and tissues to hypoxia. HIF1α generally forms a dimer with constitutively expressed HIF1β, and induces gene expression by binding to the hypoxic response element of the gene promoter. HIF1α can also inhibit regulatory T cell differentiation, based on: HIF1α can mediate the hydroxylation and ubiquitination of FoxP3 proline, and subsequent degradation of FoxP3; HIF1a deletion can increase the number of Treg cells; use of chemicals to inhibit sugar Fermentation can inhibit Th17 cell differentiation but promote Treg cell production.

Figure 3. Induction of hypoxia-inducible factor 1 (HIF1) target genes by hypoxia. (Sharp FR, et al. 2004)

Mammalian target of rapamycin (mTOR)

mTOR is very conservative in evolution. This pathway can sense changes in the extracellular nutritional environment (such as glucose and amino acid content), thereby regulating cell growth and differentiation. mTOR signal transduction includes two pathways, both of which have kinase activity that catalyzes mTOR serine / threonine phosphorylation: ①mTORC1 pathway, using mTOR regulatory-associated protein of mTOR as the main structural protein, growth factors can phosphorylate mTOR inhibitor protein TSC2 (tuberous sclerosis 2) through the PI3K / AKT pathway, thereby activating mTORC1, mainly promoting glycolysis, ester anabolic metabolism, and participating in cell growth and proliferation And survival; ②mTORC2 pathway, using Rictor (rapamycin-insensitive companion of mammalian target of rapamycin) is the main backbone structural protein, and the mechanism and function of this pathway activation are not fully understood. Some growth factors have been found to activate mTORC2. In addition, ribosome binding to mTORC2 promotes its activation.

Figure 4. mTORC1 and mTORC2. mTOR is a serine/threonine kinase that forms two biochemically and functionally distinct complexes. mTORC1 consists of mTOR, raptor, mLST8 and the two inhibitory subunits, PRAS40 and DEPTOR, whereas mTORC2 consists of mTOR, rictor, mLST8, PRR5, SIN1 and the inhibitory subunit, DEPTOR. mTORC1 senses mitogens, oxygen levels, intracellular energy status, and amino acids to promote cell growth by regulating anabolic and catabolic processes. (Yoon MS, et al. 2017)

AMP-activated protein kinase (AMPK)

AMPK is a heterotrimeric serine/threonine kinase that regulates metabolism by sensing changes in cellular energy. When the intracellular AMP / ATP ratio is increased, AMP/ADP can bind to AMPK combined to activate it, activated AMPK can inhibit mTORC1 activity, and by maximizing the production of ATP by inhibiting the energy consumption of biosynthesis and promoting catabolism. The mechanism is: ①AMPK phosphorylation can inhibit acetyl-CoA carboxylase 1 (acetyl-CoA carboxylase1, ACC1) activity and inhibit sterol regulatory element-binding protein1 (SREBP1, a transcription factor) related to fat synthesis, thereby inhibiting glucose, glycogen and fatty acid synthesis; ②AMPK can up-regulate carnitine palm Acyl transfer Enzyme (carnitine palmitoyltransferase I, CPT1A) expression, thereby inhibiting mitochondrial ester absorption; ③AMPK can promote the generation of new mitochondria and oxidative phosphorylation.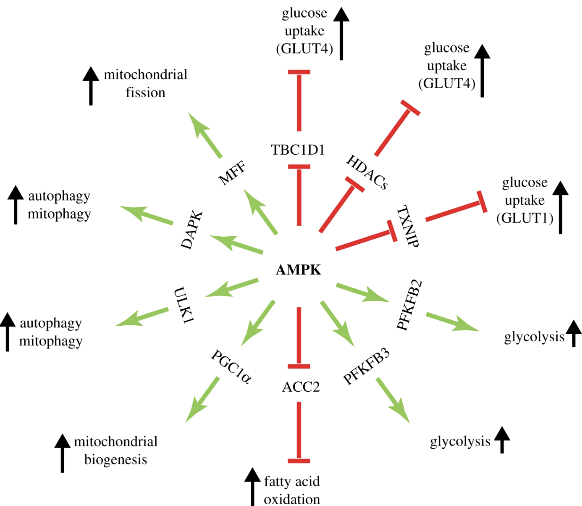 Figure 5. A wheel of downstream targets and the pathways they regulate, focusing on catabolic processes that are activated by AMPK. (Vara-Ciruelos D, et al. 2019)
References:
Keusch GT. The history of nutrition: malnutrition, infection and immunity. J Nutr, 2003, 133: 336S-40S
Hotamisligil GS. Inflammation and metabolic disorders. Nature, 2006, 444: 860-7
Ganeshan K, Chawla A. Metabolic regulation of immune responses. Annu Rev Immunol, 2014, 32: 609-34
Pearce EL, Walsh MC, Cejas PJ, et al. Enhancing CD8 T-cell memory by modulating fatty acid metabolism. Nature, 2009, 460: 103-7
Wang R, Dillon CP, Shi LZ, et al. The transcription factor Myc controls metabolic reprogramming upon T lymphocyte activation. Immunity, 2011, 35: 871-82
Wang R, Green DR. Metabolic checkpoints in activated T cells. Nat Immunol, 2012, 13: 907-15
Sharp FR, Bernaudin M. HIF1 and oxygen sensing in the brain. Nature Reviews Neuroscience, 2004, 5(6): 437-448.
Yoon MS. The role of mammalian target of rapamycin (mTOR) in insulin signaling. Nutrients, 2017, 9(11): 1176.
Vara-Ciruelos D, Russell F M, Hardie D G. The strange case of AMPK and cancer: Dr Jekyll or Mr Hyde? Open biology, 2019, 9(7): 190099.