ETS Family Transcription Factors Proteins Background
ETS family has 29 genes in humans, 28 in mice, 10 in nematodes, and 9 in fruit flies. The genes that make up this family are thought to be genes that have been transformed by leukemia virus (E26). Members of this family are associated with the development of different tissues and cancer. All ETS family proteins have a highly conserved DNA binding domain, the ETS domain, which has a helix-coil flank that binds to the DNA binding site of the GGA (A/T) sequence. Just as the function of binding to DNA, it has been shown that the ETS domain also includes the interaction between proteins and proteins. The recording factor usually has two structural regions: a DNA binding region and a regulatory region. The Ets1 and Ets2 structures include the DNA binding domain, the DNA activation domain and the intramolecular inhibition domain, and the B and F domains, the functions of which are still unclear. Recently, three α-helices and one β-sheet have been found in the secondary structure of ETS1 and Fli1 by nuclear magnetic resonance technology, which has the same structure as some mammalian and bacterial transcription factors. The ETS family has many functions, including regulation of cell differentiation, cell cycle regulation, cell migration, cell proliferation, apoptosis, and angiogenesis. Many ETSs have been shown to be associated with cancer, such as through genetic fusion.
The ETS family is one of the largest families of signal-dependent transcriptional regulators, and its members are characterized by the inclusion of the Ets domain in the protein sequence. At the cellular, tissue and organ levels, the Ets family of transcription factors are involved in the growth and development of a variety of mammals, including cell proliferation, differentiation, migration, apoptosis, and cell-cell interactions. During the local infiltration of tumors, members of the ETS family activate transcription of some enzymes involved in the degradation of extracellular matrix (ECM), such as serine proteases, matrix metalloproteinases (MMPs), etc., to allow tumor cells to break down and penetrate the surrounding connective tissue barrier. Infiltration and metastasis occur in deep tissues.
Mechanism of intramolecular regulation
There is a special inhibitory sequence at the amino terminus of Ets21 and Ets22 to inhibit its binding to DNA. This inhibition can have a specific inhibitory sequence at the amino terminus of Eggs21 and Ets22, which inhibits its binding to DNA. This inhibition can be removed after the protein and some cofactors are combined, so it can be said that these cofactors act as activators of such proteins.
Structure
All ETS family members are identified by a highly conserved DNA binding domain ETS domain, which is a wing-helix-turn-helix structure with a DNA site binding to the central GGA (A/T) DNA sequence. In addition to DNA binding functions, evidence suggests that the ETS domain is also involved in protein-protein interactions. The similarity outside the ETS DNA binding domain is limited. Other domains also exist and range from ETS members to ETS members, including the Pointed domain, a subclass of the SAM domain family.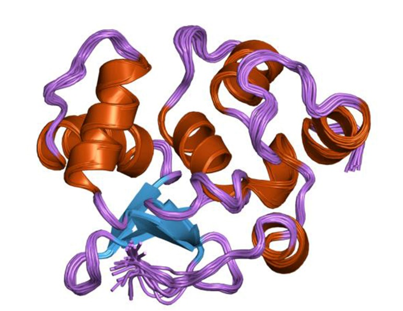 Figure 1. Structure of Ets-1 DNA binding autoinhibition.
Function
The ETS family is present throughout the body and involves a variety of functions including regulation of cell differentiation, cell cycle control, cell migration, cell proliferation, apoptosis (programmed cell death) and angiogenesis. A variety of ETS factors have been found to be associated with cancer, for example by genetic fusion. For example, the ERG ETS transcription factor is fused to the EWS gene, resulting in a condition known as Ewing's sarcoma. Fusion of TEL with JAK2 protein (Figure 2) leads to early pre-B acute lymphoblastic leukemia. ERG and ETV1 are known gene fusions found in prostate cancer. In addition, ETS factors, for example, vertebrate Etv1 and invertebrate Ast-1 have been shown to be important players in the regulation and differentiation of dopaminergic neurons in C. elegans and olfactory bulbs.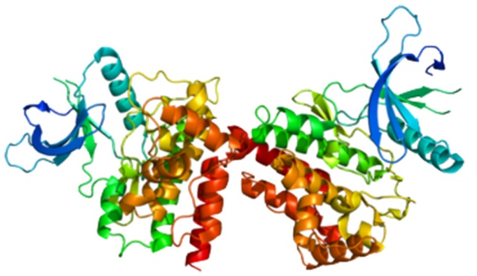 Figure 2. Structure of JAK2 protein.
Reference:
1. BoydKE.; et al. Identification of target genes of oncogenic transcription factors. Proc Soc Exp BiolMed, 1999, 222(1):9228.