Transcription Factors and Regulators Proteins Background
The initiation process of eukaryotic transcription is very complicated, and often requires the assistance of a variety of protein factors. The transcription factor forms a transcription initiation complex with RNA polymerase II and participates in the process of transcription initiation. According to the action characteristics of transcription factors, they can be divided into two categories; the first is a universal transcription factor, and when they form a transcription initiation complex together with RNA polymerase II, transcription can start at the correct position. In addition to TFIID, TFIIA, TFIIB, TFIIF, TFIIE, and TFIIH were found to function at different stages of transcription initiation complex assembly. The second type of transcription factor is a tissue-specific transcription factor. These TFs are a class of transcription factors that are needed to express certain specific protein molecules after specific tissue cells or some steroid hormones/growth factors or other transcription factor.
Functions
Transcription factors are one of the proteins that read and interpret DNA genetic "blueprints." They bind to DNA and help initiate processes that increase or decrease gene transcription. Therefore, they are critical for many important cellular processes. The following are some of the important functions and biological roles involved in transcription factors:
Basic transcriptional regulation
In eukaryotes, an important class of transcription factors that occur transcription is called the universal transcription factor (GTF). Many of these GTFs do not actually bind DNA, but are part of a large transcriptional pre-launch complex that interacts directly with RNA polymerase. The most common GTFs are TFIIA, TFIIB, TFIID (see also TATA binding protein), TFIIE, TFIIF and TFIIH. Pre-initiation complexes bind to DNA promoter regions upstream of the genes they regulate.
Increased transcriptional difference
Other transcription factors differentially regulate the expression of various genes by binding to DNA enhancer regions of adjacent regulatory genes. These transcription factors are critical to ensuring that the correct amount of the gene is expressed in the correct cell at the right time, depending on the changing needs of the organism.
Pathogenesis
Transcription factors can also be used to alter gene expression in host cells to promote pathogenesis. A well-studied example is a transcriptional activator-like effector (TAL effector) secreted by Xanthomonas bacteria. When these proteins are injected into plants, they can enter the nucleus of plant cells, bind to plant promoter sequences, and activate transcription of plant genes that contribute to bacterial infection. The TAL effector contains a central repeat region in which there is a simple relationship between the identity of two key residues in a sequential repeat and the sequential DNA bases in the target site of the TAL effector. This feature may make these proteins easier to evolve, thus better competing with host cell defense mechanisms.
Structure
Transcription factors are modular in structure and contain the following domains:
The DNA binding domain (DBD), usually attached to a specific DNA sequence (enhancer or promoter. The essential component of all vectors. The transcription used to drive the vector transgene promoter sequence) is adjacent to the regulated gene. A DNA sequence that binds to a transcription factor is often referred to as a response element.
An activation domain (AD) that contains binding sites for other proteins, such as transcriptional co-regulators. These binding sites are commonly referred to as activation function (AF), transactivation domain (TAD) or transactivation domain TAD, but are not mixed with the topological binding domain TAD.
An optional signal sensing domain (SSD) that senses external signals and, in response, transmits these signals to the rest of the transcription complex, resulting in up- or down-regulation of gene expression. Moreover, the DBD and signal sensing domains can reside on separate proteins bound within the transcriptional complex to regulate gene expression.

Figure 1. Schematic diagram of the amino acid sequence (amino terminus to the left and carboxylic acid terminus to the right) of a prototypical transcription factor that contains (1) a DNA-binding domain (DBD), (2) signal-sensing domain (SSD), and Activation domain (AD). The order of placement and the number of domains may differ in various types of transcription factors. In addition, the transactivation and signal-sensing functions are frequently contained within the same domain.
Regulators Proteins
Many regulatory protein proteins have regulatory functions, and these proteins are called regulatory proteins. One of them is hormones, such as insulin that mediates blood sugar in animals, thyroid stimulating hormone that stimulates the thyroid, growth hormone that promotes growth, and so on. Another class can be involved in the regulation of gene expression, they can activate or inhibit the transcription of genes.
Insulin
Insulin is a regulatory protein that is a peptide hormone produced by islet beta cells. It is considered to be the main anabolic hormone in the human body. It regulates the metabolism of carbohydrates, fats and proteins by promoting the absorption of carbohydrates, especially glucose, from the blood into the liver, fat and skeletal muscle cells. In these tissues, absorbed glucose is converted to glycogen by glycosylation, or converted to fat (triglyceride) by fat formation, or converted to both in the liver. High concentrations of insulin in the blood strongly inhibit the production and secretion of hepatic glucose. Circulating insulin also affects the synthesis of proteins in a variety of tissues. Therefore, it is an anabolic hormone that promotes the conversion of small molecules in the blood into macromolecules in cells. Low insulin levels in the blood have the opposite effect by promoting extensive catabolism, especially catabolism of body fat.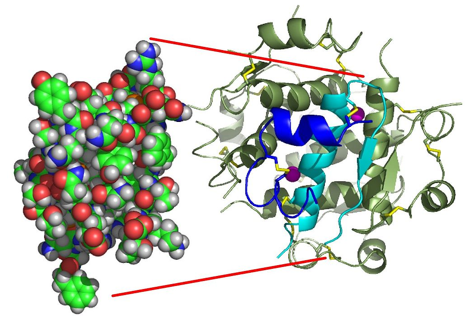 Figure 2. The structure of insulin.
Thyroid-stimulating hormone
Thyroid stimulating hormone (also known as thyroid stimulating hormone, thyroid stimulating hormone or TSH for short) is a pituitary hormone that stimulates the thyroid gland to produce thyroxine (T4) and then stimulates triiodothyronine (T3) to stimulate almost all tissues in the body. The metabolism. It is a glycoprotein hormone produced by thyroid cells in the anterior pituitary, which regulates the endocrine function of the thyroid gland.
References:
1. Shilatifard A.; et al. The RNA polymerase II elongation complex. 2002, Annual Review of Biochemistry. 2003, 72: 693–715.
2. Evan G.; et al. Integrated control of cell proliferation and cell death by the c-myc oncogene. Philosophical Transactions of the Royal Society of London. Biological Sciences. 1994, 345 (1313): 269–75.
3. Sonksen P.; et al. I Insulin: understanding its action in health and disease. British Journal of Anaesthesia. 2000, 85 (1): 69–79.
4. Magner J. Historical note: many steps led to the 'discovery' of thyroid-stimulating hormone. European Thyroid Journal. 2014, 3 (2): 95–100.