What is Transmembrane Protein?
Transmembrane protein is a type of membrane protein exists in the whole biofilm. Transmembrane proteins span from one side of the membrane to another side. They play an essential role in molecular transport, signal transduction, energy utilization and other basic biological processes. Transmembrane proteins include transporters, receptors, enzymes and anchors (Figure 1). They are involved in almost all cellular processes in living organisms such as communication with the outside world, transport of molecules and ions across membranes and energy generation processes.

Figure 1. Some kinds of transmembrane proteins. Transporter proteins transport molecules, such as glucose, from one side of the plasma membrane to the other. Receptors can bind an extracellular molecule and activate an intracellular process. Enzymes on the cell membrane can also convert one molecule into another. Anchor proteins can link intracellular and extracellular structures physically.
Classification of Transmembrane Proteins
Transmembrane proteins can be classified into two types based on their structure: α-helical and β-barrels. Most of the transmembrane proteins are α-helical proteins. They are usually present in the inner membrane. β-barrel proteins are found only in outer membranes of gram-negative bacteria, cell walls of gram-positive bacteria, outer membranes of mitochondria and chloroplasts. β barrels are formed from different numbers of β strands (Figure 2).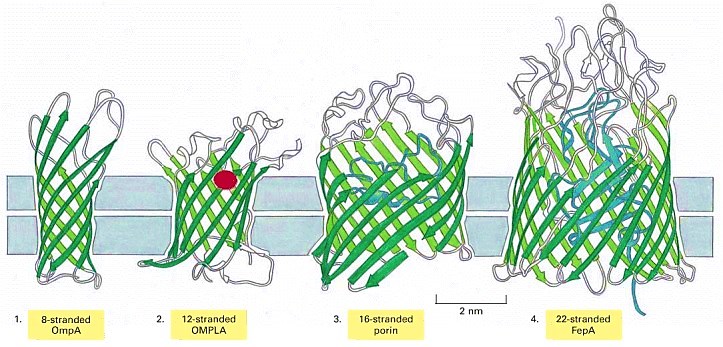 Figure 2. Some of the β barrel structures. (1) The E. coli OmpA protein (8 β strands). (2) The E. coli OMPLA protein (12 β strands). (3) A porin from the bacterium Rhodobacter capsulatus, which forms water-filled pores across the outer membrane (16 β strands). (4) The E. coli FepA protein (22 β strands).
Transmembrane protein such as CorA for the magnesium channel spans across the membrane with well-defined functions of its inner (iCorA) and outer (oCorA) membrane segments. The structure of inner segment and the outer segment of CorA is shown in Figure 3.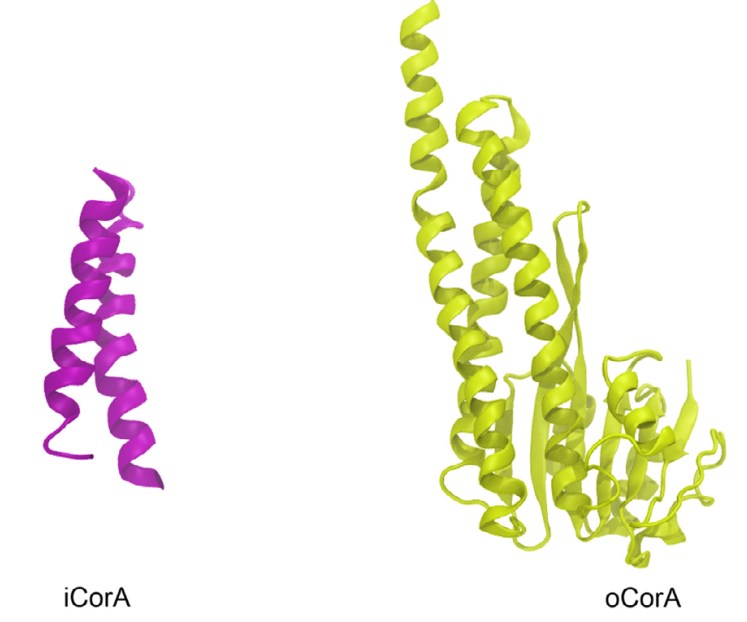 Figure 3. Structure of of inner (iCorA, left) and outer (oCorA, right) segments of CorA.
Transmembrane proteins can also be classified by their position of the protein N- and C-termini on the different sides of the lipid bilayer. They are type I, type II, type III and type IV. Type I transmembrane proteins are anchored to lipid membranes by terminating the transfer anchor sequence, and their N-terminal domains target to the endoplasmic reticulum (ER) lumen during the synthesis process (and when mature cells are on the plasmalemma, they target to the extracellular space). Type II and III are anchored with a signal-anchor sequence. Type II is targeted to the ER lumen with its C-terminal domain and type III target their N-terminal domains to the ER lumen. Type IV is subdivided into IV-A and IV-B. The N-terminal domain of IV-A targets to cytosols, and the N-terminal domain of IV-B targets to lumens. These four types of transmembrane proteins pass through ER membranes in different dependent direction.
The Function of Transmembrane Proteins
Gastrointestinal cancer, including gastric cancer, colorectal cancer, and esophageal squamous cell carcinoma, is the most common malignancy worldwide. Some research showed that overexpression of transmembrane protein BST-2 is associated with poor survival of patients with esophageal, gastric, or colorectal cancer. Transmembrane protein BST-2 is involved in tumor progression and serves as an independent prognostic classifier for patients with gastric cancer. BST-2 is expressed on the cell membrane, and it has the potential to be a therapeutic target for gastric cancer, colorectal cancer, and esophageal squamous cell carcinoma. BST-2 may also serve as potential biomarkers.
Transmembrane protein 119 (TMEM119) a member of the transmembrane protein family, also known as osteoblast induction factor (Obif), contributes to osteoblast differentiation and bone development. TMEM119 mRNA and protein expression was found to be up-regulated in osteosarcoma compared with normal bone cyst tissues. The level of TMEM119 protein expression was strongly associated with tumor size, clinical stage, distant metastasis and overall survival time.
Interferon induced transmembrane proteins (IFITMs) are small transmembrane proteins and important ISG products. There is a lot of evidence that IFITM can establish innate immune state to effectively eliminate pathogens. IFITM protein can prevent broad-spectrum virus infection through various mechanisms. It is generally believed that IFITM can prevent the virus from entering by inhibiting the fusion of virus membrane. However, some findings suggest that IFITM may also inhibit gene expression and protein synthesis of the virus, thereby damaging virus replication.
References
Markus, Sällman, Almén, et al. Mapping the human membrane proteome: a majority of the human membrane proteins can be classified according to function and evolutionary origin[J]. BMC Biology, 2009. 7:50.
Mukai S, Oue N, Oshima T, et al. Overexpression of transmembrane protein BST2 is associated with poor survival of patients with esophageal, gastric, or colorectal cancer[J]. Annals of Surgical Oncology, 2017, 24(2): 594-602.
Jiang Z H, Peng J, Yang H L, et al. Upregulation and biological function of transmembrane protein 119 in osteosarcoma[J]. Experimental and Molecular Medicine, 2017, 49(5): e329.
Liao Y, Goraya MU, Yuan X, et al. Functional involvement of interferon-inducible transmembrane proteins in antiviral immunity[J]. Front. Microbiol. 2019, 10: 1097.