Therapeutic Antibody
Using Therapeutic Antibodies Against Alzheimer's Disease
The most interesting results obtained in animal models of passive immunotherapies developed according to the "amyloid-beta cascade hypothesis" and the "Tau hypothesis" are monoclonal antibodies that directly or indirectly target Aβ plaques or neurofibrillary tangles. Unfortunately, these therapeutic antibodies cannot replicate their promising effects on humans at the clinical phase. Despite this, we still hope to learn from these failures and to explore new pathways. The great effects obtained in animals with passive immunotherapy suggest that this technology may be an important key to curative treatment. The remaining challenge is to find a way to achieve the same encouraging results for humans. Alzheimacy expects to join hands with global partners to focus on the development of therapeutic antibodies for Alzheimer's disease (AD) and continue to fight against this disease.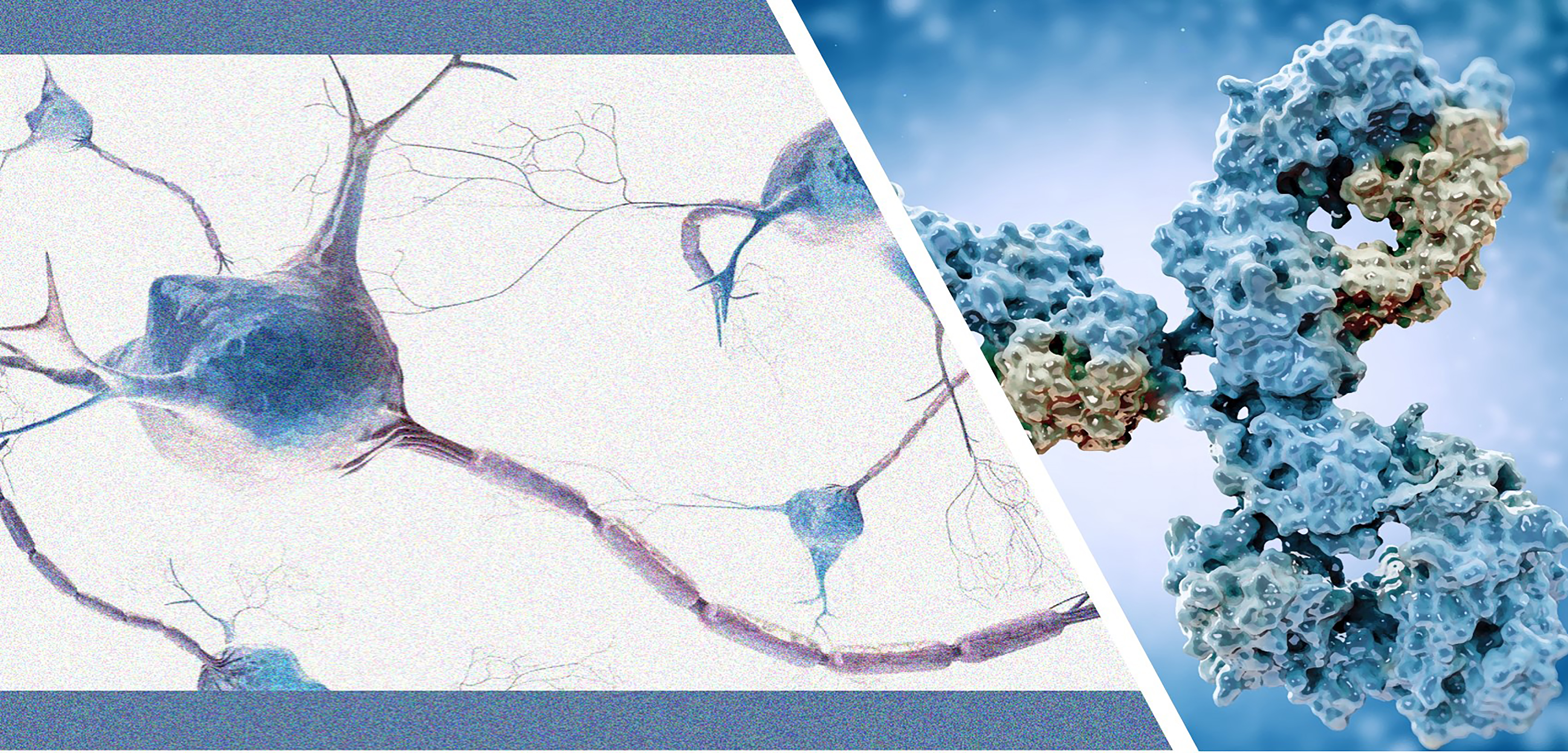 Several Pending Issues to Increase Efficacy of Passive Immunotherapies
Increasing brain uptake of antibodies: Because of the presence of blood-brain barrier that prevents macromolecules from entering the brain, only a small fraction of injected antibodies can reach the brain. Recombinant antibody production methods have led to the production of novel antibody formats, such as bispecific antibodies and antibody drug conjugates, which have the ability to overcome low blood-brain barrier permeability. In addition, it is also a strategy to use the gene therapy vectors to trigger the expression of therapeutic antibodies in the brain.
Prevention of side effects: Some clinical trials of therapeutic antibodies have been discontinued due to severe side effects, such as vasogenic edema and microhemorrhages caused by the activation of the antibody's effector function. One method of preventing the occurrence of side effects could be a slower and more gradual increase in dose administration.
Exploring new pathways: Previous clinical failures of therapeutic antibodies targeting Aβ plaques have forced researchers to consider exploring new pathways. Therefore, more and more Tau fibril-targeted antibodies are reaching the early clinical phases. In addition, we should be more active in finding better therapeutic targets, and in this process, we should be cautious about the absolute effectiveness of AD transgenic animal models.
About Alzheimacy
Alzheimacy is dedicated to transforming knowledge about the underlying mechanisms of AD into effective therapeutics. We are willing to collaborate with leaders and scientists from academia, pharmaceutical and biotechnology companies around the world to develop therapeutic antibodies for this disease.
Some neuropathologic features of AD have been well characterized, but it is still unclear what mechanism is responsible for the occurrence and development of the disease. Aβ plaques, neurofibrillary tangles, as well as cholinergic neuron damages, oxidative stress and inflammatory reactions in AD patients, all of these pathological expressions are obviously linked to each other. However, determining the origins of "chicken" and "egg" on a global scale is rather sophisticated, making the development of effective and radical therapies particularly difficult. Despite this, we still hope to help people better understand the disease and advance basic research to the early diagnosis and treatment of the disease by leveraging our comprehensive and powerful technology platform. The accumulation of long-term experience in the fields of biology, chemistry and crossover fields of life sciences (such as computer science) gives us the strength to study the pathogenesis of the disease in depth.
As a leader in the field of life science, Alzheimacy has established an integrated antibody discovery and engineering platform. Our comprehensive antibody development capabilities include but are not limited to target discovery and validation, surface display technologies and antibody library screening, antibody humanization and affinity maturation, pilot production of therapeutic antibodies, efficacy study and safety evaluation of therapeutic antibodies.
In the process of antibody discovery, our hybridoma, phage display, B cell sorting, and other technologies give us strong support. Our transgenic design and technology allow for potent antibody gene rearrangement, class switching, and somatic hypermutation, which is the foundation for yielding diversified antibody pools. Moreover, we support the development of antibodies at the extra small size that allows for increased flexibility, better penetration (i.e. cross the blood-brain barrier), higher conformational epitope accessibility, and easier production. Long-term experience in the creation and assessment of animal models supports our preclinical assessment for AD therapeutic antibodies.