Transcription Factor Assay Kits
---
A transcription factor (TF) controls the transcription rate of genetic information from DNA to mRNA by binding to a specific DNA sequence, which further helps regulate gene expression near the specific sequence. Many TFs are tumor suppressor genes or oncogenes, so their dysfunction is related to the occurrence and development of cancer. As a professional supplier of epigenetics products and services, Creative BioMart can provide you with a range of TF assay kits to accelerate your epigenetic regulation research. Our TF detection kit is based on a non-radioactive assay that semi-quantitatively measures the DNA-binding activity of specific TFs derived from nuclear extracts and whole-cell lysates. They provide a simple, fast, sensitive and high-throughput method for detecting the activity of TFs in the form of an enzyme-linked immunosorbent assay (ELISA).
Specific double-stranded DNA (dsDNA) sequences containing the target response element are fixed to the bottom of a 96-well plate. These oligonucleotides specifically capture target TFs contained in nuclear extracts or whole-cell lysates after brief incubation. Target TF-DNA complexes are recognized by adding specific primary antibodies against the target TFs, and then HRP-coupled secondary antibodies are used for detection. After washing away unbound antibodies, you can easily obtain a signal by performing a colorimetric assay at 450 nm.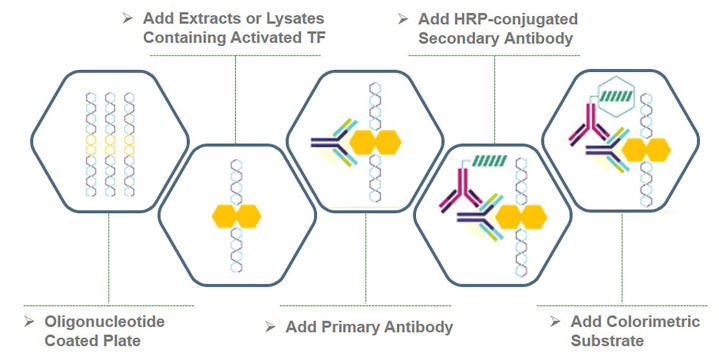 Product Features
DNA-binding activity detection of specific TFs
Simple operation and easy to perform in ELISA format
Non-radioactive assay
High-throughput assay (96-well plate format)
Recommended conditions may save optimization time
Detailed experimental protocols and optimization guidance
If you prefer your own protocol, it is recommended to optimize it with sample preparation kits provided by us to help you get started with high-quality nuclear extracts or whole-cell lysates. We also offer many ready-to-use extracts and lysates products. Please query our product list, if you have any questions or cannot find a suitable kit in the catalog, please do not hesitate to contact us, our experts will provide you with free consulting services, and we have the ability to customize test kits for you.
Browse All Transcription Factor Assay Kits
Online Inquiry
For

Research Use Only

.

Not

for use in

diagnostic or therapeutic

procedures.