Small Non-coding RNA Sequencing Service
---
Small non-coding RNA can regulate gene expression, and therefore plays a significant role in epigenetics research. If you want to know the distribution of small non-coding RNA within species, including the type and distribution of microRNAs (miRNAs), Creative BioMart is your trustworthy partner. As a supplier dedicated to epigenetic research, Creative BioMart has a state-of-the-art technology platform and an experienced technical team that will provide you with high quality small non-coding RNA sequencing service (including miRNA-Seq) at a competitive price. Small non-coding RNA sequencing is a valuable approach for studying small non-coding RNA functions and constructing regulatory networks for miRNAs and their target genes.
What Is Small Non-coding RNA?
Small non-coding RNA is a type of non-coding RNA with low abundance and less than 200 nt in length, which regulates the translation of target messenger RNA (mRNA). To regulate post-transcriptional modification of the gene, the small non-coding RNA binds to the target site of the regulated gene, cleaves the gene transcript, or directly affects its translation into a protein, thereby achieving post-transcriptional gene silencing (also known as RNA interference). Small non-coding RNA usually includes small interfering RNA (siRNA), Piwi-interacting RNAs (piRNA) and miRNA, as well as other types, such as small nucleolar RNA (snoRNA) and small nuclear RNA (snRNA). Most of siRNAs production is triggered by exogenous double-stranded RNA molecules; piRNAs are found in mammalian gonad and are vital for the development of germ cells; miRNAs are produced internally by living organisms and some viruses themselves and have been found to participate in the regulation of many kinds of biological phenomenon, including development, signal transduction, cell division, apoptosis and promote/inhibit angiogenesis, play an important role in the occurrence and development of cancer.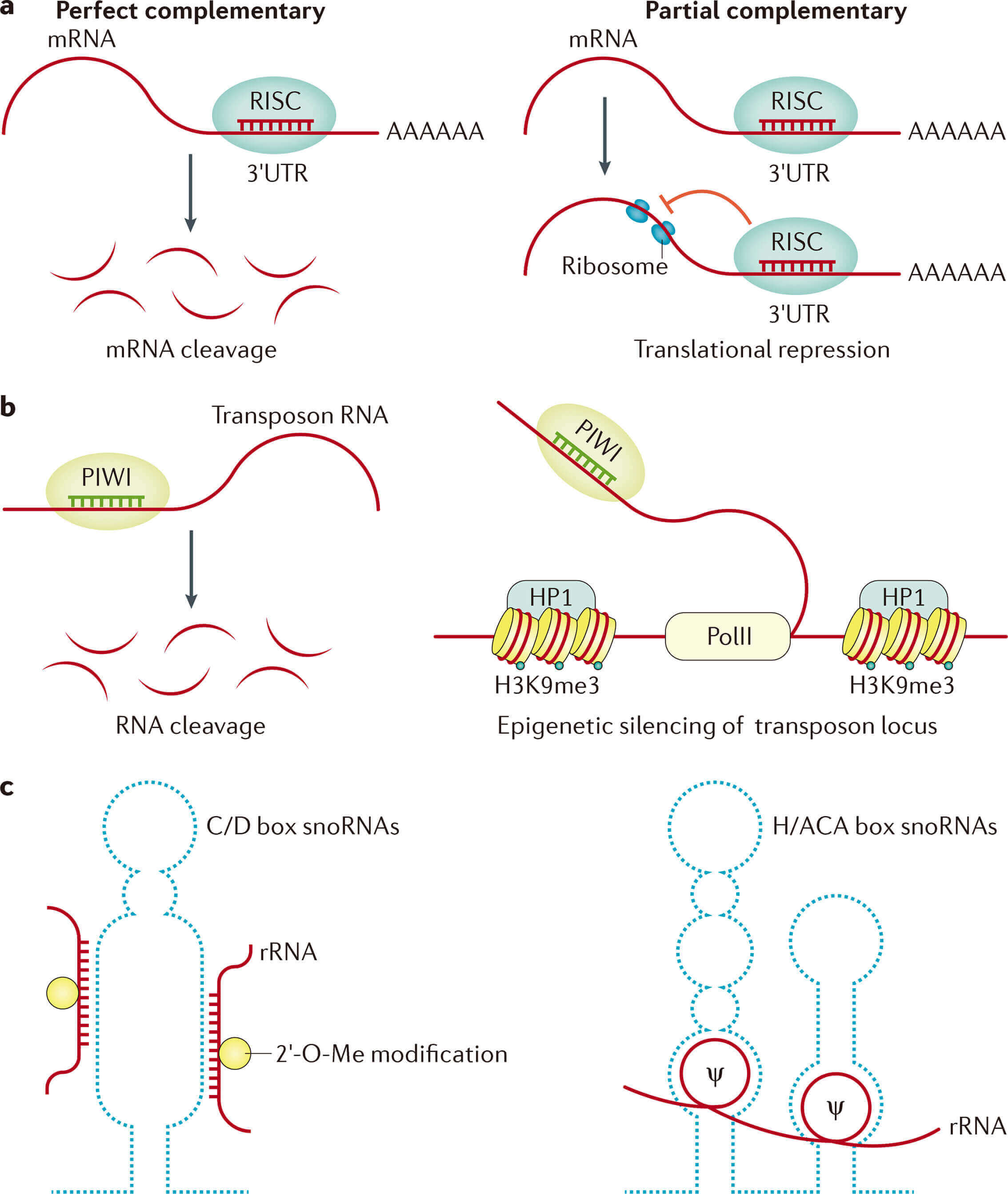 Figure 1. Mechanisms and functions of small non-coding RNAs (Wong C.; et al. 2018)
With the advent of next-generation sequencing (NGS), it has become the major technique in the study of small non-coding RNA. By taking advantage of the unprecedented sensitivity and dynamic range of huge output, NGS can identify weakly expressed small RNAs and quantitatively reveal the heterogeneity in length and sequence.
Applications of Small Non-coding RNA Sequencing
Post-transcriptional regulation of gene expression
Small non-coding RNA and miRNA profiling
Identifying novel transcripts and differentially-expressed small non-coding RNAs
Predicting the location of miRNA inhibitory genes (binding target site)
Identifying miRNAs involved in regulation of onco- and tumor-suppressor gene expression
Our Advantages
Tolerance of multiple sample types: we currently accept a wide range of biological and clinical samples including total RNA without degradation or DNA contamination, cells and tissues. Sample sources include human, animals, plants as well as microorganisms.
One-stop service: customers only need to provide samples, and we complete a full small non-coding RNA sequencing experiment, including project consultation, experimental design, experimental execution and data analysis, as well as troubleshooting during the experiment. The final report you will receive includes a complete experimental protocol, raw data, analytical data, and a summary of the result analysis.
Unsurpassed data quality: we guarantee that more than 80% of bases with a ≥Q30 quality score, exceeding Illumina's official guarantee of ≥ 75%.
Professional bioinformatics analysis: we have a professional bioinformatics analysis team to provide you with both standard data analyses (such as mapping to reference genome, mapping to miRbase/nonCode and counting, differential expression analysis) and customized bioinformatics analyses.
Workflow of Small Non-coding RNA Sequencing at Creative BioMart
Creative BioMart strictly controls each step in the small non-coding RNA sequencing workflow to ensure access to unsurpassed data quality.

Figure 2. Workflow of small non-coding RNA sequencing service at Creative BioMart
Creative BioMart provides comprehensive small non-coding RNA sequencing and bioinformatics analysis for miRNA and other types of small non-coding RNA, including siRNA and piRNA. The experts of Creative BioMart utilize the advanced Illumina platform, adopte SE50 sequencing strategy and widely accepted analysis software to support RNA research in a variety of biological systems. Please contact us for more information about our small non-coding RNA sequencing service.
References
1. Ghildiyal M, Zamore P D. Small silencing RNAs: an expanding universe. Nature Reviews Genetics. 2009, 10(2): 94-108.
2. Wong C M.; et al. Non-coding RNAs in hepatocellular carcinoma: molecular functions and pathological implications. Nature Reviews Gastroenterology & Hepatology. 2018, 15(3): 137.
Online Inquiry
For

Research Use Only

.

Not

for use in

diagnostic or therapeutic

procedures.