ChIP-on-chip Service
---
If you want to analyze transcriptional regulation from the DNA level in a more rapid and cost-effective manner and to map epigenetic changes in parallel at the whole genome level, we will provide you with the best ChIP-on-chip service in Creative BioMart to achieve your research goals.
What Is ChIP-on-chip?
ChIP-on-chip (also known as ChIP-chip) is a technique that combines chromatin immunoprecipitation (ChIP) with microarray technology, enabling us to rapidly determine the entire profile of DNA binding sites of a given protein, providing a genome-wide snapshot of transcriptional regulation mechanisms. This technique is very suitable for the comprehensive analysis of transcription factor binding sites, histone modification patterns, and nucleosome occupancy. The ChIP-on-chip can also be utilized to explore structural changes in the chromosome in any region of interest in a genome.
The general working principle of the ChIP-on-chip is as follows. After ChIP, DNA fragments are purified from the chromatin fraction recovered following chromatin immunoprecipitation (commonly referred to as the BOUND fraction). This fraction is enriched for the targeted histone modification or chromatin-related protein is fluorescently labeled. And then the DNA fragments are fluorescently labeled. DNA fragments from control input genomic DNA are also fluorescently labeled using a complementary fluorescent dye. Both sets of labeled DNA fragments are combined and hybridized to microarrays corresponding to the defined domain, locus or even whole genome. The enrichment region can be identified based on the ratio of signals from ChIP DNA and control DNA.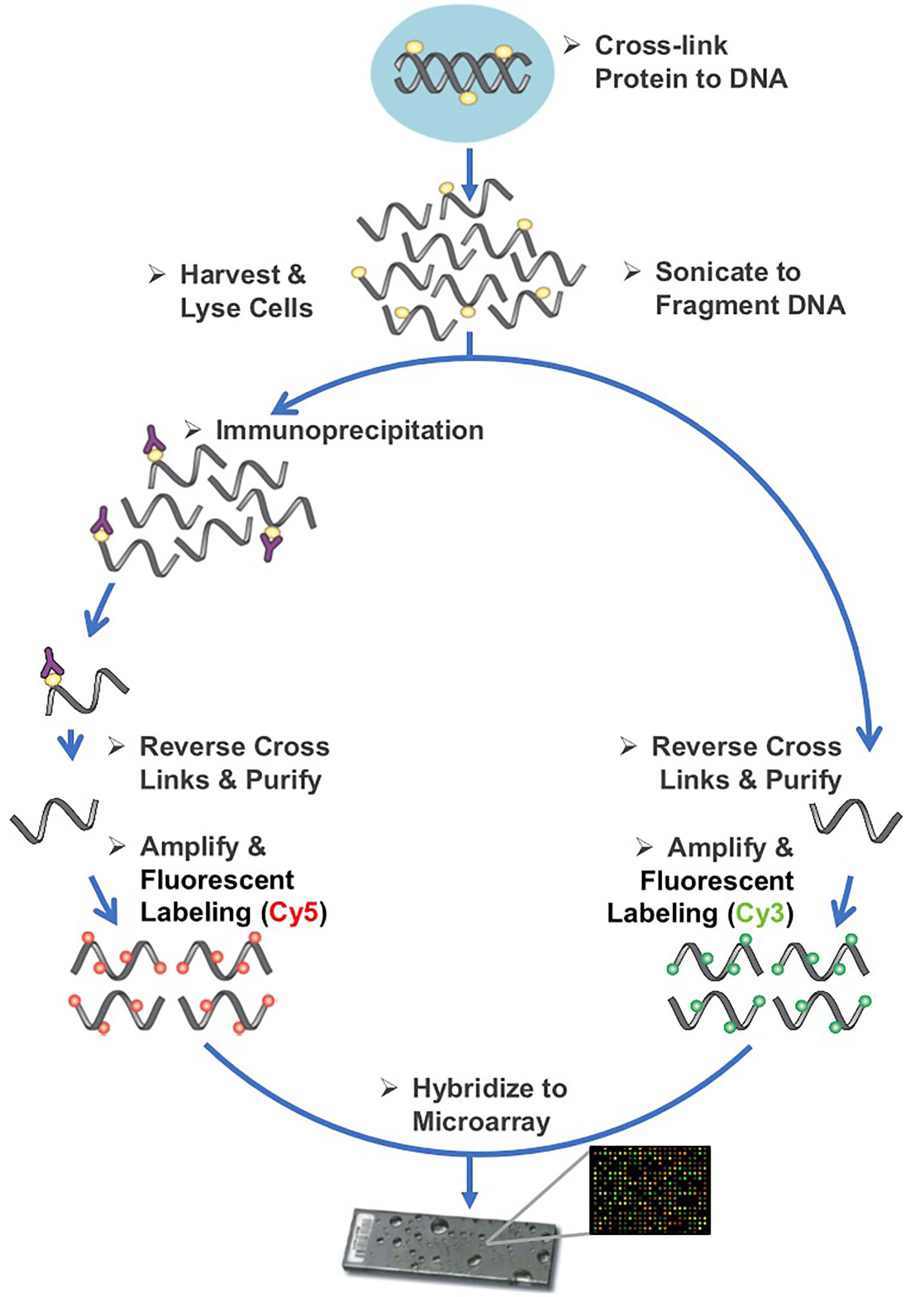 Figure 1. ChIP-on-chip Schematic
Features of ChIP-on-chip
Histone modification, chromatin-related factors or modifying enzymes can be studied on a larger scale.
The chromatin landscape can be mapped with high-confidence at a genome-wide level from a small biological sample amount.
Allows for the identification of small differences in epigenome marks.
Allows both the screening and downstream validation of target regions to be performed efficiently.
Better spatial resolution and high-density tiling arrays enable the nucleosome-level ChIP-on-chip.
Advantages of Choosing Creative BioMart
Multiple commercial ChIP-on-chip arrays: including promoter arrays designed for common model organisms such as human, mouse, rat, and zebrafish. And the whole genome tiling array designed for organisms with relatively small genomes, for example, yeast, nematodes, fruit flies, etc.
Highly customized service: Creative BioMart can also design custom ChIP-on-chip arrays for any species with a sequence database to meet the needs of customers.
Flexible & One-stop service: customers only need to provide samples, and we will help you with the optimal project design. The technical team will provide you with the full ChIP-on-chip experiment, complete report with both raw and analyzed data, graphs, detailed protocols, and a summary of findings.
Stringent quality control: at Creative BioMart, there are multiple quality control steps in all workflows and validated reagents deliver superior data.
Cost-effective: Creative BioMart assures the experimental data of high-quality that you seek in a convenient manner and at a competitive price.
Workflow of ChIP-on-chip Service at Creative BioMart

Figure 2. Workflow of ChIP-on-chip service at Creative BioMart
As a dedicated provider of epigenetic research services, Creative BioMart is looking forward to work closely with your team and accelerate your epigenetics project. Our services are tailored to meet your specific needs. contact us for more information about our ChIP-on-chip service.
Reference
1. Pillai S.; Chellappan S P. ChIP on chip and ChIP-Seq assays: genome-wide analysis of transcription factor binding and histone modifications. Methods Mol Biol. 2015. 1288(523): 447-472.
Online Inquiry
For

Research Use Only

.

Not

for use in

diagnostic or therapeutic

procedures.