Poly (ADP Ribose) Polymerase Screening
---
Poly (ADP-ribose) polymerase (PARP) is a kind of enzymes transferring ADP-ribose units from NAD+ onto adjacent nuclear proteins, thus forming long branched poly ADP-ribose (PAR) chains that recruit other repairing enzymes to the site of damage. PARPs function as key signal in DNA excision and repair, apoptosis, and chromatin structure and participate in transcriptional regulation of several signaling pathways, including genes involved in inflammation. Some PARP proteins are capable of activating Wnt signaling and driving tumor cell proliferation. Herein, PARPs have become important cancer drug targets. PARP inhibition has been found to avoid tissue damage in diseased animal models and also causes PARPs to be trapped on the damaged DNA to generate toxic PARP-DNA complexes that prevent cancer cells from proliferating and replicating. This emphasizes the significance of developing PARP inhibitors that show dramatic therapeutic potential for breast and ovarian cancer. PARP inhibitors have also been investigated as combination therapies with immune checkpoint inhibitors.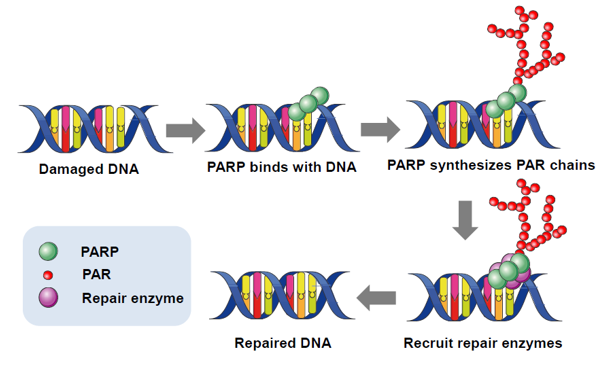 Figure 1. Mechanism of the PARP enzyme (Niu, M. M.; et al. 2015)
PARP screening services at Creative BioMart are performed in a fast, reliable, and inexpensive manner to identify your PARP inhibitors. Histone substrate and biotin-labeled NAD+ are utilized in this assay. Activity is detected by adding Strep-horseradish peroxidase (HRP) and chemiluminescent substrate. The detailed data containing the efficacy of PARP inhibitors and enzymatic activity of PARP is provided to guide your lead optimization and to help you make more cogitative decisions, thus expediting your epigenetic drug research programs. More than 10 different PARPs are available for our screening and profiling services. A portfolio of PARP related products including substrates, assay kits, and inhibitors are also presented at Creative BioMart.

Figure 2. Procedure of PARP screening assay
Benefits of PARP Screening Services at Creative BioMart
A broad range of PARP targets for screening and profiling
Accommodating various inhibitors to be assayed
Single point concentration and IC50 (half maximum inhibitory concentration) determination
As a leading service provider in the epigenetic drug discovery field, Creative BioMart shows high proficiency and expertise in providing comprehensive service in PARP proteins and PARP inhibitors screening and profiling for customers worldwide. The sophisticated equipment, advanced technologies and highly experienced scientists coordinate with each other, allowing our services to be more defined and flexible and thus satisfying your different requirements. Creative BioMart is the first choice of PARP screening and assists your PARP-based drug discovery with high quality data and fast turnaround time. Welcome to contact us for project quotations and more detailed information.
Reference
1. Niu, M. M.; et al. An in silico protocol for identifying potential poly (ADP-ribose) polymerase-1 (PARP-1) inhibitors from chemical databases. New J Chem. 2015, 39(2): 1060-1066.
Online Inquiry
For

Research Use Only

.

Not

for use in

diagnostic or therapeutic

procedures.