Deubiquitinating Enzyme Screening
---
Ubiquitination is a dynamically reversible post-translational modification by incorporating 76 amino acids contained polyubiquitin peptide to proteins. The removal of ubiquitin by deubiquitylating enzymes (DUBs) counteracts the activity of ubiquitin ligases and is now considered to be equally significant for protein regulation. There are about 100 DUBs found in the human genome. It has been illustrated that DUBs are responsible for ubiquitin precursor processing, ubiquitin recycling, trimming of ubiquitin chains, and also make contributions to cell growth and differentiation, development, DNA damage, transcriptional regulation and chromatin remodeling. In the past few years, numerous DUBs have been found to be implicated in various diseases spanning oncology, hematology, neurodegeneration, and infectious diseases. DUBs have been considered as promising targets for drug development.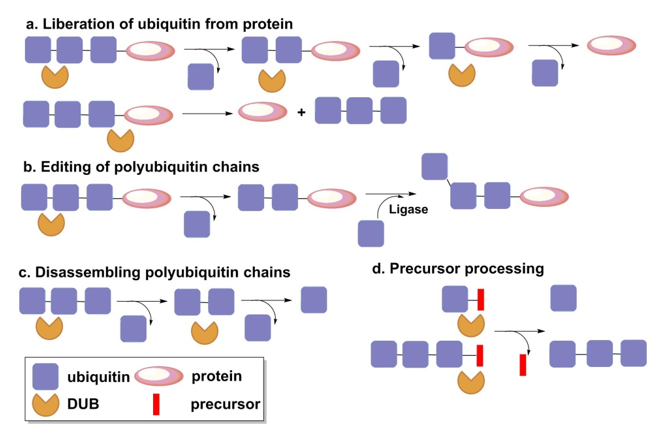 Figure 1. Main functions of DUB enzyme (Ndubaku, C.; et al. 2015)
Creative BioMart offers customized solution for in vitro screening of your DUBs, DUB substrates, and/or DUB inhibitors/activators. We can characterize your known DUB or confirm your putative DUB by testing it against all of the classic DUB substrates and currently available inhibitors. Our experienced work team could also profile the activity of your DUB with any or all of our available substrates and inhibitors. Meanwhile, the potency of inhibitor, substrate, or activator could also be tested against a comprehensive list of full-length DUBs available at Creative BioMart. As an experienced pioneer in this field, Creative BioMart is committed to providing you the most comprehensive DUB assays with the most competitive price.
The solution to identify novel DUB inhibitors at Creative BioMart is convenient and fast, by screening your compounds library across any of the more than 40 individual DUB targets in our enzyme inventory, which almost represent the entire human DUB superfamily. A wide range of different formats are obtainable, including single point analysis, IC50 (half maximal inhibitory concentration) determination and high-throughput screening for larger numbers compounds.
Advantages of DUB profiling assays at Creative BioMart
A comprehensive panel of human DUB targets
A broad range of substrates available to screen DUBs activity
Selectivity and specificity of DUB substrates
IC50 or single point concentration determination
Screening any combination of compounds against DUB
Large scale high-throughput screening
Fast turnaround time and high efficiency
Customized assay development
Equipped with the most excellent platforms, Creative BioMart is confident in providing compound screening assay against your DUB target. Various panels of DUBs are presented to establish highly qualified programs that help you determine compound efficacy and to confirm the most likely leads to achieve the ultimate goal of your epigenetic therapy development with short lead time. Our custom assay development services allow for more flexibility to meet your specific research needs. contact us for more information about our screening services.
Reference
1. Ndubaku, C.; et al. Inhibiting the deubiquitinating enzymes (DUBs). J Med Chem. 2015, 58(4): 1581–1595.
Online Inquiry
For

Research Use Only

.

Not

for use in

diagnostic or therapeutic

procedures.