hMeDIP-chip Service
---
In order to further understand the role of 5hmC, it is necessary to understand the location of 5hmC in the genome. The 5hmC monoclonal antibody capture method is a powerful tool for studying DNA hydroxymethylation modification. And the genome-wide hydroxymethyl distribution profile can be obtained by combining microarray technology. Creative BioMart provides you with efficient and cost-effective hMeDIP-chip service to identify the distribution of 5hmC within coding or non-coding gene promoters and other biologically important genomic regions.
What Is hMeDIP-chip?
The hydroxymethylated DNA enriched by hydroxymethylation DNA immunoprecipitation (hMeDIP) can be interrogated using DNA microarrays. Microarray hybridization is prone to conduct large-scale and high-throughput experiments. Briefly, genomic DNA is sheared to low molecular weight fragments, and hydroxymethylated DNA fragments are enriched using antibodies against 5hmC. The purified hydroxymethylated DNA (IP) and input DNA (Input) are amplified by whole genome amplification (WGA) method and subsequently labeled with fluorescent dyes Cy5 and Cy3, respectively. And then, hybridized with DNA hydroxymethylation microarray for detection. The hybridization signals are then detected, and the array images are extracted and analyzed.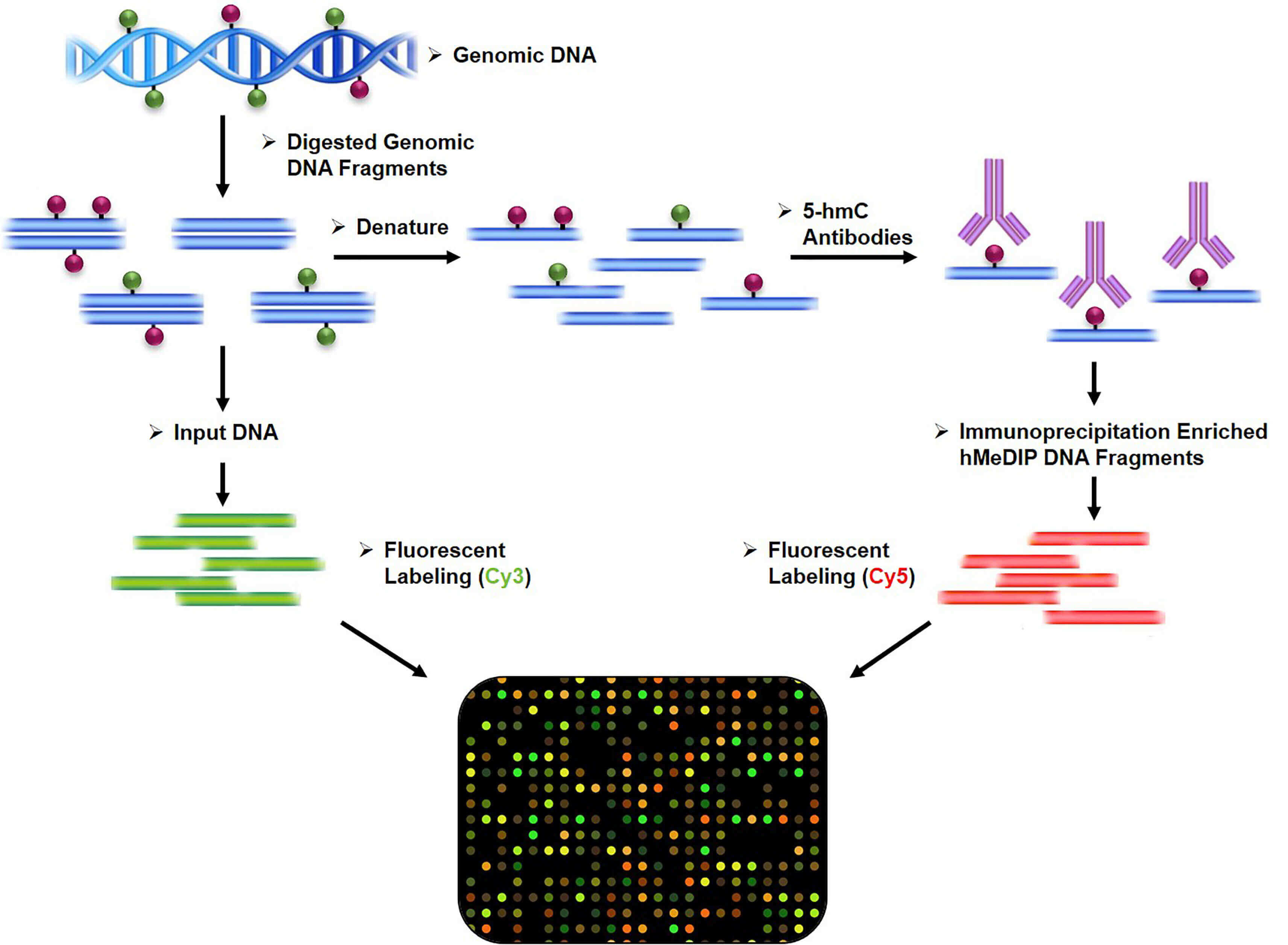 Figure 1. hMeDIP-chip Schematic
Features of hMeDIP-chip Service at Creative BioMart
One-stop service: you only need to provide well-preserved tissue or cell samples, and the technical staff of Creative BioMart can complete all the experimental operations for you, including genomic DNA shearing, hMeDIP, linear amplification of DNA fragments, fluorescent labeling, microarray hybridization, image collection, and data analysis, and provide complete experimental reports.
High specificity of hMeDIP enrichment: hMeDIP is the key to obtaining accurate data. Creative BioMart has extensive experience in the field of epigenetics, and the hMeDIP platform is continuously optimized for high antibody enrichment efficiency and specificity.
Stringent quality control system: Creative BioMart adds quality control (QC) experiments at every key step of hMeDIP-chip. These QC data can assess the quality of the experiment at each step. If the standard is not met, we will repeat the experimental steps or optimize the experimental system so that each sample can meet the QC standards.
Extensive bioinformatics analysis: in addition to the rigorous and reliable experimental system, Creative BioMart also has a strong bioinformatics team, which provides customers with comprehensive and in-depth data analysis services, such as hydroxymethylation enrichment peaks (EP) discovery, differential enrichment peaks (DEP) analysis, and differential hydroxymethylation region analysis.
Highly customized service: not only do we have multiple commercial DNA hydroxymethylation microarrays, but we also offer array designs to meet customer's research demands.
Workflow of hMeDIP-chip Service at Creative BioMart

Figure 2. Workflow of hMeDIP-chip service at Creative BioMart
Creative BioMart is a reliable partner that can work with you to accelerate the speed to achieve your research goals. If you have any special requirements in our hMeDIP-chip service, please feel free to contact us. We are looking forward to working together with your attractive projects.
Reference
1. Thomson J P.; et al. Dynamic changes in 5-hydroxymethylation signatures underpin early and late events in drug exposed liver. Nucleic Acids Research. 2013, 41(11): 5639-5654.
Online Inquiry
For

Research Use Only

.

Not

for use in

diagnostic or therapeutic

procedures.