Cytokeratin is a commonly used tumor immunohistochemical marker, and its positive expression is found in epithelial cells and mesothelial cells; cancer and mesothelioma. Cytokeratin (CK) is mainly distributed in epithelial cells and is the main skeleton protein in keratinocytes. The main function of this structural protein is to maintain the integrity and continuity of epithelial tissue. Studies have found that cytokeratin (CK) has extremely high conservation and tissue differentiation specificity, which is closely related to the proliferation and differentiation of epithelial cells. There are more than 20 types of cytokeratin that have been proven.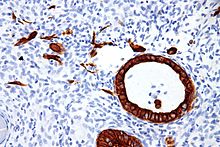 Figure 1. Photomicrographs show low molecular weight cytokeratin (LMWCK) staining of intermediate trophoblasts (placental tissue) and endometrial glands.
Structures
All cytokeratin chains of cytokeratin consist of a central domain rich in α-helix and non-α-helical N- and C-terminal domains. The alpha-helical domain has 310-150 amino acids and contains four fragments with seven residues repeated. The terminal domain sequences of type I and II cytokeratin chains contain subdomains V1 and V2 on both sides of the rod domain, and their size and sequence can be varied. Type II also presents conserved subdomains H1 and H2, containing 36 and 20 residues, respectively. The subdomains V1 and V2 contain residues rich in glycine or serine, the former providing strong insolubility to the cytokeratin chain and promoting interaction with other molecules. These terminal domains are also important in defining the functions of the cytokeratin chain characteristics of specific epithelial cell types. The two dimers of the cytokeratin group become keratin tetramers by antiparallel binding. The cytokeratin tetramer is considered to be the main structural unit of the cytokeratin chain. Through the connection of cytokeratin tetramers from head to tail, protofilaments are produced, and the protofilaments are entangled in pairs to form fibrils. Four fibrils are placed on a keratin filament.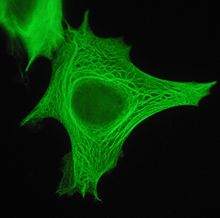 Figure 2. Cytokeratin chains.
Cytokeratin and Cancer
Cytokeratin is a common tumor immunohistochemical marker, and its positive expression is found in epithelial cell carcinoma, mesothelial cells, cancer, mesothelioma, and sarcoma. Cytokeratin 19 is the intermediate filament of the cell body. It can be divided into 20 different types according to its molecular weight and isoelectric point. Keratin 19 is of great value in the diagnosis of lung cancer and is an important marker of non-small cell lung cancer. It is mainly distributed in monolayer and pseudo-stratified epithelial cells. The coincidence rate of diagnosis of non-small cell lung cancer has reached 78%. In cervical cancer, Bladder cancer and breast cancer also have a certain positive rate. It has been reported that 33% of patients with chronic renal insufficiency can also increase. Therefore, after you find that keratin is elevated, you must go to the hospital for a system check. Don't blindly think that you have cancer, it may be benign disease. There are many types of tumor markers, some of which are increased, and may also be seen in chronic inflammation or other factors, so an increase in tumor markers does not necessarily represent cancer. However, if the tumor markers of patients with cancer can be significantly increased and then decreased after treatment, if it is increased, it may be a sign of recurrence. Therefore, if the tumor markers of tumor patients are high, the decline after treatment is very meaningful.
Reference:
Herrmann H, et al.; Intermediate filaments: from cell architecture to nanomechanics. Nat. Rev. Mol. Cell Biol. 2007, 8 (7): 562–73