As a leading biotechnology services supplier, Creative BioMart offers synthetic polymer PEG modification and bioconjugation services on peptide/proteins, oligonucleotides, antibodies, lectins, enzymes, toxins, drugs or other small molecules for a variety of applications. With our expertise as a leader in the field of PEGylation, Creative BioMart can offer you a set of new technologies.
Common limits for therapeutic application of peptides and proteins are their chemical instability, their short circulation time in blood and their tendency to promote immunological response. Linking one or more PEG (polyethylene glycol) molecules to these peptides and proteins (PEGylation) have been proven to be a possible solution for these problems. This is achieved due to the combination of increased molecular weight and coverage of epitopes or blockage of sequences prone to enzymatic degradation.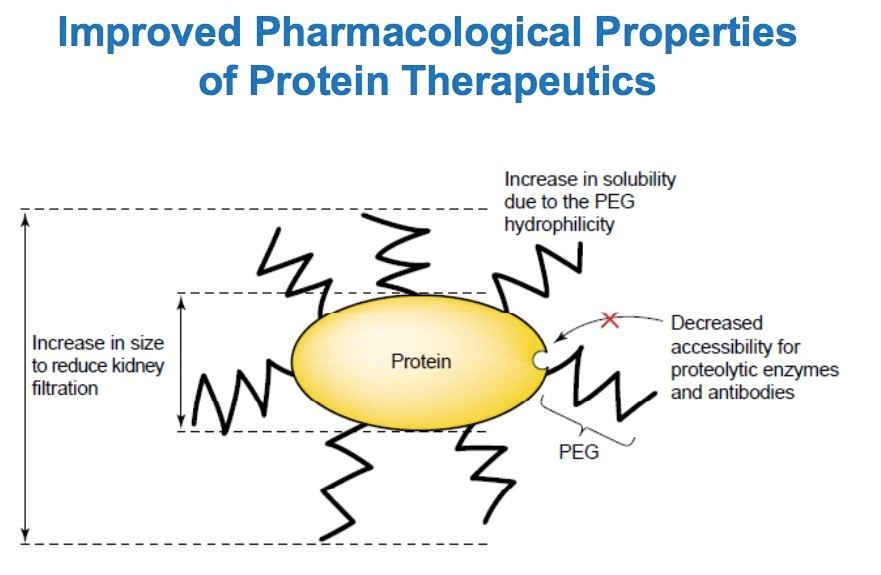 PEGylation can be effective in:
Increased solubility and stability
Minimal loss of biological activity
Reducing Immunogenicity and toxic profile
Decreasing Frequency of Dosing, therefore minimizing side effects
Increased in vivo efficacy and clinical effectiveness;
Improving Bioavailability for small molecules
Maximizing Pharmacokinetics
Improving biocompatibility
Prolonging Blood Circulation
Reduced rate of kidney clearance
PEGylation service as a regular customer product
Creative BioMart offers a range of PEGylation technologies for your choice, which can be used with different molecular weight PEGs, in linear and branched formats. We PEGylate your molecular and deliver PEGylated product with a certificate of analysis.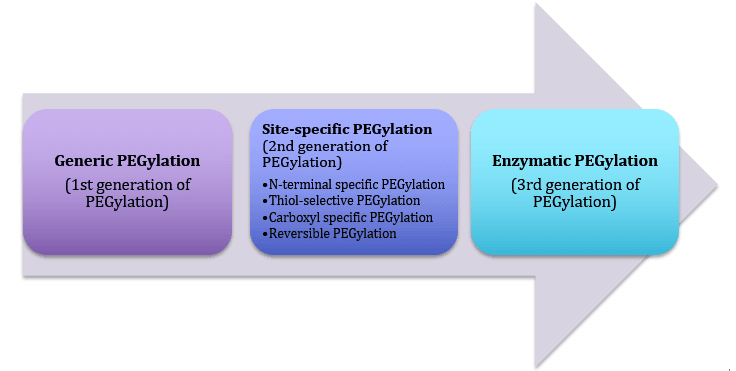 Complete PEGylation method development service
Under this service model, we will provide PEGylated sample as well as the easily scalable and transferable PEGylation method development package. This package includes:
PEGylation feasibility study
Exploration and establishment of PEGylation process
Pilot production of PEG-drug conjugate
PEGylation screening and characterization of conjugates
Development and pre-validation of analytical methods
Process development of PEG-drug conjugate manufacturing
Investigation of PEGylated biosimilars
Creative BioMart's PEGylation services are tailored for each project to ensure the objectives are met. Our expert project teams are assigned to each study focusing on progressing projects through to results in the minimum amount of time.
Reference
1. Pasut, G. and Veronese, F.M. State of the art in PEGylation: The great versatility achieved after forty years of research. Journal of Controlled Release, 161, 461-472. doi:10.1016 /j.jconrel.2011.10.037
2. Veronese, F.M. and Pasut, G. PEGylation, Successful Approach to Drug Delivery. Drug Discovery Today Volume 10, Issue 21, Pages 1405-1483. Nov1, 2005