Home / Services /Membrane Protein Services
Membrane Protein Services
Creative BioMart is a biotechnology company committed to addressing the unmet needs of drug discovery for the treatment and cure of human diseases that involve membrane proteins.
Membrane proteins such as receptors and ion channels are key regulators of cellular function. Membrane proteins account for up to two thirds of known drugable targets, highlighting their critical pharmaceutical importance.

One of the largest, most versatile group of membrane receptors, the G protein-coupled receptors (GPCRs), is also the most pharmaceutically important, accounting for over 50% of all human drug targets and acting as therapeutic targets for a wide range of disease conditions including cancer, cardiovascular, metabolic, CNS and inflammatory diseases.

Ion channels represent another group of important membrane protein drug targets and account for the activity of 10% of the currently marketed drugs.
Drug target classes of current drug therapies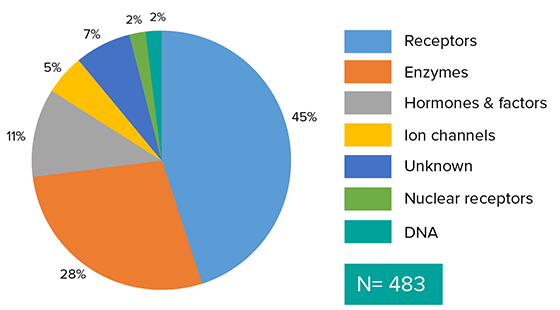 Despite their importance, membrane receptors are notoriously difficult to prepare in pure, correctly folded form in sufficient quantity for drug discovery purposes. The challenging of membrane proteins expression is because their expression can be toxic to cells or cause inclusion bodies, affects the protein yield, purification and research period.
Creative BioMart has been working with pharmaceutical, biotechnology, and academic customers and collaborators since its founding, providing membrane protein-related products and services that advance its customers' scientific objectives.
Contact us
or send an email at
for project quotations and more detailed information.
Online Inquiry
---