Home / Services /Downstream Processing Development
Downstream Processing Development
Downstream processing is the recovery and purification of biopharmaceuticals. It is an essential step in the manufacture of recombinant biotherapeutics, which follows the upstream processing, also called fermentation. In the development of downstream processes, the structural and functional parameters of the recombinant protein must be retained while simultaneously all potential contaminants are removed.
Creative BioMart partners with our clients to develop and optimize the downstream conditions that are necessary to deliver high yields of stable therapeutic and vaccine products. Creative BioMart will pull upon past experience, and knowledge of best practices in the field to deliver a process that meets the necessary production, quality, and regulatory requirements of the product. Our downstream development goal is to use purification technologies that are commercially available, cost effective, and will meet product specifications for quantity, purity and potency. Creative BioMart offers entire processing service of downstream development, including removal of insolubles, product isolation, product purification and product polishing. Upon completion of every process development program Creative BioMart provides a detailed report explaining the processes evaluated during development, the final process selected, and criteria for selection of the final process.
Service Itmes: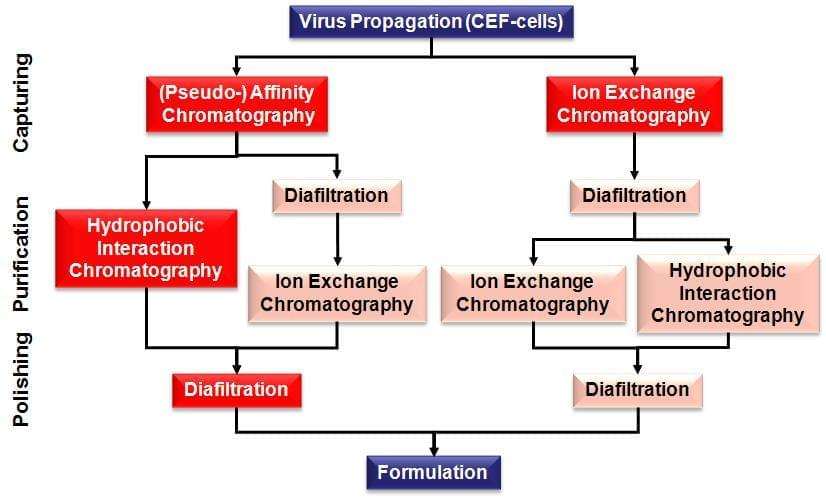 Downstream purification optimization.
Development and validation of viral inactivation unit operations.
Scale-up to pilot and production levels.
Pre-clinical material supply.
Process validation according to GMP guidelines.
Production for clinical trials phases I-III in accordance with GMP guidelines.
Cost of goods analysis.
Techniques:
Cell Disruption (Sonication and Homogenization).
Affinity.
Ion exchange.
Hydrophobic interaction/reversed phase.
Size exclusion/gel filtration.
Chromatography.
Gradient Purification.
Ultrafiltration/Diafiltration.
Selection of membrane technologies.
Viral clearance.
Contact us
or send an email at
for project quotations and more detailed information.
Online Inquiry
---