Intracellular Cytokine Detection and Activity Assay
Cytokines are a class of widely biologically active small molecule proteins which are synthesized and secreted upon stimulation by immune cells (such as monocytes, macrophages, T cells, B cells, NK cells, etc.) and certain non-immune cells (endothelial cells, epidermal cells, fibroblasts, etc.). Cytokine generally regulate cell growth, differentiation, effects and immune responses by binding corresponding receptors. Cytokines are soluble proteins with low molecular weight, which are induced by a variety of cells by immunogens, mitogens, or other stimulants. Cytokines have the ability to regulate innate and adaptive immunity, hematogenesis, cell growth, APSC pluripotent cells and damaged tissue repair. Cytokine can be divided into interleukins, interferons, tumor necrosis factor superfamily, colony stimulating factors, chemokines, growth factors, etc.
Cytokines play a role in many different and significant pathways, which cover induction of T cell proliferation by IL-2 and the inhibition of virus gene expression by TNF alpha. Because the dysregulation of cytokine expression are relevant in many diseases, active detection and quantification of cytokines are very essential.
Generally, for the cytokines in supernatants are measured by enzyme linked immunosorbent assay (ELISA), limiting dilution analysis (LDA), immunohistochemical staining, etc. However, these methods cannot provide a complete picture to analyze the cytokines in single cell. As a result, flow cytometry is currently one of the most common technique to detect cytokines and characterize producing cell population at single cell level by using intracellular cytokine staining method.
The basic idea of flow cytokine is that: cells can produce cytokines during the intracellular cytokine staining method. At the meanwhile, substances which can stop cytokine secretion are used to treat the cells. In order to bind the cell with specific anti-cytokine antibodies, the cells are fixed and permeabilized. Finally, samples are detected by flow cytometry, data are analyzed by selecting cell population of interest. The workflow of flow cytometry is shown as figure 1.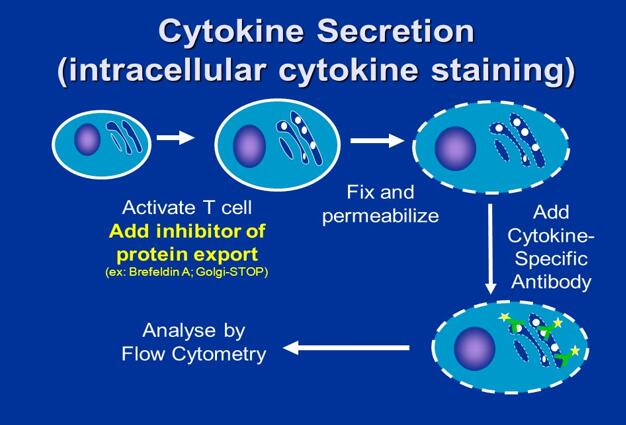 Creative Biomart can provide:
Detection of functional antigen-specific T cells at single cell level.
Use up to 18 different customizable parameters to analyze the phenotype of the cell population in respond.
Confirmation and further characterization of cytokine secretion by using antigen-specific cells.
Creative Biomart can choose and design the most economic and effective way to meet our customers demand. Besides, we are happy to communicate and discuss with our customers for better solutions and optimization, in order to ensure our services to make a contribution to your research.
References:
G.Washington. 2017. Potential Applications of Flow Cytometry Cell activation statusCell activation status Cell cycle distributionCell cycle distribution Cell divisionCell. [Online]. Access from: https://slideplayer.com/slide/10225368/
G. Freer and L. Rinde. 2013. Intracellular cytokine detection by fluorescence-activated flow cytometry: Basic principles and recent advances. Methods. 61:30-38.
J. G. Qiu., X. L. Mei. , Z. S. Chen and Z. Shi.2014. Cytokine Detection by Flow Cytometry. Methods in molecular biology. 1172:235-242.
H. K. Skalnikova., J. Cizkova., J. Cervenka and P. Vpdocka. 2017. Advances in Proteomic Techniques for Cytokine Analysis: Focus on Melanoma Research. Int. J. Mol. Sci. 18(12), 2697.
Contact us
or send an email at
for project quotations and more detailed information.
Online Inquiry
---