Fc Fusion Protein Production
Creative BioMart has become leading manufacturer of protein products for life science research. One of our specialties is to develop unique immunoglobulin based chimeric fusion proteins utilizing cellular and molecular biology techniques.
Due to the nature of the antibody IgG-Fc, Fc fusion proteins play significant role in dimerization, in vivo half-life, receptor activation and ligand affinity. Considering many receptors are only bio-functional as dimeric form, a Fc fusion receptor protein can mimic the activated form and enhance its affinity to ligand. Besides, Fc domain also simplifies its detection (by western blot or ELISA) & purification (by protein A or protein G affinity chromatography) steps. Mammalian cell-specific glycosylation from the Fc domain of the protein also makes itself suitable for in vivo studies. If desired, the Fc domain can be cleaved by treatment with protease.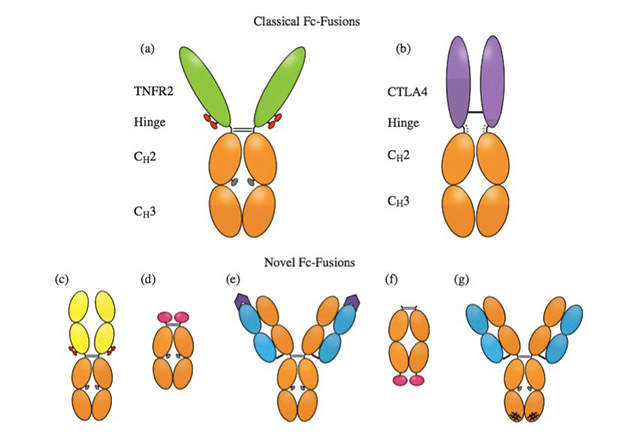 In the biopharmaceutical industry, as novel biological entities with potential for therapeutic activities, Fc-fusion proteins have become a class of biologic medicines for human disease. In some cases, these fusions are used as standalone therapeutic modalities; in others, they have provided alternatives when therapeutic monoclonal antibodies (mAbs) or other medications have failed to provide successful therapeutic results. There are several reasons that Fc domains have been chosen for fusion to polypeptides for therapeutic applications:
Fc domain increases the circulating half-life of recombinant proteins and peptides, results in a less frequent dosing schedule for drug administration, reduced total drug requirements, and improved pharmacological exposure.
Having an Fc fused to a molecule can administer uptake of the biological via the FcRn found in the lungs.
The addition of the Fc region also adds the inherent Ig effector functions to the biomolecule.
Creative BioMart helps scientists to develop recombinant Fc fusion proteins for research and pharmaceutical purposes.
The Fc options include but are not limited to:
Human IgG1-Fc, IgG2-Fc, IgG3-Fc, IgG4-Fc;
Mouse IgG1-Fc, IgG2a-Fc, IgG2b-Fc, IgG3-Fc;
Rat IgG1-Fc, IgG2a-Fc, IgG2b-Fc, IgG3-Fc.
Step
Service Description
Timeline
Deliverables
1
Gene synthesis plus codon optimization
1-2 weeks

Purified Fc fusion protein (supplied in liquid or lyophilized form)
Gene sequencing report
QC report
SDS-PAGE/ HPLC/ SEC
Activity data if applicable

2
Clone target gene into expression vector
1 week
3
Transfect competent cells with transfer vector
1week
4
Protein expression and purification
2-4 weeks
5
Optional services (secondary purification, endotoxin removal, protein labeling, activity assay, protein analysis, etc.)
1-2 weeks
6
Quality Control
<1 weeks
Reference:
Steven M. Chamow, et al. Therapeutic Fc-Fusion Proteins. ISBN: 978-3-527-33317-2. February 2014, Wiley-Blackwell. Page224 Figure 8.1
Contact us
or send an email at
for project quotations and more detailed information.
Online Inquiry
---