Ligand-Protein Interactions Screening Based on Gold Nanoparticles
Gold nanoparticles (AuNPs) are widely used as colorimetric probes for biosensing, relying on their unique particle size-dependent and/or interparticle distance dependent extinction spectrum and solution color. They have been extensively used as colorimetric probes for chemical and biological analysis, exploiting particle aggregation-induced color change. They also support fluorimetric detection based on Forster resonance energy transfer (FRET) or nanoparticle surface energy transfer (NSET) with proximal fluorophores.
Creative BioMart has capacity of customizing luminescent water soluble conjugated polymers (CPs) and legands-coated gold NPs (AuNPs) used as collaborative sensing elements to investigate protein-legand interactions. This has been widely used for developing bioassays to detect biomolecular interactions, such as DNA-DNA, protein-DNA, small drug-DNA, and antigen-antibody. Additionally, it also can be used to study protein conformational changes induced by pH and thermal denaturation, attributing their sensitivity to subtle environmental changes.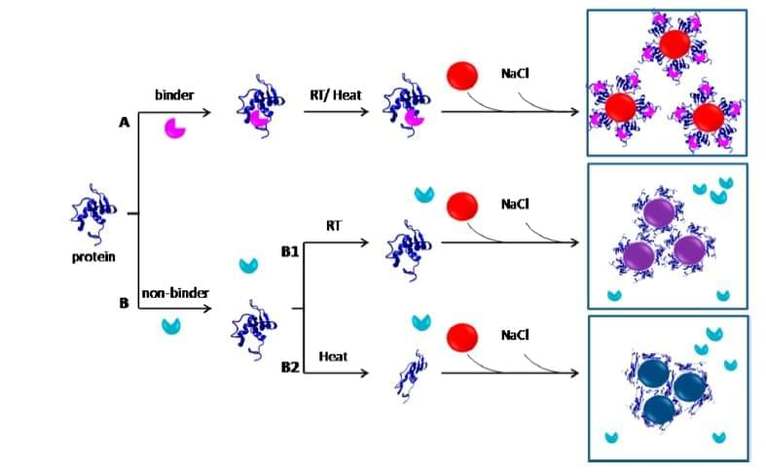 A Schematic Drawing of the AuNPs Colorimetric Assay Principle
Our research team has been very active and experienced in developing SPR protocols for complex bio-affinity binding study, FRET assay and other bioassays using nanomaterials.

Contact us or send an email at for project quotations and more detailed information.
Related Services & Products