Ion Channel Screening Assays
Ion channels regulate a wide range of physiological processes including rapid electrical signaling, fluid, hormone and transmitter secretion, and proliferation. They are, therefore, considered common targets for both toxins and therapeutics. Ion channels are not only important drug targets, but are also generally relevant for drug safety. Recent developed technologies and instrumentation have provided new opportunities for ion channel screening that enables higher throughput, extended information content, and access to novel ion channel targets. The assay results can then be used to predict compound effects in cells and tissues.
Creative BioMart provides a wide range of ion channel assays to quickly and accurately provide results for drug discovery and development. Our assays are established based on globally recognized standards.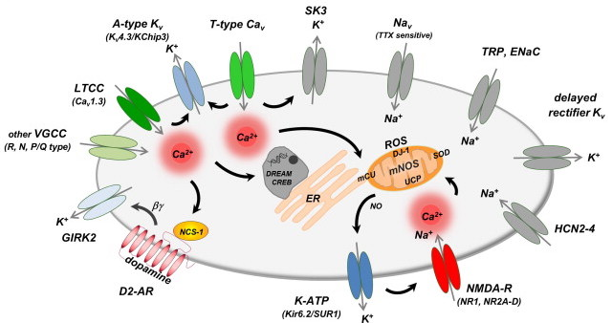 Ion Channel Binding Assay
Ion Channel Profiling
Cardiac Safety Assay
Custom Cell Line Development
Creative BioMart offers a variety of solutions ranging from conventional manual electrophysiology to high throughput screening services. Screening conditions are highly customizable including:
Perfusion Time
Temperature
Number of Concentrations
Our ion channel portfolio includes over a hundred channels, which have been organized into several panels based on current scientific findings. We provide functional, manual and automated ion channel screening for profiling and risk assessment.
Available Channel Panels
Target Experience
Assay Types & Technologies

Cancer
Cardiac
Cardiovascular
Genitourinary
Metabolic/Gastrointestinal
Neurodegeneration/Stroke
Pain/Inflammation
Psychiatric Disorder
Pulmonary/Respiratory
Seizure/Convulsion

Sodium channels
Potassium channels
Calcium channels
Chloride channels
Voltage-gated channels
Ligand-gated channels

Ion flux assay
Fluorescence-based assay
Automated electrophysiology
Manual electrophysiology
High throughput screening

Advantages

High throughput
Fast turnaround time
Highly customizable
Over 10 years of experience
Creative BioMart has extensive experience in ion channel assays. Creative BioMart experts offer a range of electrophysiology solutions to meet your specific requirements including activation, inactivation and 2-pulse protocols. Please contact us for details.
Reference:
Dragicevic E, Schiemann J, Liss B. Dopamine midbrain neurons in health and Parkinson's disease: emerging roles of voltage-gated calcium channels and ATP-sensitive potassium channels. Neuroscience. 284: 798-814. PMID 25450964 DOI: 10.1016/j.neuroscience.2014.10.037

Contact us or send an email at for project quotations and more detailed information.
Related Services & Products