Protein SUMOylation Assay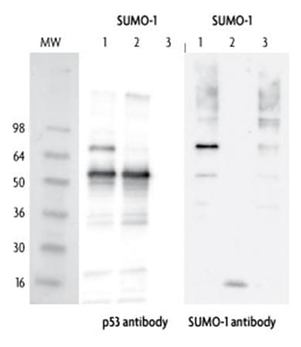 Creative BioMart provides protein SUMOylation assay system for generating SUMOylated proteins in vitro. We provide carboxy-terminal SUMO-1, SUMO-2 or SUMO-3 peptide substrates which are linked covalently to specific lysine residues on the target protein via isopeptide bonds.
Western blot analysis of in vitro SUMOylation of p53 protein by wild-type and mutated isoforms of SUMO-1: The two Western blots were incubated with p53 antibody (1:5000 dilution) and SUMO-1 antibody (1:4000 dilution). The p53 protein is SUMOylated only by the wild-type SUMO-1 protein.
Applications
Investigation of SUMOylation effects on transcription factor activity
Understanding the role of SUMOylation in the regulation of cellular processes
Identification of novel proteins as targets for SUMO
Please get in contact with Creative BioMart for more information or a detailed discussion.

Contact us or send an email at for project quotations and more detailed information.
Related Services & Products