Protein Microarray Service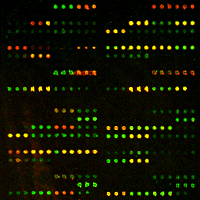 Protein Microarrays can be based on any ligand-binding assay that relies on the formation of product with an immobilized capture molecule and a target molecule present in the solution. These assays can be miniturized and placed on a protein microarray chip. Protein microarrays are now becoming very popular due to their possible future applications in the study of nucleic acid-protein, protein-protein, ligand-receptor, drug-protein target, and enzyme-substrate interactions.
Creative BioMart now offers customizable parallel synthesis and microfluidic technologies to create a microarray of thousands of peptides for binding to your protein or antibody sample and a comprehensive protein and/or antibody analysis service utilizing these high density peptide microarrays for high throughput detection, concentration titration, and screening applications.

Our universal microarray platform empowers us to provide:
Miniaturized Multiplexed Microarray Based ELISA Assays
Antibody Microarrays
Antigen Microarrays
Whole Proteome Microarrays
Reverse Phase Microarrays
Peptide Microarrays
Glycan Microarrays
Applications
Immune Response Biomarker Profiling
Small Molecule Profiling
Enzyme Substrate Profiling
Antibody Specificity Profiling
Protein-Protein Interaction Profiling
Serum Based Diagnostics

Contact us or send an email at for project quotations and more detailed information.
Related Services & Products