A Disintegrin And Metalloproteinase (ADAM) Background
A Disintegrin and metalloproteinases (ADAMs) is a large family of transmembrane proteases found in many organisms and belongs to type I transmembrane proteins. The presence of ADAMs can be found from nematodes to humans.
Structure
ADAMs structurally include the two domains of the de-integratin domain and the metalloproteinase domain, functionally encoding members of the zinc-dependent metalloproteinase family subpopulation, and can participate in cell fusion, cell matrix adhesion, and signal transduction and waitting for cell activity. ADAM33 is one of its largest family members. The gene encoding ADAM33 is located on human chromosome 20p13, which is closely related to asthma and airway hyperresponsiveness. The ADAM33 gene is approximately 14 kb in length and comprises 22 exons and 21 introns encoding 813 amino acids, consisting of a signal peptide domain, a pro-domain, a metalloproteinase domain, a disintegrin-like domain, and a half-rich The eight domains of cystine domain, epidermal growth factor domain, transmembrane domain and cytoplasmic domain, wherein the metalloproteinase domain contains the basic sequence structure of zinc binding: HEXGHXXGXXHD. There is a long untranslated region at the 3' end of the ADAM33 gene, which contains seven polymorphic sites. mRNA can be transformed into various protein subtypes through various complex splicing translations, showing gene polymorphisms. The ADAM33 molecule has five glycosylation sites, all of which are N-linked glycosylation at the aspartate, two in the precursor domain, two in the catalytic domain, and one in the decomposing domain, human ADAM33 molecule requires biological activity after glycosylation.
Figure 1. Diagram of an ectodomain shedding ADAM metalloprotease.
Expression and function
The expression of ADAM33 has a certain tissue specificity. It is first expressed in smooth muscle cells, myofibroblasts, fibroblasts, and has the effect of promoting the proliferation of smooth muscle cells, myofibroblasts, and fibroblasts, in epithelial cells, T lymphocytes, and inflammatory cells. It has less expression and has low expression in the thymus and lymph nodes. The expression of ADAM33 in epithelial cells requires demethylation of its gene-regulated CpG region. Thus, ADAM33 is mainly expressed in a variety of cells originating from interstitial cells, such as brain, heart, kidney, lung, testis and other tissue cells. Asthma can be triggered when expressed in large amounts in bronchial smooth muscle and lung tissue. In recent years, certain factors that affect the expression of ADAM33 have also been discovered in experimental studies. Scientists [6] found that interferon significantly reduced mRNA expression by studying the mRNA and protein expression levels of ADAM33 on bronchial biopsy specimens, and also confirmed that in passively sensitized airway smooth muscle cells, 1, 25( OH) 2D3 can down-regulate the expression of ADAM33 protein and mRNA levels. Chinese scholars successfully interfered with the expression of ADAM33 gene and protein by establishing ADAM33 chronic disease shRNA plasmid vector, especially the target position inhibition rate of transmembrane domain was the highest. Other studies have found that interleukin 4 and interleukin 13 can significantly promote the expression of ADAM33 mRNA in lung fibroblasts. The physiological function ofADAM33 is mainly determined by its structural characteristics and composition, and may include: proliferation and differentiation of mesenchymal cells; interaction between mesenchymal cells, cells and matrix; formation of cell syncytia. Activation of the proliferation and differentiation signaling pathway is through the interaction of the cytoplasmic domain with the transmembrane domain in the cytoskeletal protein, which triggers intracellular signaling protein transmission. In addition, ADAM33 functional site deletion affects growth factor receptor implantation, and some sites function to enhance growth factor implantation after transfer, so ADAM protein can also act as a cytokine and cytokine receptor implantation protein.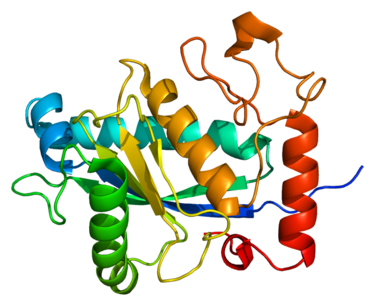 Figure 2. protein structure of ADAM33.
ADAM33 AND pediatric bronchial asthma
Pediatric bronchial asthma is one of the most common diseases in children's respiratory system. It is caused by a variety of cells (inflammatory cells and structural cells) and cellular mediator components causing chronic inflammation of the airways, resulting in high airway response, resulting in a wide range of Variable and reversible airflow limitation, mainly manifested as episodes of wheezing, cough, and asthma, which seriously affect the growth and quality of life of children. The occurrence of bronchial asthma includes environmental and genetic factors, with genetic factors accounting for a high proportion of 75%. Among the genetic factors such as genetic susceptibility, hereditary allergies, gender, and ethnicity, genetic susceptibility plays a dominant role. At present, a number of genes with a clear relationship with bronchial asthma have been confirmed by one discovery. ADAM33 is a novel gene that has been found to be associated with asthma in recent years. Although the mechanism is still unclear, it has become a research hotspot as a candidate gene.
References:
1. Berg AH.; et al. ACRP30/adiponectin: an adipokine regulating glucose and lipid metabolism. Eur. J. Biochem. 1976, 64 (1): 243–247.
2. Kubeta N; et al. Disruption of adiponectin causes insulin resistance and neointimal formation. J Biol Chem, 2002, 227:25863 -6.