Bioactive Lipid G Protein-Coupled Receptors Background
Background
G protein-coupled receptors (GPCRs), also known as seven-transmembrane receptors (7TMs), represent the most divergent and important class of lipid receptors. According to the International Union of Basic and Clinical Pharmacology (IUPHAR) database, there are approximately 50 lipid-recognizing GPCRs such as plateletactivating factor (PAF) receptor, prostanoid receptors, leukotriene receptors, lysophospholipid receptors, and free fatty acid receptors. Numerous studies including human and mouse genetics have established lipid GPCRs as important components for development, physiology, and pathophysiology. Importantly, some of them are validated as therapeutic drug targets. For example, cysteinyl leukotriene 1 receptor (CysLT1) antagonist is used for treating asthma, prostacyclin receptor (IP) agonist is used for treating pulmonary hypertension, and the functional antagonist sphingosine 1-phosphate receptor 1 (S1P1) is used for treating multiple sclerosis. In addition, several lipid GPCR-targeting drugs such as lysophosphatidic acid receptor 1 (LPA1) antagonist for treating pulmonary fibrosis are under clinical trials. Thus, lipid GPCRs attract interest from both biological and drug discovery aspects.
Lipids
Lipids are well-regulated bio-active molecules that are (i) major constituents of cellular membranes, (ii) store energy, (iii) play a role in post-translational modification of proteins and (iv) can act as signaling molecules. Consequently, lipids are known to affect a wide array of cellular processes. Because of their importance for cellular functions, lipid synthesis, storage and degradation need to be tightly regulated. A high fat diet is associated with an increased risk of cancer, and cancer cells are characterized by augmented glucose uptake, anaerobic glycolysis and de novo fatty acid synthesis. Moreover, certain lipids like lysophosphatidic acid, sphingosine-1-phosphate (S1P) and eicosanoids play an active role in various processes associated with tumorigenesis, such as proliferation, migration and inflammation. Recently, we described a role for lipids in therapy resistance. In response to platinum-containing chemotherapy, mesenchymal stem cells secrete two polyunsaturated fatty acids, 12(S)-HHT and 16:4 (n - 3), which induce resistance to DNA damaging chemotherapy. We subsequently demonstrated that these fatty acids bind to receptors on macrophages in the spleen and induce the secretion of lysophospholipids that enhance DNA repair. Lipid thus play an important role in various aspects of cancer biology. While protein signaling pathways in cancer are well studied, lipid signal mediators have received relatively little attention. Some lipids interact directly with their targets, other lipids bind to intracellular or extracellular receptors. Studies indicated that minor modifications to lipid mediators (for example, length of fatty acid chain and degree of saturation) abolished their effect, suggesting that lipid GPCRs may recognize their ligands in a highly selective manner. The mechanisms by which GPCRs recognize their ligands have received an increasing amount of attention. In the past few years, the crystal structures of several lipid receptors were elucidated and have led to new insights on how agonists and antagonists with therapeutic potential can be developed. GPCRs recognize four important classes of cancer-relevant lipids: (i) phospholipids, (ii) lysophospholipids, (iii) fatty acids and (iv) eicosanoids, a subclass of fatty acids derived from arachidonic acid (AA) and eicosapentaenoic acid metabolism.
Lipid and GPCR Signaling
Over 50 GPCRs have been implicated in signaling of the four classes of lipids, and many of them are aberrantly expressed in cancer and promote tumorigenicity. Most lipid GPCRs are part of the Class A Rhodopsin family of GPCRs, and contain similar features. The N-terminal region is localized on the extracellular side of cells, and is followed by seven transmembrane helices (TM1–7), which are linked by three intracellular and three extracellular loops (ICL1–3 and ECL1–3). Finally, the C-terminal region is localized intracellularly (Figure 1).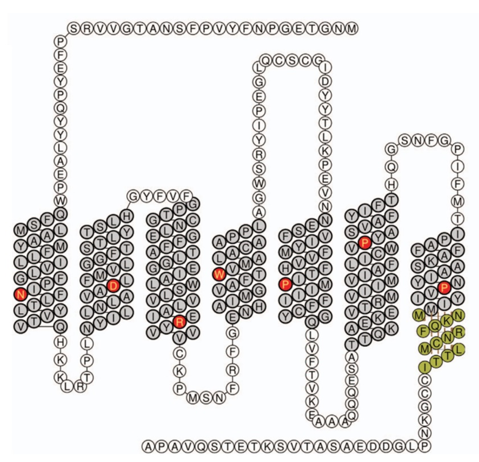 Figure 1. Snake plot of Rhodopsin. The receptor is characterized by an extracellular N-terminal domain, a seven transmembrane helix region, connected by three intracellular and three extracellular loops, and a C-terminal domain that contains an additional helix (helix 8, in green). The most conserved residue of each transmembrane helix (the residue that is assigned '50' according to the Ballesteros and Weinstein numbering system) is depicted in red. (MTM van Jaarsveld; et al.2015).
The transmembrane helices are arranged into a barrel and form a docking site for ligands (Figure 2). The extracellular loops can contribute to ligand binding and receptor activation, whereas the intracellular loops participate in receptor activation and can attract intracellular signaling partners. The C-terminal domain plays an important role in downstream signaling, and at least in some cases, C-terminal region helix 8 may facilitate receptor deactivation after ligand binding. Rhodopsin-like GPCRS have a similar orientation of the transmembrane helices and the ligand-binding sites. The ligand binding pocket of Rhodopsin-like receptors encompasses similar residues in TM3, TM5, TM6 and TM7, and the nature of the amino acids at these positions determine ligand specificity. ECL2 also plays an important role in ligand recognition, whereas TM1 rarely interacts with the ligand. TM3 provides a structural scaffold for the other transmembrane helices. GPCR activation also presumably occurs similarly for all Rhodopsin-like receptors. On ligand binding, TM3, TM5, TM6 and TM7 change position. This results in changes in the cytoplasmic domain leading to the exposure of binding sites for downstream effectors.
After GPCR activation, the signal is transduced via heterotrimeric G-proteins, which three subunits Gα, Gβ and Gγ interact with downstream mediators. The main classes of G protein complexes are Gα12/13, Gαq/11 and Gαi/o, Gαs, which activate different signaling routes. However, non-G-proteins play a role in GPCR signaling too. For instance, PDZ proteins can form supramolecular complexes with GPCRs and mediate part of the effects of lysophosphatidic acid. The identification of ligands for GPCRs is an error prone process because GPCRs are embedded in membranes and cannot be expressed as purified proteins. Furthermore, complex cell-based assays are often not GPCR specific, and may be several or many signaling steps downstream of receptor activation. Moreover, receptor overexpression may lead to non-physiological interactions, especially when expressed in heterologous cells. In addition, there may be differences in receptor signaling between cell types, and different receptors may heterodimerize, which may result in false ligand identification. In the next paragraphs the ligand-binding properties of lipid GPCRs and their role in cancer will be discussed.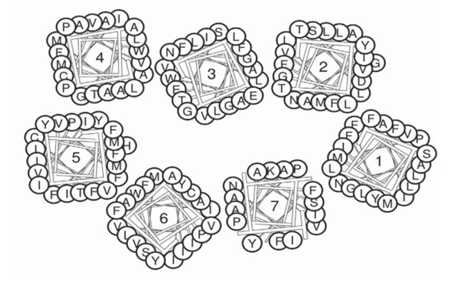 Figure 2. View of transmembrane helices from the extracellular surface. The helices assemble into a barrel that forms a ligand docking side. (MTM van Jaarsveld; et al.2015).
References:
1. Van Jaarsveld MTM.; et al. Molecular mechanisms of target recognition by lipid GPCRs: relevance for cancer. Oncogene.2015.