FOXO proteins are a subgroup of the Forkhead family of transcription factors. This family is characterized by a conserved DNA-binding domain (the 'Forkhead box', or FOX) and comprises more than 100 members in humans, classified from FOXA to FOXR on the basis of sequence similarity. These proteins participate in very diverse functions: for example, FOXE3 is necessary for proper eye development, while FOXP2 plays a role in language acquisition. Members of class 'O' share the characteristic of being regulated by the insulin/PI3K/Akt signaling pathway.
How did this family get named 'Forkhead'?
Forkhead, the founding member of the entire family (now classifed as FOXA), was originally identifed in Drosophila as a gene whose mutation resulted in ectopic head structures that looked like a fork. Forkhead proteins are also sometimes referred to as 'winged helix' proteins because X-ray crystallography revealed that the DNA-binding domain features a 3D structure with three α-helices flanked by two characteristic loops that resemble butterfly wings.
Why are they important?
FOXO transcription factors are at the interface of crucial cellular processes, orchestrating programs of gene expression that regulate apoptosis, cell-cycle progression, and oxidativestress resistance (Figure 1). For example, FOXO factors can initiate apoptosis by activating transcription of FasL, the ligand for the Fas-dependent celldeath pathway, and by activating the pro-apoptotic Bcl-2 family member Bim. Alternatively, FOXO factors can promote cellcycle arrest; for example, FOXO factors upregulate the cell-cycle inhibitor p27kip1 to induce G1 arrest or GADD45 to induce G2 arrest. FOXO factors are also involved in stress resistance via upregulation of catalase and MnSOD, two enzymes involved in the detoxifcation of reactive oxygen species. Additionally, FOXO factors facilitate the repair of damaged DNA by upregulating genes, such as GADD45 and DDB1. Other FOXO target genes have been shown to play a role in glucose metabolism, cellular differentiation, muscle atrophy, and even energy homeostasis.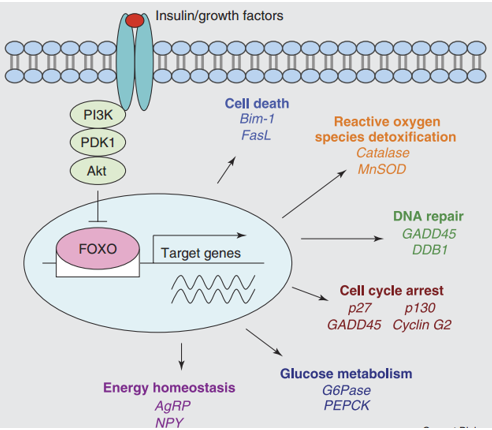 Figure 1. In the absence of insulin or growth factors, FOXO transcription factors are located in the nucleus, where they specify target gene expression.
FOXA Proteins
Fork box protein A1 (FOXA1) is a protein encoded by the FOXA1 gene in the human body. FOXA1 is a forkhead member of a DNA-binding protein. These hepatocyte nuclear factors are transcriptional activators of liver-specific transcripts, such as albumin and transthyretin, and they also interact with chromatin and become precursors. Similar family members in mice have a role in the regulation of metabolism and the differentiation of the pancreas and liver. FOXA1 in breast cancer is highly correlated with ERa+, GATA3+, and PR+ protein expression and endocrine signaling. FOXA1 is a precursor of ERa in ERa+ breast cancer, and its expression may identify ERa+ cancers that undergo rapid reprogramming of ERa signaling leading to adverse results and treatment resistance. In contrast, in ERa-breast cancer, FOXA1 is highly correlated with low-grade morphology and improved disease-free survival. FOXA1 is a downstream target of GATA3 in the breast. Expression in ERa-cancer may identify a subset of tumors that respond to other endocrine therapies, such as androgen receptor antagonist therapy.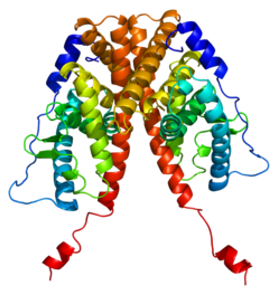 Figure 2. Protein structure of ERa.
Reference:
1. Bingle CD.; et al. Molecular cloning of the forkhead transcription factor HNF-3 alpha from a human pulmonary adenocarcinoma cell line. Biochim Biophys Acta. 1996, 307 (1): 17–20.