Oncoproteins are proteins encoded by oncogenes, which are involved in the regulation or synthesis of proteins related to the growth of cancer tumor cells. Mutations in normal genetic material can cause genes to be expressed as oncoproteins. There are also many tumor suppressor genes that protect cells from cancer. These tumor suppressors often interact with steps in cancer development. There are also many tumor suppressor genes that protect cells from cancer. These tumor suppressor genes usually interact with the development and progression of cancer. With the continuous development of science and technology and the improvement of medical standards, scientists have discovered new tumor suppressor genes. Oncoproteins and their mechanism in tumorigenesis. Many oncogenes have been found in human cancers since the 1970s. Many anticancer drugs are designed for proteins encoded by oncogenes. There are many oncogenes that encode a variety of oncoproteins, which are mainly divided into the following two categories: viral oncogenes and cellular oncogenes. Oncoprotein research has become mainstream research. There are a large number of mutant proteins in tumors, one of which is called histone. A new study published in the journal Nature shows that so-called tumor histones are more common in tumors than we thought in the past. The researchers found that 4% of cancer tissue samples had tumor histones, and these mutations affected histones that had never been discovered before. This study helps us understand the most basic parts of histone biology, which is the first step in developing new drugs to help patients with these mutations.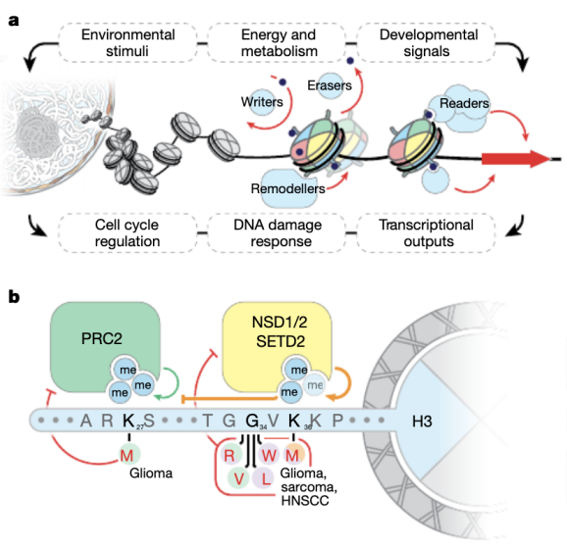 Figure 1. Histones as signal integrators and cancer driver genes. a) Chromatin integrates environmental and developmental signals to control essential cell processes, including those dysregulated in cancer. b) Mechanisms and cancer type associations for known H3 oncohistone mutations. HNSCC, head and neck squamous cell carcinoma. (Benjaming A, et al. 2019)
Viral oncogene
Viral oncogenes are genes that exist in the genomes of carcinogenic DNA viruses and some retroviruses that can cause malignant transformation of target cells. It does not encode the structural components of the virus and has no replication effect on the virus, but it can induce tumorigenesis when activated by external conditions. Retrovirus is a kind of RNA virus, its RNA does not replicate itself, but synthesizes DNA, under the action of reverse transcriptase, its DNA is integrated into cell DNA, and then continuously transcribes RNA. This integration process enables retroviruses to obtain genetic information from host cells. It is speculated that the oncogene of retrovirus is the cellular oncogene obtained by retrovirus from host cells. Both ends of the retrovirus genome are LTR, with strong promoters and enhancers, which can activate and enhance the expression of adjacent genes. When the retroviral DNA is integrated into the cell DNA, a piece of cellular DNA may be inserted between the two LTR of the virus. When the viral DNA is transcribed, the DNA will be transcribed with the viral DNA, and the stored genetic information will be added to the genetic information of the virus. If the DNA contains cellular oncogenes, the addition of the oncogenes into the viral genome is called viral oncogenes. Viruses carrying viral oncogenes have carcinogenic effects and can cause tumors.
Cell oncogene
Exists in normal cell genome, has homologous sequence with virus oncogene, and has physiological functions such as promoting normal cell growth, proliferation, differentiation and development. The unactivated oncogenes in normal cells are called proto-oncogenes. When they are activated by certain conditions, the structure and expression of the oncogenes are abnormal, which can lead to malignant transformation of the cells.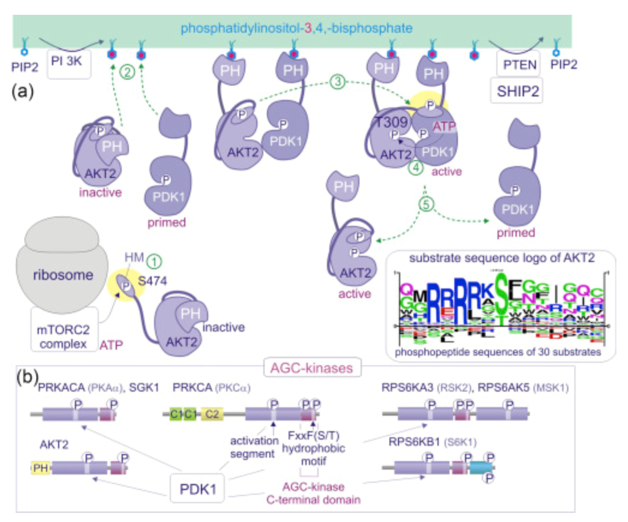 Figure 2. Virus Oncogene (Activation mechanism of AKT). (Kramer, et al. 2016)
Nowadays, scientists have found through experiments that some targeted proteins are associated with cancer, but not all proteins are associated with cancer. Future experiments will examine the role of human cancer cells in entering new tissues, and whether it can help us predict whether cancer is likely to spread. As a professional protein platform, Creative BioMart has a high-quality and professional team to provide you with a variety of cancer proteins to help you better complete cancer-related research.
References:
Benjaming A.Nacev, Lijuan Feng, et al. The expanding landscape of 'oncohistone' mutations in human cancers. Nature, 2019, 567: 473-478.
Kramer, Ij. M. Signaling through the Insulin Receptor. Signal Transduction, 2016, 849–886.