Lipoprotein-associated phospholipase A2 (Lp-PLA 2) is a marker of inflammation and is closely related to atherosclerosis. It is an independent risk factor for coronary heart disease and ischemic stroke. In 2005, the US Food and Drug Administration approved lipoprotein-associated phospholipase A2 as a risk assessment factor for cardiovascular disease and ischemic stroke, which is also related to hypertension, diabetes and metabolic syndrome. Therefore, lipoprotein-associated phospholipase A2 has received increasing attention. It has been extensively studied in recent years.
Figure 1. In the circulation,LpPLA2 is bound predominantly to low-density lipoprotein (LDL) that is carried to the vessel wall. (Lavi S, et al. 2007)
Lp-PLA 2 Overview
Lp-PLA 2 is also known as platelet activating factor acetylhydrolase. It is a member of the phospholipase A2 superfamily and consists of 441 amino acid residues with a relative molecular mass of 45.4 kD, mainly composed of mature macrophages. , Mononuclear cells, lymphocytes, mast cells, liver cells, etc. are secreted and generated, regulated by inflammatory mediators, most of them are combined with low-density lipoprotein, and only about 30% are combined with high-density lipoprotein and very low-density lipoprotein.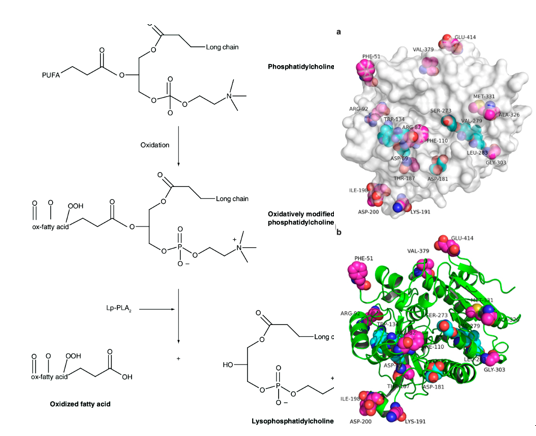 Figure 2. Lipoprotein-associated phospholipase A2 hydrolyzes oxidized low-density lipoprotein to release proinflammatory lipids. Oxidative enzymes can oxidize phospholipids in low-density lipoprotein particles. Oxidized phosphatidylcholine is hydrolyzed by Lp-PLA 2 to form oxidized fatty acid and lysophosphatidylcholine. (Toth PP, et al. 2010). Figure 3. Crystal structure of human Lp-PLA2 showing (a) single-nucleotide polymorphisms (SNPs) rendered as space-filling spheres, along with a semitransparent molecular surface indicating the solvent exposure in a qualitative manner and (b) a cartoon representing the protein backbone, indicating where SNPs lie along different secondary structural elements. (Song K, et al. 2012)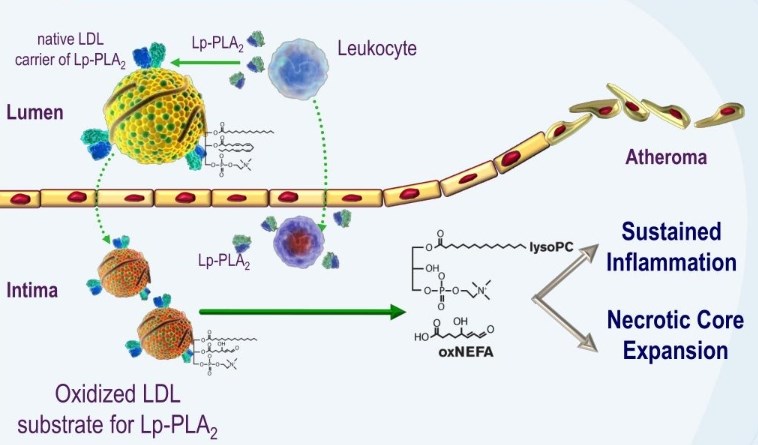 Lp-PLA 2 Influencing factors
Lp-PLA 2 mainly spreads with low density lipoprotein (LDL) in the blood. Less than 20% is associated with high density lipoprotein HDL. Several pieces of evidence suggest that HDL-related Lp-PLA2 may have a substantial contribution to the anti-atherosclerotic activity of HDL. It is an enzyme produced by inflammatory cells that hydrolyzes oxidized phospholipids in LDL. Lp-PLA 2 is a platelet activating factor (PAF) acetylhydrolase, which is a secreted enzyme that can catalyze the degradation of PAF to an inactive product by acetyl hydrolysis at the sn-2 position, thereby producing a biologically inert product LYSO-PAF And acetate.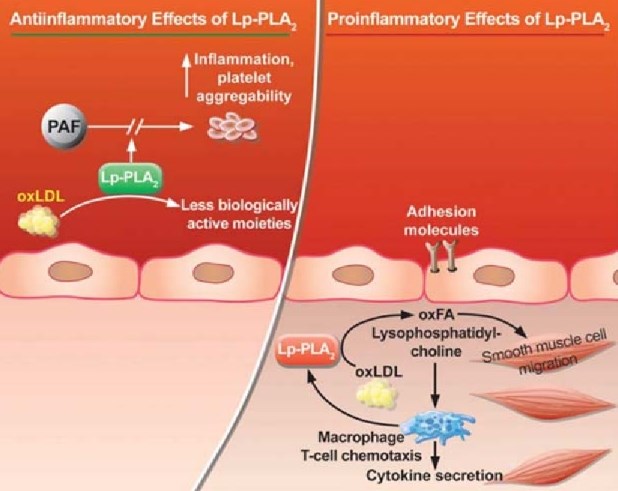 Figure 4. The controversial role of Lp-PLA2. (Hassan M.2015)
Lp-PLA 2 Basic research
Lp-PLA 2 can hydrolyze oxidized low-density lipoprotein as a soluble proinflammatory and pro-death mediator-lyso-lecithin and oxidized free fatty acids. Lysophosphatidylcholine and oxidized free fatty acids are strong inflammatory factors that can cause endothelial cell dysfunction, increase plaque in the early stages of atherosclerosis, and induce macrophage aggregation to phagocytosis in the later stages, eventually leading to necrosis and increased vulnerability.Its cytokines can stimulate the expression of matrix metalloproteinases, participate in the initiation, development and loss of stability and final rupture of atherosclerotic plaque formation.
References
Toth PP, McCullough PA, Wegner MS, et al. Lipoprotein-associated phospholipase A2: role in atherosclerosis and utility as a cardiovascular biomarker. Expert review of cardiovascular therapy, 2010, 8(3): 425-438.
Lavi S, Lavi R, McConnell J P, et al. Lipoprotein-Associated Phospholipase A 2. Molecular diagnosis & therapy, 2007, 11(4): 219-226.
Hassan M. STABILITY and SOLID-TIMI 52: Lipoprotein associated phospholipase A2 (Lp-PLA2) as a biomarker or risk factor for cardiovascular diseases. Global Cardiology Science and Practice, 2015, 2015(1): 6.
Song K, Nelson MR, Aponte J, et al. Sequencing of Lp-PLA2-encoding PLA2G7 gene in 2000 Europeans reveals several rare loss-of-function mutations. The pharmacogenomics journal, 2012, 12(5): 425-431.