Home / Events / FDA Nod for the First Drug-eluting Stent to Treat Peripheral Arterial Disease
FDA Nod for the First Drug-eluting Stent to Treat Peripheral Arterial Disease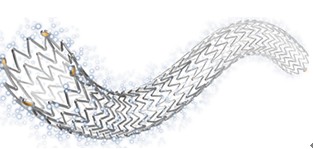 On Nov. 15, 2012, The U.S. Food and Drug Administration (FDA) approved the Zilver PTX Drug-Eluting Peripheral Stent (Zilver PTX Stent) to treat peripheral artery disease (PAD) symptoms. This is the first drug-eluting stent to treat PAD.
PAD is a progressive process that fatty material (plaque) builds up in the arteries that carry blood to the head, organs and limbs. It usually affects the arteries in the legs. As a result, it would harden and/or narrow of the arteries (atherosclerosis), lessening the oxygen-rich blood to the body. People with PAD may suffer leg pain, or serious complications, such as skin ulcers or gangrene.
As the picture shown, the Zilver PTX Stent includes a metal mesh tube with paclitaxel coating that extent the artery. Paclitaxel helps prevent recurrent restenosis. In addition to this device, other options include exercise, drug therapy, and other intervention, such as percutaneous transluminal angioplasty or surgical bypass etc.
FDA relative officers commented the device be more effective than balloon angioplasty for the treatment of symptomatic peripheral artery disease in above-the-knee femoropopliteal artery.
This approval expands the treatment options for patients suffering from symptomatic peripheral artery disease to include the Cook Zilver PTX drug eluting stent.
In addition to the current approval, FDA is asking the manufacturer to conduct a five-year post-approval study of 900 patients treated with the Zilver-PTX Stent to further monitor safety and efficacy.
The Zilver PTX Stent is manufactured by Cook Incorporated of Bloomington, Ind.
Article Link: FDA Nod for the First Drug-eluting Stent to Treat Peripheral Arterial Disease
Tags: The first drug-eluting stent, FDA Approval, Peripheral Arterial Disease
Related Events :