Home / Press Release / How Protein Rab is Extracted from Lipid Membrane
How Protein Rab is Extracted from Lipid Membrane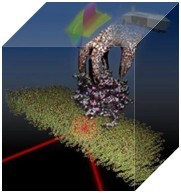 In past researches, protein Rab was studied in a solution without a lipid membrane. Now scientists have traced the process with lipid membrane.
Ras proteins regulate cell growth, while Rab GTPases control the traffic between different cell sections. During the process, Rab GTPases, or Rab proteins work as switches that on one hand swim through the cell with the trafficked load it is carrying, on the other hand it is fixed within the membrane by means of lipid anchors. After the trafficking stage has been successfully completed, Rab is extracted from the membrane and recycled.
This is the first time that scientists grape the process in a biophysical experiment. In further studies, research scientists manufactured the Rab protein with the membrane anchor in its active form in large quantities, to bind it to an artificial lipid membrane and to investigate the process of extracting the switch protein from the membrane in a spectrometer. In this way, scientists can easily visualize processes on surfaces such as lipid membranes. The focus was put on GDI protein that binds the Rab protein and its lipid anchor. The question was whether Rab dissociates spontaneously from the membrane and is seized by GDI or whether GDI plays an active part in the Rab recycling process. With ATR spectroscopy, scientists observed that GDI approaches the membrane and seizes the Rab protein then and there. In conclusion, Rab is extracted from the membrane by GDI much more quickly than it would have otherwise dissociated.
Many disease producing agents, such as legionella, attack Rab proteins and modify them chemically to affect cellular trafficking processes. In this way, these agents can be reproduced in human cells. The study revealed that the chemical modification caused by legionella inhibits the process of Rab extraction from the membrane by GDI, which gain a better understanding for us to know these agents.
Article Link: How Protein Rab is Extracted from Lipid Membrane
Tags: Protein Rab, Lipid Membrane, GDI