Home / Press Release / Hybridoma Offers a Powerful Solution for Monoclonal Antibodies
Hybridoma Offers a Powerful Solution for Monoclonal Antibodies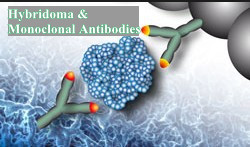 Since the first description of the hybridoma technology in 1970s, it has been bound to enormous promise for clinical uses and the discoverer also shared a Nobel Prize in Physiology and Medicine in 1984 because of this.
With the feature of producing pure and indefinite antibodies, the hybridoma technology is very valuable. It can generate highly specific monoclonal antibodies from impure, poorly characterized antigens. And monoclonal antibodies have been extremely useful in basic investigations and have facilitated the development of new diagnostic tests for serum and tissue components and infectious agents.
However, more useful, less immunogenic antibodies are needed due to the development trends and research requirements. Compared with conventional technique, researchers developed a new technology—B-cell targeting, multitargeting and stereospecific targeting that involves pre-selection of B lymphocytes with target antigens based on immunoglobulin receptors and selective fusion of B cell-myeloma cell complexes with electrical pulses in 2011.
With time going on, the technique is continually advancing. Creative BioMart, for example, one of the contributors, offers quality hybridoma related products and services, including Mouse X Mouse Hybridoma, Mouse X Bovine Heterohybridoma, Mouse X Rat Heterohybridoma and Rat X Rat Hybridoma. Highlighted by its proprietary technical platforms, Creative BioMart is confident to serve the professional needs.
Article Link: Hybridoma Offers a Powerful Solution for Monoclonal Antibodies
Tags: Hybridoma, Monoclonal Antibodies
Related Press Release :