Home / Events / Simple Analysis of the Growing Market of Growth Hormone
Simple Analysis of the Growing Market of Growth Hormone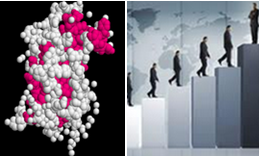 With the overall improvement of biomedical technology and basic requirements, growth hormone (GH) market is growing rapidly in recent years.
Growth hormone is the power source of growing
Secreted by anterior pituitary of human brain, growth hormone is a hormone that promotes the growth of the body, whose main physiological effect is to promote the synthesis of tissues, in particular protein thus stimulate bone growth. Dysfunction of growth hormone will cause many problems, for example, deficiency in growth hormone will cause growth arrest, but if excessive secretion of growth hormone can cause excessive growth of human body parts, such as "gigantism" and "acromegaly".
Countermeasures—recombinant growth hormone
Now recombinant growth hormones are widely used in clinical conditions. Most of the recombinant growth hormones are derived from transgenic E. coli. The genetic engineering technology saves the production cost as well as high-purity yields.
The increasing rise in market
According to statistics, the sales of international growth hormone market soared from $1.9 billion to $6.8 billion during 2003 to 2010 and the trend is still increasing. Creative BioMart experts predict the promising future of hormone markets.
Creative BioMart is a world leading biotech company that provides GH products. For more information, visit http://www.creativebiomart.net/symbolsearch_GH.htm .
Article Link: Simple Analysis of the Growing Market of Growth Hormone
Tags: Growth Hormone, Genetic Engineering, Recombinant Proteins
Related Events :