Home / Press Release / The Very Special Structure of an Enzyme
The Very Special Structure of an Enzyme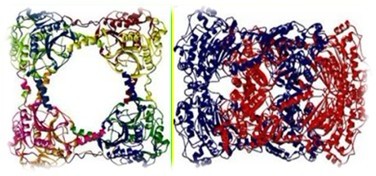 The left shows the single ring structure and the right shows the double ring structure or hexadecameric catenane
As the above picture shows, scientists have found a very special shaped enzyme that has never been found previously in biology field.
As early as in 2011, Microbiologist Mike has found primal archeon in the mudpots of Italian volcanic solfataras that obtain their energy by converting CS2 into H2S and CO2 with the enzyme CS2hydrolase.
Through structure analysis, he found the enzyme consists of single ring and double ring which superposed and riveted together. The locked protein structure was maintained via weak non-covalent interactions. Such structure was so unique that it was hard for people to decide whether the catenane structures were an artifact.
In order to test the structure, they dissolved the enzyme to check the ration of single and double rings in low concentrations. If the double rings were an artifact, they would "disappear" in the low concentration. With three chemical techniques: size exclusion chromatography, multi-angle laser light scattering and native mass spectrometric analyes, the ratio proved to be the same in all different solutions, showing that the interlocking rings exist.
Chemists have put much attention on artificial small molecule catenanes in past years, now the extremely rare and unique biology catenane is identified for the first time.
Each existence has its reason. Scientists are devoting to find the reasons behind the shape.
Article Link: The Very Special Structure of an Enzyme
Tags: Enzyme, Protein Structure, Hexadecameric Catenane
Related Press Release :