Home / Services /Baculovirus-Insect Cell Expression
Baculovirus-Insect Cell Expression
The baculovirus-insect cell expression system utilizes recombinant baculoviruses (insect viruses) and their ability to manufacture high yields of biologically active proteins from infected insect cells. The proteins of interest can be easily purified from infected cells or their supernatants using tag and affinity chromatography. At Creative BioMart, our team of experts have developed baculovirus-insect cell expression platform for virus production and recombinant protein manufacture in various scales. The ability of Creative BioMart's baculovirus-insect cell system to express proteins with complex post-translational modifications (PTMs), combining with high production yield, makes it perfectly suitable for generating mammalian proteins, especially cellular signaling proteins including protein kinases, protein phosphatases and cellular protein substrates, amongst others.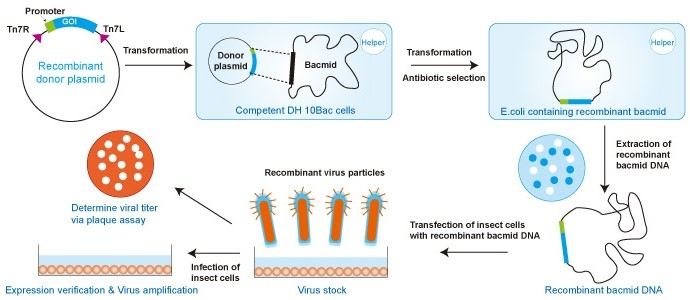 Figure 1. Baculovirus-insect cell expression system
In order to adapt to different purposes of our customers', Creative BioMart offers various approaches to generate a recombinant baculovirus system containing the gene of interest.
| | |
| --- | --- |
| System | Features |
| Bac-to-Bac | Requires integration with baculovirus shuttle vector (Bacmid) in bacterial host cell before transfection. |
| flashBAC | Transfection with linear DNA, recombination occurs within host insect cells. Deletion of orf1629 enables better secretion of recombinant protein. |
| BaculoGOLD | Transfection with linear DNA, recombination occurs within host insect cells. |
| BaculoDirect | Pre-linearized DNA. Requires Ganciclovir in culture. |
| BestBac | Transfection with linear DNA, enhance production of target protein. |
As well as some insect cell line options are available at Creative BioMart:
| | | |
| --- | --- | --- |
| Insect cell line | Source | Application |
| Sf9 and Sf21 | Spodoptera frugiperda | All general types of recombinant protein expression. |
| MimicTM Sf9 | Spodoptera frugiperda | Expression of mammalian glycoproteins. |
| High FiveTM | Trichoplusia ni | Secretion of recombinant proteins. Shorter culture period. |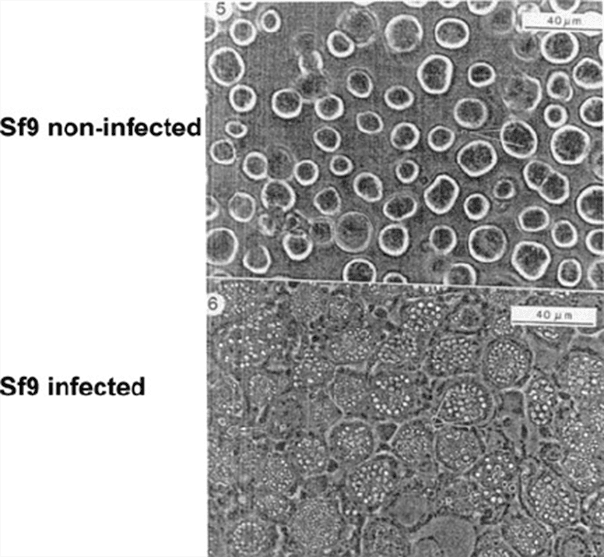 Figure 2. EM photos of non-infected and infected Sf9 cells.
Advantages of working with Baculovirus-Insect Cell Expression System:
Improved solubility
Able to perform complex PTMs
High protein expression levels compared to other higher eukaryotes
Suitable for the production of large proteins and protein complexes
Capable of producing cytotoxic proteins
Easy to scale up in bioreactors
Lower-cost
Operational safety: baculovirus are noninfectious to vertebrates
Contact us immediately to get your customized program!
Step
Service Description
Timeline
Deliverables
1
Gene synthesis plus codon optimization
1-2 weeks

Purified protein [supplied in liquid or lyophilized form]
Gene sequencing report
QC report
SDS-PAGE/ HPLC/ SEC
Activity data if applicable

2
Clone target gene into expression vector
1 week
3
Transfect Baculovirus with transfer vector
<1week
4
Insect cells Infection with Baculovirus
<1week
5
Protein expression and purification
2-4 weeks
6
Optional services [secondary purification, tag removal, endotoxin removal, protein labeling, activity assay, protein analysis, etc.]
1-2 weeks
7
Quality Control
<1 weeks
Reference:
Unger T and Peleg Y. Recombinant Protein Expression in the Baculovirus-Infected Insect Cell System. Methods Mol Biol. 2012;800:187-99. doi: 10.1007/978-1-61779-349-3_13.
Contact us
or send an email at
for project quotations and more detailed information.
Online Inquiry
---