GMP Stable Cell Line Development Platform
The construction of efficient and stable cell lines is crucial for developing CMC for macromolecule drugs and is also a critical factor in obtaining high-quality proteins and antibodies. Creative Biomart has a complete GMP cell line construction platform and provides comprehensive and professional GMP cell line construction services to support customers' drug development projects to enter the clinical stage quickly. Our professional R&D team has rich project experience and can provide comprehensive solutions from cell bank establishment to cell line screening and optimization, aiming to ensure that your drug development projects can be carried out efficiently and stably, thereby accelerating drug development.
What is GMP Stable Cell Line?
GMP refers to "Good Manufacturing Practice," which is a set of mandatory standards for pharmaceutical, food, and other industries to ensure the quality and safety of products. It requires companies to take care of raw materials, personnel, facilities and equipment, production processes, packaging and transportation, quality control, etc. All must meet mandatory standards. GMP stable cell lines refer to stable cell lines obtained under conditions that comply with GMP standards and are used to produce high-quality pharmaceuticals, especially biopharmaceuticals. GMP stably transduced cell lines need to go through screening, identification, and quality control to ensure that their performance is stable, reproducible, and in compliance with GMP requirements. During the GMP cell line construction process, comprehensive virus detection, cell bank establishment, cell line identification, and other steps are also required to ensure the safety and quality of the product.
What Can We Offer?
Creative Biomart provides one-stop GMP-level stable cell line construction services, including gene synthesis, vector construction, cell transfection, monoclonal, stability testing, and a series of services.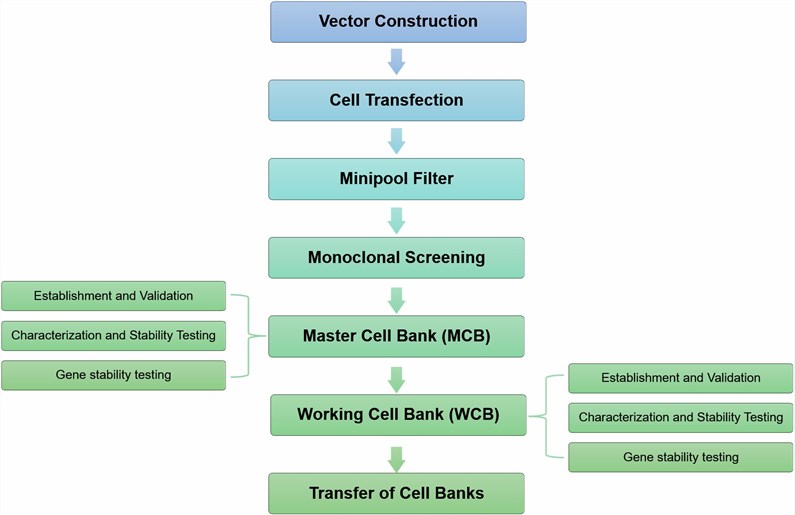 Our vector construction services include codon optimization, gene synthesis, and vector construction. Creative Biomart provides multi-plasmid backbone selection, different pressure screening systems, optimize plasmid elements, optimize selection of exogenous target genes, and test and compare plasmid expression performance.
Experienced Cell Transfection
Stable transfection is based on transient transfection. Creative Biomart has rich experience in transient transfection and stable transfection. We will develop stable cell lines based on the evaluation of transient expression.
Professional and Compliant Development Process
Creative Biomart provides host cells with clear and traceable sources and ensures strict data integrity, authenticity, and traceability, which can effectively help customers declare drugs.
Advanced Automation Equipment
Creative Biomart has advanced technical equipment to provide screening throughput and improve single clone screening efficiency.
Our Advantage
Produced under GMP conditions
Various optional systems
Host cells with traceable origin
Advanced equipment and professional technical team
Experience in developing high-yield cell lines
One-stop service, cost-effective
Creative Biomart's experienced scientists will provide customers with the construction of GMP-level stable cell lines based on past project experience and rich professional knowledge and assist customers in their drug research. If you are interested in our services, please contact us for a detailed quote.

Contact us or send an email at for project quotations and more detailed information.
Related Services & Products