Mammalian Expression Systems
The main advantage of mammalian cell expression is that the mammalian cells can properly and efficiently recognize the signals for synthesis, processing and secretion of eukaryotic proteins. Therefore expression systems utilizing mammalian cells for recombinant protein manufacture are able to introduce proper protein folding, post-translational modifications, and protein assembly, which are important for complete biological activity. Extending to the pharmaceutical field, almost all biopharmaceutical companies in the world rely on the use of mammalian-cell-based stable cell lines for the manufacture of biologics.
Creative BioMart has decades of experience and expertise in both transient and stable expression based on HEK293 or CHO cell lines. Our advanced mammalian cell platform comprises improved promoters, signal sequences, vectors and transfection procedures. Additional yield enhancement through better expression and purification strategies further improves cost efficiency for the recombinant proteins.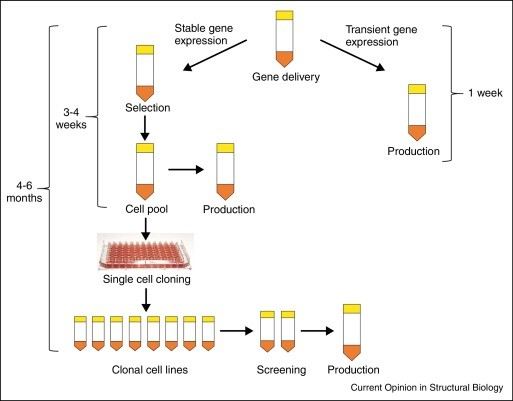 Creative BioMart has extensive experience in vector optimization and has developed a set of proprietary vectors for preferred production cell types including HEK293 cells and CHO cells.
HEK293 cells
CHO cells

Human Embryonic Kidney cells
The most commonly used line for transient production, not as frequently used for therapeutic protein production
Easy to transfect
Adaptable for suspension culture
Transient expression

Chinese Hamster Ovary cells
Predominant cell line for therapeutic protein production due to preferred post-translational modifications
Adaptable for suspension culture
Transient and stable expressions
Creative BioMart provides comprehensive mammalian cells expression service, including bioinformatics analysis, protein domain selection, tag selection, construct design, sequence verification, cell transfection, cell amplification, pilot expression, purification, yield optimization, scale up processing, and advanced protein analysis.
Step
Service Description
Timeline
Deliverables
1
Gene synthesis plus codon optimization
1-2 weeks

Purified protein [supplied in liquid or lyophilized form]
Gene sequencing report
QC report
SDS-PAGE/ HPLC/ SEC
Activity data if applicable

2
Clone target gene into expression vector
1 week
3
Transfect competent cells with transfer vector
1week
4
Protein expression and purification
2-4 weeks
5
Optional services [secondary purification, tag removal, endotoxin removal, protein labeling, activity assay, protein analysis, etc.]
1-2 weeks
6
Quality Control
<1 weeks
Purification Methods
Affinity Chromatography
Ion Exchange Chromatography
Hydrophobic Interaction Chromatography
Size Exclusion Chromatography
Reference:
Hacker D L, Balasubramanian S. Recombinant protein production from stable mammalian cell lines and pools. Current Opinion in Structural Biology. Volume 38, June 2016, Pages129-136
Contact us
or send an email at
for project quotations and more detailed information.
Online Inquiry
---