Phage Display Platform
Phage display, first described by George P. Smith in 1985, is a powerful laboratory technique applied in directed evolution. Since the first report on phage display and selection of human antibodies in 1991, this technology is now widely used. Today, antibody libraries containing millions of antibodies displayed on phage are used in the pharmaceutical industry to isolate highly specific therapeutic antibody leads primarily for cancer or inflammatory. One of the most successful examples was adalimumab, the world's first fully human antibody, which achieved annual sales exceeding $1bn.
When evolving a target gene from either a gene library or mutation system, the phenotype selection can either be performed outside a living cell (in vitro) or inside (in vivo). In applications of in vitro evolution, the libraries encoding the protein or peptide of interest is generally ligated into the minor or major coat protein (e.g. pIII) of bacteriophages (e.g. M13). The target of evolution is usually for target-specific binders. In this case, rapid enrichment of library clones encoding binding polypeptides is achieved by phage library incubation with a target, followed by removal of the non-reacting phage and amplification of binder clones in the host bacteria such as E. coli. Recently, in vivo evolution employing phage display, known as Phage Assisted Continuous Evolution (PACE), was developed by David Liu and coworkers for more complex functions. This method is used to evolve aminoacyl-tRNA synthase.
Creative BioMart developed a validated phage display platform for directed evolution based on years of experience. Based on the target of interest, we design the best method based on the selection of coat protein and host. For each desired function, we provide both in vitro and in vivo protein evolution strategies. We establish validated high-throughput screening method and amplify selected clones after selection/screening. With advanced knowledge and instruments, we offer one-stop services of protein engineering:
Selection of coat protein and host for target protein.
Design of phage display strategy.
High-throughput screening.
Selected/screened clone amplification and sequencing.
Recombinant protein expression, purification and characterization.
Features
Libraries with large diversity sizes (approximately to 1010 unique individual sequences).
Featured M13 pIII peptide phage display platform.
In vitro and in vivo protein evolution.
Multiple desired functions can be targeted at once.
References
1. Sergeeva, A., Kolonin, M.G., Molldrem, J.J., Pasqualini, R., Arap, W. (2006) Display technologies: Application for the discovery of drug and gene delivery agents. Advanced Drug Delivery Reviews. 58: 1622-1654.
2. d'Oelsnitz, S., Ellington, A. (2018) Continuous directed evolution for strain and protein engineering. Current Opinion in Biotechnology. 53: 158-163.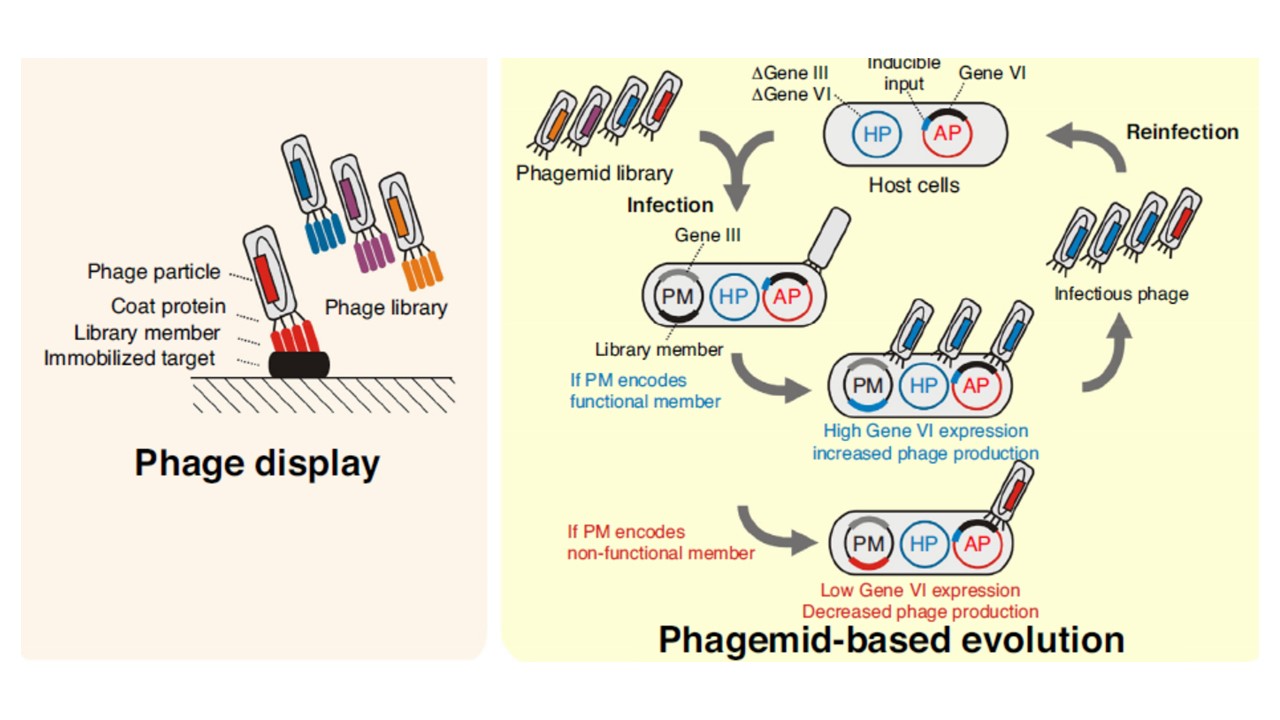 Figure 1 Phage-assisted
in vitro
and
in vivo
directed evolution methods.
(Current Opinion in Biotechnology 2018)
Contact us
or send an email at
for project quotations and more detailed information.
Online Inquiry
---