CARD protein (Caspase recruitment domain containing protein) refers to a signal adapter protein that contains a caspase recruitment domain in the cell. It plays a synergistic role in the signal transduction of apoptosis and the formation of signal complexes of immune response. In recent years, CARD protein families have been found to be involved in the pathogenesis of tumors, inflammatory diseases, and autoimmune diseases. This article will mainly introduce three CARD proteins related to the onset of skin diseases-CARD9, CARD11, and CARD14, and describe their roles. The role of fungal infectious diseases, squamous cell carcinoma, atopic dermatitis, psoriasis, and pityriasis hair.
Introductions
The intracellular signal transduction pathway contains many scaffolds, adaptors, and effector proteins to ensure the transmission of extracellular stimulation signals between specific multiprotein complexes or subcellular cells. Scaffold proteins are defined as molecules that do not have any enzymatic activity, but have the ability to bind to at least two other signaling proteins and assemble a variety of multiprotein complexes that are necessary for integrating and transmitting cell surface receptor signals. The scaffold/adapter protein containing CARD (Caspase-amplification domain) is called CARD protein, and plays an important role in regulating various signaling pathways, including apoptosis, NF-κB signaling channels and inflammation signaling channels.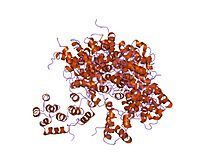 Figure 1. Caspase recruitment domain.
CARD9 and fungal infectious diseases
CARD9 can be expressed in a variety of tissues and organs, including the spleen, liver, and placenta. It is highly expressed in peripheral blood, brain, bone marrow, and fetal bone marrow cells, especially in macrophages and dendritic cells. CARD9 is an upstream activator of BCL10 and NF-κB. The Dectin-1/CARD9 pathway is involved in the differentiation of CD4 cells mediated by interleukin (IL) -17A and induces the production of a large amount of IL-2, IL-6, IL-10 Tumor necrosis factor (TNF) -α and IL-23, CARD9 signals can not only regulate mammals' innate immune response to certain fungi, bacteria and viruses, but also participate in inducing some adaptive immunity. Human CARD9 gene mutations can cause changes in protein structure, expression, or function, and are associated with inflammatory responses. Fungal infections, Crohn's disease, ulcerative colitis, ankylosing spondylitis, and tuberculosis.
CARMA family and related skin disorders
The CARMA family is currently widely explored. CARMA1 mutations have been shown to play an important role in the pathogenesis of B-cell lymphoma, and have a certain significance in human immunodeficiency diseases; CARMA2 mutations are genetically related to skin inflammatory diseases, including familial psoriasis and red fur Rash; CARMA3 is involved in the abnormal activation of NF-κB induced by G protein coupled receptors (GPCRs) and growth factor receptors (EGFR), which can cause the occurrence and development of various tumors, inflammation, and atherosclerosis. At present, there are few studies related to skin diseases.
Conclusion
The CARD protein family is widely involved in the occurrence and development of various diseases. The interaction between family members is one of the important factors leading to the formation of signal complexes of apoptosis or immune response, and thus participates in the pathogenesis of various diseases. It also provides a basis for the research of targeted drugs for CARD protein signal transduction pathway. At present, the association between the CARD family and skin diseases has been continuously discovered. Although some related action pathways have been revealed, many specific mechanisms are still unclear. Through continuous investigation of the CARD protein family, it is necessary to understand the pathogenesis of diseases and various systems. The relevance of the disease and the treatment of the disease have profound implications.
Reference:
Chou JJ, et al.; Solution structure of the RAIDD CARD and model for CARD/CARD interaction in caspase-2 and caspase-9 recruitment. Cell. 1998, 94 (2): 171–80.