Receptor Tyrosine Kinase (RTK) Proteins Background
Receptor tyrosine kinase (RPTK) is a high affinity cell surface receptor for many polypeptide growths factors, cytokines and hormones. Of the 90 unique tyrosine kinase genes identified in the human genome, 58 encode a receptor tyrosine kinase protein. Receptor tyrosine kinases have not only proven to be key regulators of normal cellular processes, but also play a key role in the development and progression of many types of cancer. Mutations in receptor tyrosine kinases activate a series of signal cascades that have many effects on protein expression. Receptor tyrosine kinases are part of a family of tyrosine protein kinases, including receptor tyrosine kinase proteins containing transmembrane domains, and non-receptor tyrosine kinases without transmembrane domains.
RTKs-mediated signal pathways and their basic patterns
Receptor tyrosine kinase exists as a monomer without binding to a signal molecule and is inactive; once a signal molecule binds to the extracellular domain of the receptor, two monomer receptor molecules form two Polymer, the tails of the intracellular domains of the two receptors contact each other, activating their protein kinase functions, resulting in phosphorylation of the tyrosine residues at the tails. Phosphorylation causes the tail of the receptor's intracellular domain to assemble into a signaling complex. The newly phosphorylated tyrosine site immediately becomes the binding site for intracellular signaling proteins. There may be 10 to 20 different intracellular signaling proteins that are activated after binding to the phosphorylation site on the tail of the receptor. The signal complex expands information through several different signal transduction pathways and activates a series of biochemical reactions in the cell; or combines different information to cause a comprehensive response of the cell (such as cell proliferation).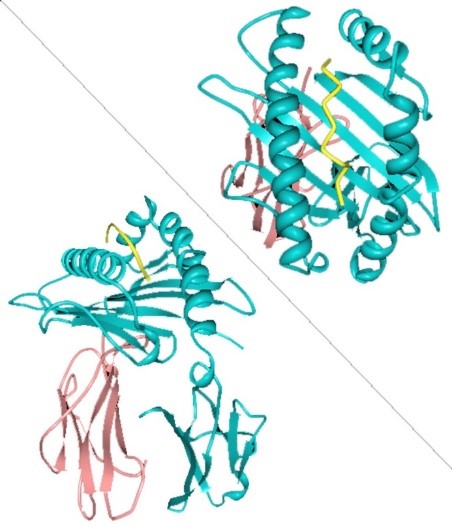 Figure 1. Rendering of HLA-A11 showing the α (A*1101 gene product) and β (Beta-2 microglobin) subunits. This receptor has a bound peptide (in the binding pocket) of heterologous origin that also contributes to function.
Families
EGFR (epithelial growth factor receptor)
EGFR (epithelial growth factor receptor) itself has tyrosine kinase activity. Once combined with epidermal growth factor (EGF), it can activate related genes in the nucleus, thereby promoting cell division and proliferation. Gastric cancer, breast cancer, bladder cancer, and head and neck squamous cell carcinoma have increased expression of EGFR.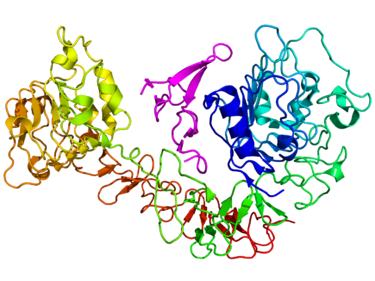 Figure 2. Protein structure of Epidermal cell growth factor receptor (EGFR).
Fibroblast growth factor receptors
Fibroblast growth factor receptors are related proteins that are involved in important processes such as cell growth and division (proliferation), cell maturation (differentiation), angiogenesis (angiogenesis), wound healing and embryo development. The FGFR2 protein spans the outer membrane around the cell, so one end of the protein remains in the cell and the other end protrudes from the outer surface of the cell. This localization allows the FGFR2 protein to interact with specific growth factors outside the cell and receive signals that help the cell respond to its environment. When growth factors are attached to the FGFR2 protein, the receptor triggers a series of chemical reactions within the cell, instructing the cell to make certain changes, such as maturation to perform special functions. FGFR2 protein plays an important role in bone growth, especially during prenatal development (embryonic development).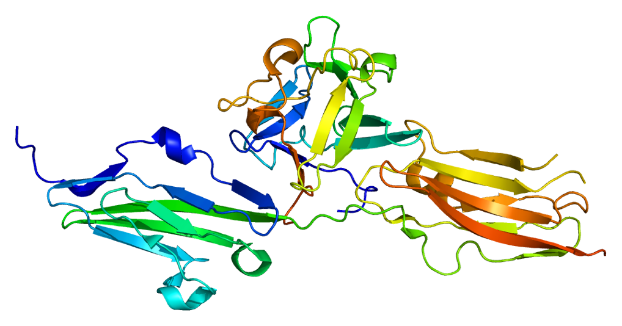 Figure 3. Structure of the FGFR2 protein.
Drug therapy
RTK have emerged as an attractive target for drug therapy because they involve various cellular abnormalities such as cancer, degenerative diseases and cardiovascular diseases. The US Food and Drug Administration (FDA) has approved many anticancer drugs caused by activated RTK. Drugs have been developed to target extracellular domains or catalytic domains, thereby inhibiting ligand binding, receptor oligomerization. Herceptin, a monoclonal antibody that binds to the extracellular domain of RTK, has been used to treat HER2 overexpression in breast cancer.
Reference:
Cho HS, et al.; Structure of the extracellular region of HER3 reveals an interdomain tether. Sciences. 2002,297 (5585): 1330–1333.