Chromatin immunoprecipitation (ChIP) has become an important and popular method for the study of DNA-protein interactions. During the ChIP experiment, protein complexes that interact with DNA are cross-linked to their binding sites, and the chromatin is sheared into short fragments of 200-500 bps. After the DNA is sheared, the DNA fragments that interact with the protein of interest are isolated by immunoprecipitation. In traditional ChIP assays, the enriched immunoprecipitated DNA are quantified with quantitative PCRs using primer pairs designed to amplify specific regions of interest.

The strength of ChIP has been greatly increased by its combination with DNA microarray hybridization (ChIP-chip) to simultaneously analyze all putative binding sites displayed on the hybridization slide. In ChIP-chip, amplified immunoprecipitated DNA and total input DNA are labeled with distinct fluorescent dyes and co-hybridized to DNA microarrays containing probes.

The ChIP-chip method has many advantages over traditional ChIP assays. First of all, ChIP-chip microarray studies instead of interrogating a limited number of regions with specific primers, large genomic regions selected are probed in a single experiment, providing the potential discovery of unanticipated sites of protein-DNA interaction in a partially un-biased approach. A second advantage is that identification of protein binding sites can be accomplished with commercially available software platforms, permitting many parallel analyses of thousands of genes.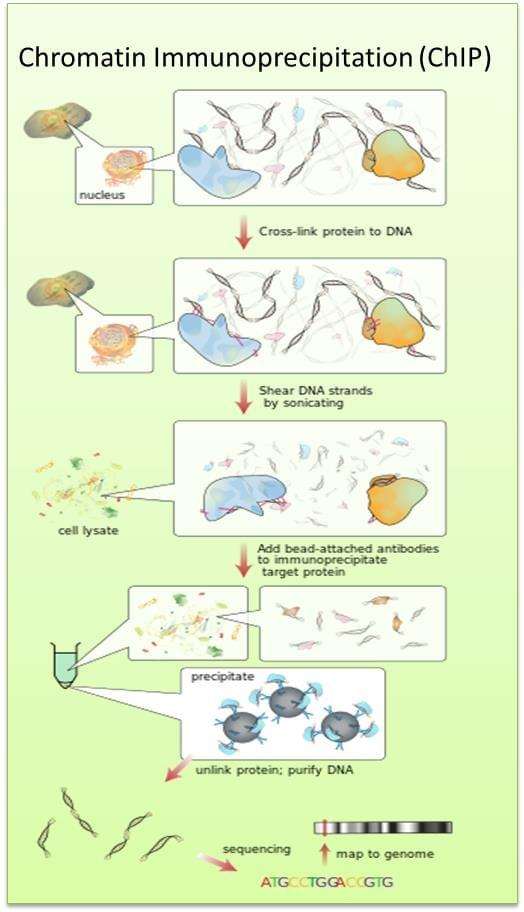 Fig. The schematic diagram of chromatin immunoprecipitation.