Home / Press Release / An Important Discovery on Mitochondrion Channels
An Important Discovery on Mitochondrion Channels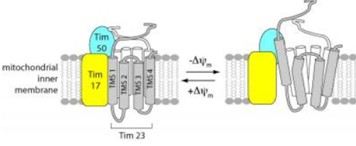 It is known that dysfunction of protein transporters might cause diseases, such as cardiovascular or cancer. But with many studies, there is still no clear mechanism.
In a recent study, researchers explored a channel complex and relevant membrane proteins. The channel complex, namely the translocase of the inner mitochondrial membrane 23 or TIM23, they found it will not only directly coupled to the energized state of the mitochondrial inner membrane, but also changes its fundamental structure—altering the helical shape of protein segments that line the channel—when voltage along the membrane's electrical field drops.
The molecular nature of voltage sensors in membrane proteins is a central question in biochemical research.
To conduct the study, researchers incorporated cysteine residues modified with a fluorescent probe at specific positions along a transmembrane segment of a TIM23 complex derived from a common species of yeast, Saccharomyces cerevisiae. Then they monitored the probes in real time to observe how the channel's voltage-gating and structure responded to induced changes in the inner membrane's electrical field.
The study showed the mapping of fluorescent at subcellar level and the potential root of neurodegenerative and metabolic disorders linked with mitochondrial function. The discovery shed light on the search of voltage-responsive elements in membrane proteins.
Article Link: An Important Discovery on Mitochondrion Channels
Tags: Membrane Proteins, TIM23, Cancer, Cardiovascular
Related Press Release :