Home / Press Release / Methionine Adenosyltransferase II alpha Related Researches and Products
Methionine Adenosyltransferase II alpha Related Researches and Products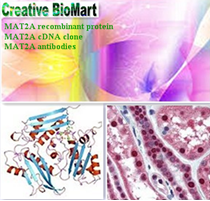 Methionine adenosyltransferase II alpha (MAT2A) is an essential enzyme that is in charge of S-adenosylmethionine (SAMe) biosynthesis. It is extensively distributed within body.
In liver, increased MAT2A expression correlates with growth, while SAMe inhibits MAT2A expression and growth. Thus some researchers studied the relationship between MAT2A and color cancer in mice and found that upregulation of MAT2A provides a growth advantage and SAMe and MTA can block mitogenic signaling in colon cancer cells.
There were also reports showing the deficiency of MAT2A leading to persistent hypermethioninemia without elevation of plasma S-adenosylmethionine. Prior to this, scientists made research to inhibit the MAT2A with polyamines as well as examing the effect of polyamines on MAT activity in resting and activated human lymphocytes to reveal that polyamines might regulate MAT activities.
Thereafter, researchers made more and more MAT2A-related research, such as "Inhibition of methionine adenosyltransferase II induces FasL expression, Fas-DISC formation and caspase-8-dependent apoptotic death in T leukemic cells", "Ethanol inhibits methionine adenosyltransferase II activity and S-adenosylmethionine biosynthesis and enhances caspase-3-dependent cell death in T lymphocytes: relevance to alcohol-induced immunosuppression" and so many others.
It is always a hot research target. And nowadays its basic structure and functions are elaborated well so that to promote the industry advancement. However, there are still some points hunt researchers and are unclear to us. Thus our scientists innovate many MAT2A related reagents and assays, including recombinant protein, antibody and cDNA clone products, to support researchers' work, for example, MAT2A-113H, Mouse Anti-Human MAT2A Monoclonal Antibody, Rat Mat2a ORF Clone and so many others. Contact us for more information!
Article Link: Methionine Adenosyltransferase II alpha Related Researches and Products
Tags: Methionine Adenosyltransferase II alpha, Monoclonal Antibody, Recombinant Proteins
Related Press Release :