Home / Press Release / New Finding on Recombinant Human Prion Protein
New Finding on Recombinant Human Prion Protein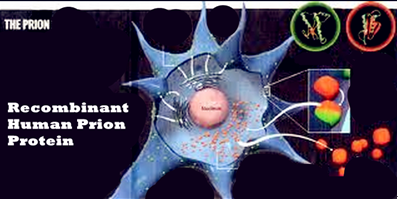 Through research, researchers found that recombinant human prion protein can effectively block the spread of prions, which offers hope and ideas for the prevention and treatment of prion diseases. The research was published in the International Journal of Scientific Reports.
One of the researchers, Dr. Zou said that this was the first time that recombinant human prion protein was proven to block the spread of human prion virus. Recombinant human prion protein is produced in E. coli, the same as normal human brain protein sequence, but it is different in that the absence of arbohydrates and lipids.
For the study, researchers used a technique called protein misfolding cyclic amplification technique, and simulated the protein replication process in a test tube. When the recombinant protein was added in test tube again, the researchers found that the spread of prions was completely suppressed, thus researchers concluded that this inhibition was dependent on the dose of recombinant proteins, and compared to recombinant mouse protein, human recombinant protein has highly particular form.
Such recombinant human prion protein not only functions well in cell models, but also raise minimum side effect due to the same sequence.
Our company, Creative BioMart, a professional recombinant proteins provider, offers recombinant human prion protein. For more information, please contact us directly.
Article Link: New Finding on Recombinant Human Prion Protein
Tags: Prion, Recombinant Proteins
Related Press Release :