Home / Press Release / Researchers Discovered the Energy and Pathway of Opening and Closing of Ion Channel
Researchers Discovered the Energy and Pathway of Opening and Closing of Ion Channel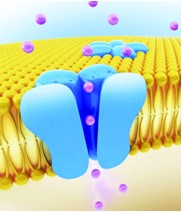 Ion channels are pore-forming membrane proteins. They are important components in many biological processes that involve rapid changes in cells, for example, cardiac, skeletal, and smooth muscle contraction, epithelial transport of nutrients and ions, T-cell activation and pancreatic beta-cell insulin release. In recent years, ion channels are frequently used in research of new drug target.
Few days ago researchers declaimed for the first time that they had found the key factor controls the transition between open and closed state of ion channels with the help of high performance computer calculation. They discovered that the open and closed channel states are separated by two energy barriers of different height.
The key factor is phenylalanine 114. Researchers found its conformational change triggers the opening of the channels. In the setting of dynamics of a specific amino acid, they found phenylalanine 114 is coupled to a first smaller energy barrier. This side chain acts as molecular switch to release the channel from the closed state. After these local changes, the channel undergoes large global rearrangements, leading to a fully open state. This second transition from an intermediate to a fully open pore is accompanied by a large second energy barrier.
Currently 10 percent of pharmaceutical targets are ion channels. Further finding of these large proteins will lead to better understanding of their mechanisms and facilitate related researches.
Creative BioMart offers ion channel products for various research purposes. Learn more on our website.
Article Link: Researchers Discovered the Energy and Pathway of Opening and Closing of Ion Channel
Tags: Ion Channel, Phenylalanine 114, Transduction Pathway, Membrane Protein
Related Press Release :