Home / Press Release / Two VEGF-related Studies and the Findings
Two VEGF-related Studies and the Findings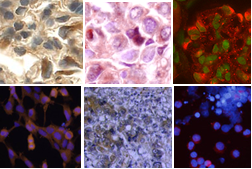 Vascular endothelial growth factor, or VEGF, is a potent growth and angiogenic cytokine. It stimulates proliferation and survival of endothelial cells, and promotes angiogenesis and vascular permeability. VEGF signals through the three receptors: fms-like tyrosine kinase, KDR and the flt4.
It is well known that VEGF is an essential factor for solid tumor growth and metastasis, psoriasis and rheumatoid arthritis and ovarian hyperstimulation syndrome. Over-expression of VEGF and VEGF receptors are found to be associated with breast cancer, renal cell carcinoma and gliomas etc. and this could be used to predict response to certain drugs. Thus VEGF is extensively used for scientific and practical purposes. While for prostate cancer, its value is controversial.
According to a retrospective study, researchers identified the previously controversial point and showed that VEGF probably doesn't have prognostic value for advanced prostate cancer.
In another study, researchers found that some VEGF-targeting drugs are losing effectiveness due to the drug resistance. In follow up studies in mouse models, they identified interleukn-17, IL-17, encouraging resistance to VEGF-blockade. This indicates that the clinical efficacy of VEGF-targeting drugs could be improved by inhibiting the effects of IL-17 via monoclonal antibodies or blockers, for example.
As the importance revealed, it is used in many research interests, such as cancer, inflammation, proliferation, angiogenesis/cardiovascular.
Creative BioMart offers quality VEGF products, including recombinant proteins, antibodies, Elisa kits, cDNA clone and therapeutic antibodies. For details, please visit http://www.creativebiomart.net/symbolsearch_Vegfa.htm.
Article Link: Two VEGF-related Studies and the Findings
Tags: VEGF, IL-17, Monoclonal Antibodies
Related Press Release :