What is aging?
Cell senescence refers to a state in which the cell cycle is stagnated. In this state, proliferating cells become resistant to growth-promoting stimuli, usually caused by DNA damage. Leonard Hayflick first described cell aging. He observed that human fetal fibroblasts eventually stopped dividing, but remained viable and metabolically active after long periods of culture. It is now generally believed that, in addition to cell types with stem-like properties, only transformed malignant cells will replicate indefinitely, while non-transformed cells will not. In addition to embryonic stem cells or induced pluripotent stem cells developed under controlled conditions in vitro, such cells include endogenous reproductive stem cells and adult stem cells. Senescent cells are different from resting cells and terminally differentiated cells, where resting cells are able to re-enter the cell cycle. Senescent cells are characterized by morphological and metabolic changes, chromatin remodeling, altered gene expression, and the appearance of a pro-inflammatory phenotype called the senescence-related secretory phenotype (SASP). The biological role of aging is complex, and the protective and harmful effects of senescent cells have been described, mainly depending on the physiological environment. For example, although aging may have evolved as a mechanism to avoid malignant transformation of damaged cells, the occurrence of aging may lead to many age-related pathologies, including cancer, tissue degradation, and inflammatory diseases. The terms aging and cellular aging are not interchangeable. Aging is a progressive decline over time, and aging can occur throughout the life cycle, including during embryogenesis. The number of senescent cells increases with age, but aging also plays an important role in development and wound healing.
Why does aging occur?
Aging prevents the replication of cells containing damaged DNA, an important antitumor function. Aging is usually caused by traumatic stimuli, including shortening of telomeres (replicating aging), DNA damage (DNA damage-induced aging), and oncogenic signal transduction (oncogene-induced aging).
DNA damage induces aging
DNA damage can trigger DNA repair mechanisms, apoptosis or aging, depending on the extent of the damage and the physiological environment. Senescent cells are characterized by a sustained DNA damage response (DDR), including chronic ATM (ataxia telangiectasia mutation) and ATR (ataxia telangiectasia and Rad3-related) kinase signalling, which ultimately activate p53/p21 and p16/pRb pathways induce cell cycle arrest and senescence. Persistent DNA damage and subsequent aging can also be induced by ionizing radiation, chemotherapy, genotoxic stress, and oxidative stress.
Oncogene-induced aging
Cell senescence can be induced by oncogenic signal transduction, as a potent cell autonomous anti-cancer mechanism. Aging that occurs in cells that exhibit oncogenic signal transduction is a response that prevents it from turning into malignant cells. Oncogene-induced aging (OIS) results from over-activation of oncogenes such as H-Ras or inactivation of tumor suppressor genes such as PTEN. For example, H-RASV12 is an oncogenic form of the GTPase H-RAS, and its expression triggers OIS by inducing chronic p38 mitogen-activated protein kinase (p38 MAPK) signaling. Strong mitotic signal transduction can also induce DNA damage through replication stress, which triggers the disintegration of the stalled replication fork.
Biomarkers of aging
Senescent cells are characterized by stable cell cycle arrest, morphological and metabolic changes, chromatin remodeling, altered gene expression, and the appearance of an aging-related secretory phenotype (SASP). It is important to note that not all senescent cells exhibit all aging biomarkers. In addition, aging biomarkers are not necessarily unique to senescent cells. For example, some markers can also be observed in apoptotic or dormant cells. Therefore, the identification of senescent cells depends on the observation of multiple biomarkers, as described below: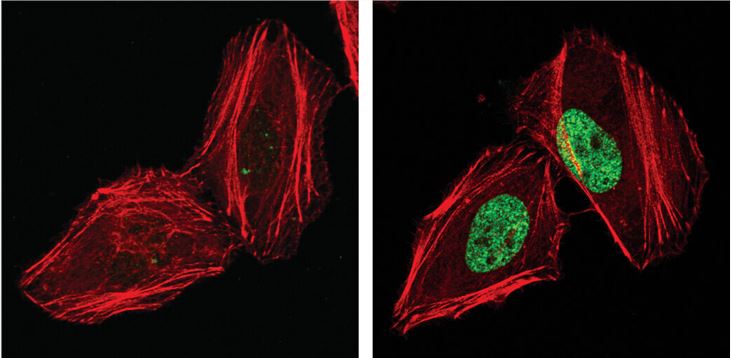 Figure 1. Phosphorylated histone H2A.X (Ser139), also known as γ-H2A.X, is a common marker of cellular senescence (green-stained nuclei in the right image).
Stable cell cycle arrest

Only cells with stable cell cycle arrest are considered senescent. Unlike dormant cells, senescent cells do not re-enter the cell cycle due to any known physiological stimulus. Cell cycle arrest is mediated by the p53/p21CIP1 and p16INK4A /pRb tumor suppressor pathways, as detailed below. The expression of p16INK4A is often observed in senescent cells, which is a useful biomarker. But p16INK4A is also highly expressed in pRb-negative tumors and cell lines.

Morphological and metabolic changes

Compared to dividing cells, senescent cells are usually enlarged and flat. Senescent cells show extensive vacuolation, sometimes multinucleated. In addition, due to loss of lamin B1 expression, disruption of nuclear membrane integrity can be observed. Senescent cells accumulate dysfunctional mitochondria and show elevated levels of reactive oxygen species (ROS). An increase in lysosomal content and a change in lysosomal activity were also observed, with an increase in β-galactosidase activity at pH 6.0, making it a widely used biomarker of cellular senescence.

Figure 2. Lamin B1 (shown in green here) loss is a hallmark of cellular senescence.

Chromatin remodeling and gene expression changes

The hallmark of senescent cells is extensive chromatin remodeling, most notably the formation of senescence-related heterochromatin clusters (SAHF). These facultative heterochromatin sites play a role in proliferative gene silencing, including E2F target genes such as cyclin A. Senescent cells usually contain 30-50 SAHF, which is characterized by DAPI bright staining and macroH2A, heterochromatin 1 (HP1) and lysine 9 dimethyl or trimethylated histone H3 (H3K9Me2/3) immune response Sex. Although SAHF is often observed during aging, some cells do not form SAHF when they age.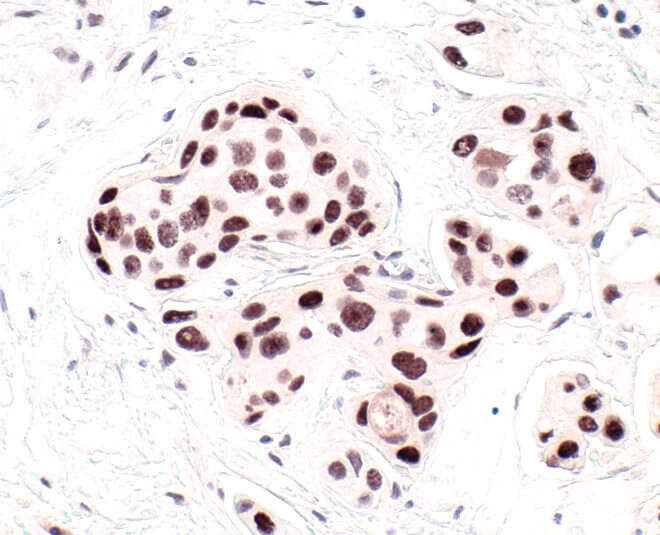 Figure 3. HP1 is a commonly used marker of cellular senescence. Immunohistochemical analysis of HP1 expression in paraffin-embedded human breast cancer cells using HP1 alpha antibody.