In 1980, Poly I-C stimulated fibroblasts to produce a cytokine that inhibited viral replication, called β2 interferon (IFN-β2). Subsequent research results have failed to confirm the direct antiviral effect of this factor, but have other biological functions. According to different experimental systems and functions, they are named hybridoma/ plasma tumor growth factor (hybri-doma),plasmacytoma growthfactor, B cell differentiation factor (BCDF), B cell stimulation factor-2 (BSF-2), 26kDa, cytolytic T cell differentiation factor (cytolytic T cell differentiation factor (CDF) and hepatocyte stimu-lating factor (HSF). In 1986, it was named interleukin 6, IL-6. Interleukin-6 is a cytokine of the chemokine family. As of December 2013, a total of 29 interleukins (maybe 35 in the future) have been discovered and named IL-1 --- IL29. They are complex in function, forming a network, and overlapping.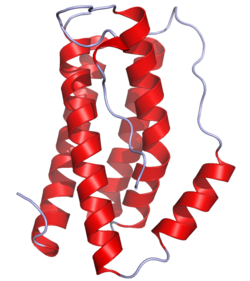 Figure 1. Protein structure of IL-6.
Introductions
Interleukins are a class of cytokines produced by and acting on a variety of cells. Since it was originally produced by leukocytes and functions between leukocytes, it is named after this and is still used today. Originally refers to cytokines produced by white blood cells that also regulate between white blood cells. Now it refers to a class of cytokines whose molecular structure and biological function have been basically clarified, and which have important regulatory effects and are named uniformly. It belongs to the same cytokine as blood cell growth factor. The two coordinate and interact with each other to complete the functions of hematopoietic and immune regulation. Interleukins play an important role in transmitting information, activating and regulating immune cells, mediating T, B cell activation, proliferation and differentiation, and in inflammatory responses. Interleukin abbreviated as IL, functionally relates to the expression and regulation of the immune response. This regulation involves many factors derived from lymphocytes or macrophages. Lymphocytes are derived from lymphocytes, and collectively derived from macrophages are called monokine. The biological activities of each factor are different (such as macrophage activation, promoting T cell reproduction, etc.), the physical chemistry of the factor itself is unclear.
Functions
There are many target cells that IL-6 acts on, including macrophages, liver cells, resting T cells, activated B cells, and plasma cells, etc .; their biological effects are also very complex, once known as B cell stimulating factor 2 (bsf-2 ), 26KD protein, B cell differentiation factor (bCDf), hepatocyte stimulation factor (hsf), etc. ①Promote the expression of IL-2r on the surface of T cells, and enhance the mitogenic effect of IL-1 and TNF on TH cells. ②As a hepatocyte stimulating factor, the induction of acute phase response protein is induced in the acute phase response in the acute inflammatory response caused by infection or trauma, and the increase of amyloid a and c-reactive protein is particularly obvious. ③Promote B cell proliferation, differentiation and production of antibodies; Malignant B cells of multiple myeloma can both produce IL-6 and respond to IL-6, suggesting that IL-6 may serve as an autocrine growth factor for these cells. ④IL-6can also effectively promote cachexia induced by TNF and IL-1; promote glucocorticoid synthesis; stimulate osteoclast activity and keratinocyte growth; also promote bone marrow hematopoietic function. IL-6 cannot stimulate the corresponding cells to secrete other cytokines, and the autocrine effect on immune cells is weak at physiological concentrations, suggesting that its main immunological function is to enhance the effects of other cytokines. IL-6 can be synthesized by a variety of cells, including activated T cells and B cells, monocyte-macrophages, endothelial cells, epithelial cells, and fibroblasts. The human IL-6 gene is located on chromosome 7; the molecular weight of IL-6 is between 21 and 30KD. The difference is due to the different glycosylation and degree of phosphate of the peptide chain. IL-6 consists of two glycoprotein chains; one is an alpha chain with a molecular weight of 80KD; the other is a beta chain with a molecular weight of 130KD. The α chain lacks the intracellular region, and can only bind to IL-6 with low affinity. The complex formed immediately binds to the high affinity β chain and transmits information to the cell through the β chain.
Interactions
Interleukin 6 has been shown to interact with interleukin 6 receptors, and glycoprotein 130. There is a large amount of functional overlap and interaction between substance P (SP), the natural ligand of neurokinin type 1 receptor (NK1R, a mediator of immunomodulatory activity) and IL-6.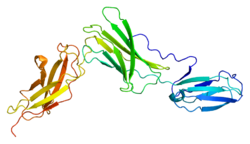 Figure 2. Protein structure of interleukin 6 receptors.
Cancer
Anti-IL-6 therapy was originally used to treat autoimmune diseases, but due to the role of IL-6 in chronic inflammation, IL-6 blockers have also been evaluated for the treatment of cancer. IL-6 is thought to play a role in the regulation of tumor microenvironment, the production of breast cancer stem cell-like cells, the down-regulation of metastasis through E-cadherin, and changes in DNA methylation in oral cancer. Patients with advanced / metastatic cancer have higher levels of IL-6 in their blood. An example is pancreatic cancer, where elevated IL-6 in patients is associated with low survival.
Reference:
Benedict C, et al.; Enhancing influence of intranasal interleukin-6 on slow-wave activity and memory consolidation during sleep. FASEB Journal. 2008, 23 (10): 3629–36.