What Is Lung Cancer?
Lung cancer has shown a decrease in incidence and mortality in recent decades; however, it remains one of the cancers with the highest incidence and the leading cause of cancer-related deaths worldwide. With approximately 1.8 million new cases and 1.6 million deaths in 2012. The five-year survival rate of patients with lung cancer is approximately 13-15%. Diagnosis of lung cancer at late stages is a determining factor of high mortality from the disease. It is primarily explained by metastases from the lung into the central nervous system as observed in 54% cases. Therefore, early lung cancer detection is necessary to reduce the high mortality rate. Understanding the biomarker expression typical for lung cancer and the specific for all histological types is crucial for early accurate diagnosis and treatment.
Types of Lung Cancer
Lung tumors have been histologically classified by WHO into two main types: non-small cell lung carcinoma (NSCLC) accounting for around 75% of the total lung cancer types, and small cell lung carcinoma (SCLC) accounting for the remaining 25%. Histological subtypes of NSCLC include squamous cell carcinoma (25%), adenocarcinoma (40%), large cell carcinoma (10%), SCLC types include small cell carcinoma and combined small cell carcinoma, and there are also many additional subtypes of decreasing frequency.
Risk Factors for Lung Cancer
The incidence of lung cancer is closely related to smoking, environmental factors, gene mutations, family history of cancer, mental factors, and chronic lung diseases. It is a comprehensive result of multiple factors. Studies have shown that smoking is the most direct and major cause of lung cancer. Tobacco tar, carbon monoxide and nicotine produced by tobacco burning have strong carcinogenic activity. About 9% of lung cancer is caused by smoking, and smokers suffer from lung cancer. The risk is about 20 times that of non-smokers. Environmental factors are a risk factor for secondary smoking only. In some special dust environments, such as certain metal dust and wood dust, the possibility of pulmonary fibrosis is increased in people exposed to perennial. It is a dangerous relationship between pulmonary fibrosis with lung cancer. therefore,It will increase the incidence and death of lung cancer. Besides, the gene mutation is also an important factor in lung cancer, and the function of the tumor suppressor gene is weakened or even disappeared, which leads to canceration of normal cells.
Lung Cancer Proteins
When the function of the tumor suppressor gene is weakened or even disappeared or the function of the oncogene is enhanced, the tumor cells are propagated. The gene is ultimately expressed as a protein. Therefore, by comparing the difference in protein expression between the lung cancer cell group and the normal cell group, and analyzing the function of the differential protein, the pathogenesis of lung cancer can be indirectly revealed, which is helpful for discovering lung cancer markers, diagnosis, treatment, prognosis and lung cancer death of lung cancer. The rate has a major effect.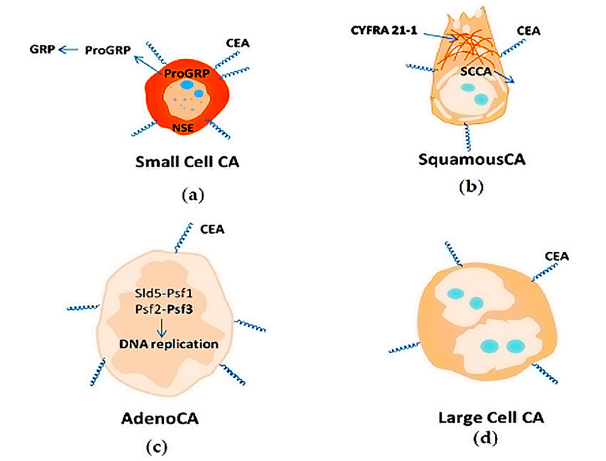 Figure 1. Biomarkers of Small Cell Lung Cancer (a), Squamous Lung Cancer (b), Lung Adenocarcinoma (c), Large Cell Lung Cancer (d). (Zamay T, et al. 2017)
Protein biomarkers of lung cancer can be classified into serum biomarkers, tissue biomarkers and sputum biomarkers by source. Protein biomarkers for detection in lung cancer are typically those that can be detected in serum. Currently, clinically available markers include carcinoembryonic antigen (CEA), tissue polypeptide antigen (TPA), CYFRA21-1 and carcinoembryonic antigen for non-small cell carcinoma (NSCLS), neuron-specific enolase (NSE) and progastrin-releasing peptide for neuroendocrine lung carcinoma (ProGRP).
Table 1. Currently available protein-based biomarkers for the detection of lung cancer
Diagnosis
Therapy monitoring
Prognosis monitoring
CEA
AdenoCA, LCLC
(>10 ug/L)
AdenoCA,
Advanced
NSCLC
AdenoCA,
NSCLC
CYFRA21-1
NSCLC, SCC (Sensitivity for NSCLC varies between 23 and 70%)
Advanced
NSCLC
NSCLC,SCC
TPA
NSCLC, SCC
NSCLC
ProGRP
SCLC
(>200 ng/L=Highly suspicious)
(Sensitivities for SCLC range 47-86%)
SCLC
NSE
SCLC
(>100 ug/L=High probability)
(Sensitivities for SCLC as high as 74%)
SCLC
SCLC
CEA=carcinoembryonic antigen, CYFRA 21-1=cytokeratin 19 fragment, TPA= tissue polypeptide antigen, ProGRP=progastrin-releasing peptide, NSE=neuron-specific enolase, AdenoCA=adenocarcinoma, SCC=squamous cell carcinoma, SCLC=small cell lung cancer, NSCLC=non-small cell lung cancer.
There are also many potential lung cancer biomarker molecules, although not yet available in clinical usage, that iclude plasma Kallikrein B1 (KLKB1), apolipoprotein A-1, haptoglobin-alpha2 and serum amyloid A. In the process of serum glycoprotein analysis in lung cancer patients, It has identified plasma kallikrein B1 (KLKB1) fragment as potentially useful biomarker in diagnosis of lung adenocarcinoma. It has homology to KLK3, of which protein product is known as prostate specific antigen (PSA). About 18 kDa fragment of KLKB1, possibly containing H4 domain of it, showed especially high detection in the lung adenocarcinoma. The finding of KLKB1 fragment supports the recent ideas of serum peptidomes as great diagnostic potential biomarkers in cancer diagnosis, and this low molecular weight protein fragment also implies that there will be much more potent lung cancer biomarkers derived from cancer-type-specific enzymatic breakdowns.
Table 2. Potential protein-based biomarkers for the detection of lung cancer
References:
1. Zamay T, Zamay G, Kolovskaya O, et al. Current and prospective protein biomarkers of lung cancer[J]. Cancers, 2017, 9(11): 155.
2. Agrawal A , Yadav V K , Subramaniam S , et al. Lung cancer biomarkers: State of the art[J]. Journal of Carcinogenesis, 2013, 12(1):3.
3. Sung H J, Cho J Y. Biomarkers for the lung cancer diagnosis and their advances in proteomics[J]. BMB reports, 2008, 41(9): 615-625.