Should Genes Be Patented?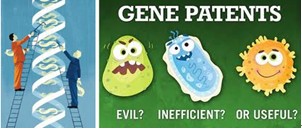 With the development and increasingly use of genetic technologies, genes are drawing numerous attention from various perspectives, such as for basic research, clinical application, applied science, agriculture, industry, chemistry, biology and so on.
In life science, genes are found to be tightly associated with disorders, especially congenital disorders. Here we could mention human genes BRCA1 and BRCA2 whose mutations might indicate the increased risk of breast and ovarian cancer. It's just the two genes that made us discuses the topic: should gene be patented?
In 2010 in a local court, Myriad Genetics tried to patent segments of human BRCA1 and BRCA2. But failed as we know only invention could file patent. Obviously the human genes are products of nature. The next year, The Court Of Appeals for the Federal Circuit refused the asking again. Thus the suit was pushed to the Supreme Court. Currently the Supreme Court justices lobbed the hard questions.
There are two camps for the question. Camp one agrees the patent as they argue that the genes are isolated from body and only patent can protect their interest and encourage more organizations like them to develop. They throw an example, baseball bat, which is made of tree, the tree can't be patent eligible, but a bat once extracted from the tree and carved is eligible. Camp two disagrees the patent as they believe that human genes are products of nature and the patent will hinder the science advancement. The defended that the baseball bat won't come out just by itself or you cut it, you have to invent it.
Many similar argumentations are going. How do you think? Should specific genes be patented?
Article Link: Should Genes Be Patented?
Tags: BRCA1, BRCA2, Myriad Genetics, Patent Genes
Related Press Release :