The role of angiogenesis inhibitors is primarily to inhibit the growth of new blood vessels. Some angiogenesis inhibitors are endogenous and are a normal part of human control, while others are obtained from drugs or diets. Angiogenesis inhibitors are thought to be useful for many types of cancer, but have shown limitations in anti-angiogenic therapy in practice. However, inhibitors are useful for the effective treatment of cancer, macular degeneration and other diseases involving vascular proliferation.
Introduction
To date, angiogenesis inhibitors have been approved by the US Food and Drug Administration (FDA) for the treatment of cancer in three general types of angiogenesis inhibitors that target a single angiogenic medium, such as VEGF. When administered together, another angiogenesis inhibitor or low dose "genome" chemotherapy can be enhanced. Because angiogenesis inhibitors are less toxic than conventional chemotherapy and have a lower risk of drug resistance, it is possible to use them in therapeutic methods that are beyond the viability of conventional chemotherapy. However, anti-angiogenic therapies can be considered as representative of new anti-cancer drugs, some of which are greatly less toxic and safe for long-term treatment. These agents include immunotherapy, vaccines, telomerase inhibitors, apoptosis inducers, novel hormone therapies, and gene therapies. When a tumor stimulates the growth of new blood vessels, an "angiogenesis switch" is said to have occurred. Specifically, tumor cells release various pro-angiogenic paracrine factors including angiopoietin, vascular endothelial growth factor (VEGF), fibroblast growth factor (FGF) and transforming growth factor beta (Fig. 1). Stimulation of endothelial cell proliferation, endothelial cell migration and invasion leads to the germination of new blood vessel structures in nearby blood vessels, and cell adhesion molecules (such as adhesins) are essential for the attachment and migration of endothelial cells to the extracellular matrix.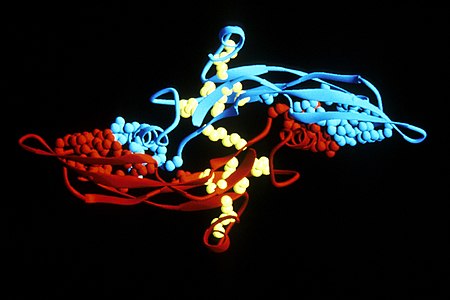 Figure 1. Structure of TGF-beta.
VEGF pathway inhibition
Inhibition of angiogenesis requires treatment with an anti-angiogenic factor or a drug that reduces the production of angiogenic factors, preventing its binding to or blocking the action of the receptor. Inhibition of the VEGF pathway has become the focus of angiogenesis studies because approximately 60% of malignant tumors express high concentrations of VEGF. Strategies to inhibit the VEGF pathway include antibodies against VEGF or VEGFR, soluble VEGFR/VEGFR hybrids and tyrosine kinase inhibitors.

Figure 2. Structure of VEGFA.
Bevacizumab
By binding to VEGFR and other VEGF receptors in endothelial cells, VEGF can trigger a variety of cellular responses, such as promoting cell survival, preventing apoptosis and remodeling the cytoskeleton, all of which promote angiogenesis. Bevacizumab (trade name Avastin) captures VEGF in the blood, thereby reducing the binding of VEGF to its receptor. This results in a decrease in activation of the angiogenic pathway, thereby inhibiting the formation of new blood vessels in the tumor. After a series of clinical trials in 2004, Avastin was approved by the FDA as the first commercially available anti-angiogenic drug. The FDA approved the approval of Avastin for breast cancer treatment on November 18, 2011.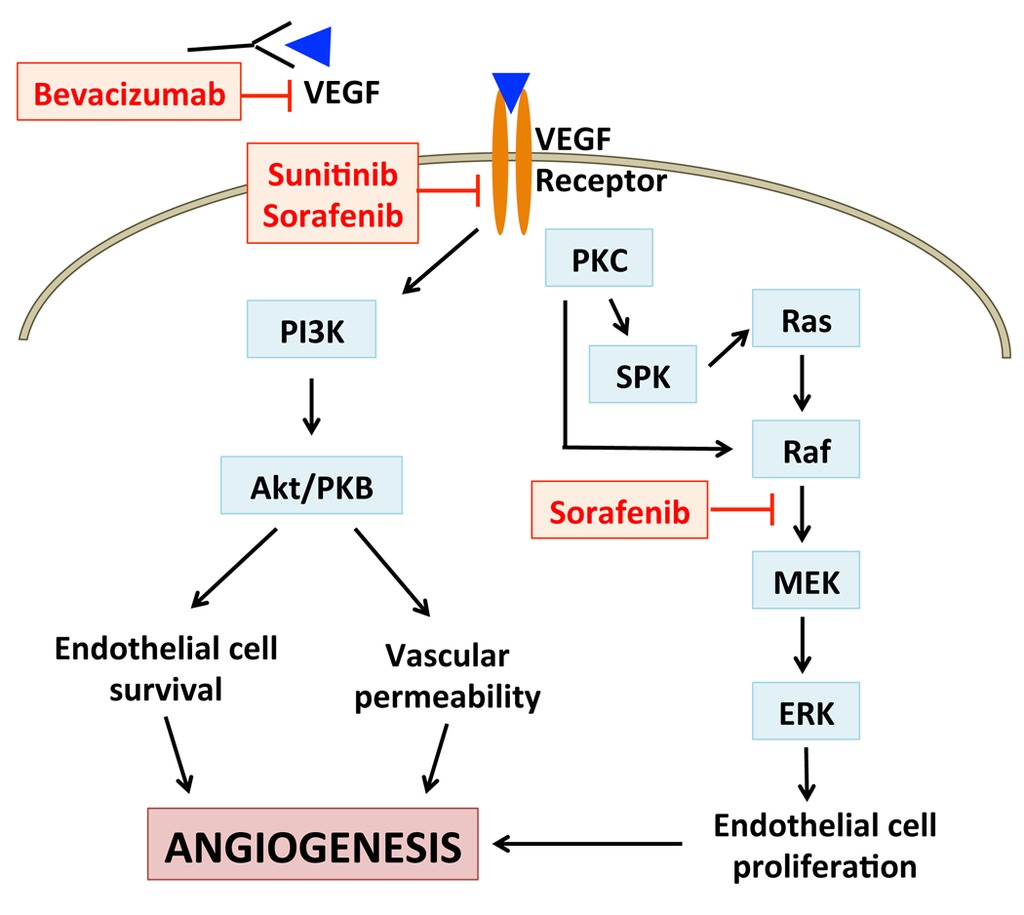 Figure 3. Mechanism of action of angiogenesis inhibitors. Bevacizumab binds to VEGF inhibiting its ability to bind to and activate VEGF receptors.
References:
1. Gardlik, R.; et al. Gene therapy for cancer: bacteria-mediated anti-angiogenesis therapy. Gene therapy. 2011,18(5), 425-431.
2. Xu, Y. F.; et al. A new expression plasmid in Bifidobacterium longum as a delivery system of endostatin for cancer gene therapy. Cancer gene therapy. 2007, 14(2), 151-157.
2. Nyberg P.; et al. Endogenous inhibitors of angiogenesis. Cancer Research. 2005, 165 (10): 3967–79.