Oncoproteins are proteins encoded by oncogenes that are involved in the regulation or synthesis of proteins associated with the growth of cancer tumor cells. Current research on oncoproteins has focused on antibodies that directly target oncoproteins in cancer cells and inhibit the growth of invasive cancer. There are many different oncogenes that encode several oncoproteins. These include growth factors, receptor tyrosine kinases, cytoplasmic regulatory subunits, transcription factors, and regulatory GTPases. Mutations in normal genetic material can lead to gene expression as cancer proteins. There are also many tumor suppressor genes that protect cells from cancer. These tumor suppressors usually interact with a step in the development of cancer. There are also many tumor suppressor genes that protect cells from cancer, and these tumor suppressors usually interact with a step in the development of cancer. With the continuous development of science and technology and the improvement of medical level, scientists have discovered the existence of new oncoproteins and the mechanism of oncoproteins on tumorigenesis. Creative BioMart as a professional protein platform to provide you with a variety of oncoproteins to help you complete better research.
The research on oncoproteins has become the mainstream research. There are a large number of mutated proteins in tumors, one of which is called histone. A new study published in the journal Nature shows that so-called tumor histone is far more common in tumors than we thought in the past. The researchers found that 4% of cancer tissue samples had tumor histone, and these mutations affected histone that had not been found in the past. This study helps us understand the most basic parts of histone biology, which is the first step in developing new drugs to help patients with these mutations.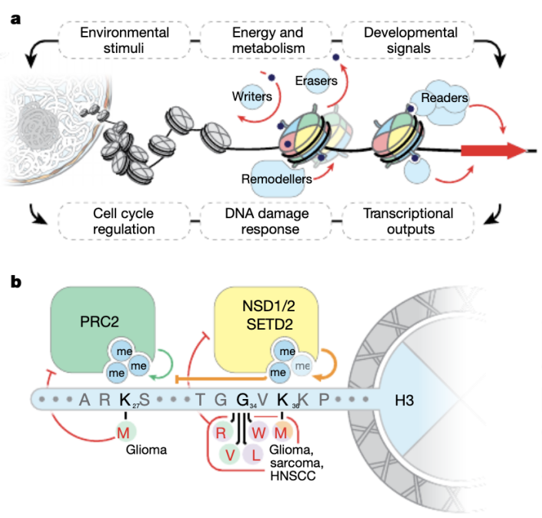 Figure 1. Histones as signal integrators and cancer driver genes. a) Chromatin integrates environmental and developmental signals to control essential cell processes, including those dysregulated in cancer. b) Mechanisms and cancer type associations for known H3 oncohistone mutations. HNSCC, head and neck squamous cell carcinoma. (Benjaming A, et al. 2019)
Contrary to the proteins encoded by proto-oncogenes, the products of tumor suppressor genes, another kind of genes that exist in cells under normal conditions, can inhibit cell growth. If its function is lost, it may promote the tumorous transformation of cells. Therefore, tumorigenesis may be the result of the activation of oncogenes and the inactivation of tumor suppressor genes. At present, the two most known tumor suppressor genes are Rb gene and p53 gene. Their products are nuclear proteins that control cell growth in the form of transcriptional regulators. Other tumor suppressor genes include neurofibromatosis-1 gene, colon adenomatous polyp gene and colon cancer loss gene.
A study published in the journal Nature reports that p53, the most frequently mutated tumor suppressor gene in human tumors, regulates ammonia metabolism by inhibiting the urea cycle. By down-regulating the transcription of CPS1, OTC and ARG1, p53 inhibits urea production of (ureagenesis) and ammonia clearance in vitro and in vivo, thus inhibiting tumor growth. In turn, the down-regulation of these genes is mediated by MDM2 to activate p53. The accumulation of ammonia leads to a significant decrease in the mRNA translation of polyamine biosynthesis rate limiting enzyme ODC, thus inhibiting polyamine biosynthesis and cell proliferation. These studies have found that p53 is associated with urea production and ammonia metabolism, and further reveal the role of ammonia in the control of polyamine biosynthesis and cell proliferation. Therefore, more and more scholars believe that tumor suppressor plays an important role in tumor formation.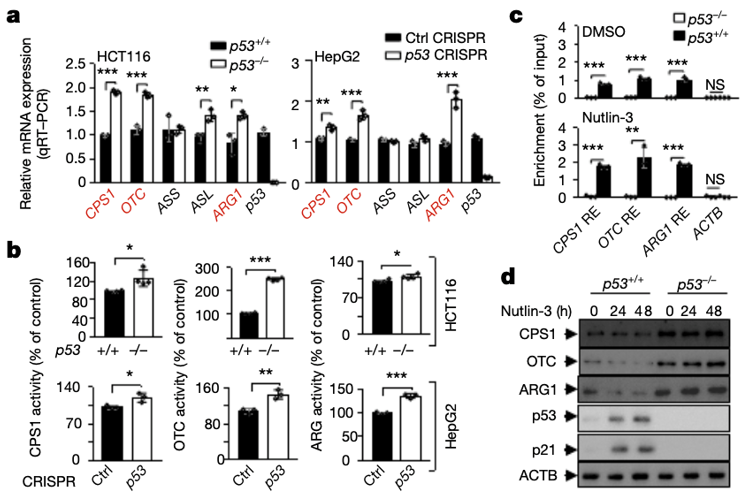 Figure 2. Identification of urea cycle genes that are targets for p53. (Le Li, et al. 2019)
Tumor markers are a kind of active substance produced by the interaction between tumor tissue or host and tumor, which can indicate the existence and growth of the tumor. Tumor markers often exist in serum, cells, urine, body fluids or tissues, such as carcinoembryonic proteins, tumor antigens, enzyme markers, hormones, sugar antigens and so on. In a recent study published in the international journal Nature Medicine, scientists found that a frequently mutated tumor suppressor gene, ARID1a, may cause a loss of normal DNA repair function. And promote the tumor to become sensitive to immune checkpoint inhibitor therapy, previous studies have shown that ARID1a mutation may help to effectively predict the success of immunotherapy. The researchers clarified for the first time the key role of ARID1a in regulating DNA mismatch repair (MMR), and the normal process of cell correction of DNA damage during DNA mismatch repair. The researchers point out that immunocheckpoint inhibitor therapy targeting PD-1 may successfully reduce the tumor burden on the body and prolong the life span of mouse models carrying ARID1a-deleted tumors. ARID1a mutations occur frequently in a wide range of cancer types, especially in some types of cancer (15-50%), such as ovarian cancer, endometrial cancer, gastric cancer and bladder cancer. However, most mutations induce the loss of ARID1a function, making it a less ideal therapeutic target.

Figure 3. Commonly Used Tumor Markers
Nowadays, more and more researchers regard oncoproteins, tumor suppressors and tumor markers as the focus and hotspot of tumor research, from many high-quality articles about these three can be found every year. As a primary manufacturer of recombinant proteins, Creative BioMart provides recombinant proteins of several sources, grades and formulations for oncoprotein, Tumor Suppressor and cell marker research applications.
References:
Benjaming A.Nacev, Lijuan Feng, John D.Bagert. The expanding landscape of 'oncohistone' mutations in human cancers. Nature, 2019, 567: 473-478.
Le Li, Youxiang Mao, Lina Zhao.p53 regulation of ammonia metabolism through urea cycle controls polyamine biosynthesis. Nature, 2018, 567: 253-256.
Jianfeng Shen, Zhenlin Ju, Wei Zhao. ARID1A deficiency promotes mutability and potentiates therapeutic antitumor immunity unleashed by immune checkpoint blockade. Nature Medicine, 2018, 24:556-558.